Latest Asia Typhoon Kills 16 in Philippines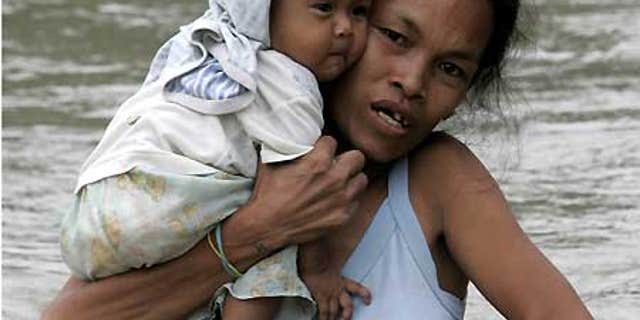 NEWYou can now listen to Fox News articles!
MANILA, Philippines – Landslides buried two families in the Philippines as they sheltered in their homes from Asia's latest deadly typhoon, which killed at least 16 people and left more than a dozen flooded villages cut off Sunday.
Police Senior Superintendent Loreto Espineli said a family of five, including a 1-year-old boy, died when their home in Benguet province was buried as Typhoon Parma hit Saturday. Seven people, including another family of five, were buried in a nearby village, he said.
Officials had earlier listed four people as being killed in the typhoon, which cut a destructive path across the northern Philippines but spared the capital, Manila.
Parma hit just eight days after an earlier storm left Manila awash in the worst flooding in four decades, killing almost 300 people.
Parma was churning over the South China Sea on Sunday, as troops in southern Taiwan helped to evacuate villages that could be hit next. The Central Weather Bureau said Parma should miss the island, but it could still bring heavy rain to flood- and landslide-prone areas still recovering from a deadly typhoon in August.
Tens of thousands of Filipinos fled to higher ground as Parma bore down on the main island of Luzon, packing winds of 108 mph and driving rain. Towns in half a dozen provinces were battered, and downpours swelled rivers to bursting, officials said.
About 14 farming villages at the mouth of the Cagayan River were flooded when it overflowed, forcing some residents to clamber onto their roofs, Mayor Ismael Tumaru of nearby Aparri town told The Associated Press by mobile phone.
A part of a seawall collapsed, worsening the flooding in some coastal villages.
Navy, coast guard and police rescuers plucked many villagers to safety but at least one village remained isolated by floodwaters. There has been no report so far of casualties, he said.
"We're like at sea," Tumaru said as he inspected an inundated village by boat. "This used to be a rice field with roads and power posts. Now, it's just water everywhere."
Power, phone lines and internet links were down across the north, making it difficult to get reports about the extent of damage, Armand Araneta, a civil defense official responsible for several northern provinces.
"We really got the brunt of the wind," he said by phone from Tuguegarao city, capital of Cagayan province. "Many trees fell here. The winds knocked down cables, telephone lines — even our windows got shattered by the strong winds."
Manila escaped the worst of the storm. On Sept. 26, Tropical Storm Ketsana killed at least 288 people and damaged the homes of 3 million. Ketsana went on to kill 99 in Vietnam, 14 in Cambodia and 16 in Laos.
Parma caps a week of destruction in the Asia-Pacific region: an earthquake Wednesday in Indonesia, a tsunami Tuesday in the Samoan islands, and Ketsana.
Another typhoon, Melor, was churning Sunday in the Philippine Sea, 1,600 miles to the east.