Israel: No Cease-Fire Until Soldier Comes Home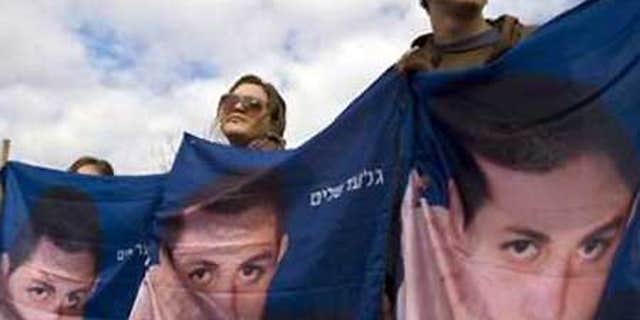 JERUSALEM – Israel declared Wednesday that it will not open the Gaza Strip's blockaded borders until Hamas militants free a captured Israeli soldier, dealing a blow to Egyptian efforts to broker a long-term cease-fire.
The decision was condemned by Hamas, which is desperate for border crossings to be opened in order to start repairing destruction from Israel's military offensive in the coastal territory last month.
In parallel, the prime minister of the rival Palestinian government in the West Bank announced plans to stream reconstruction money directly to the people of Gaza. That would effectively sideline the Hamas administration in Gaza.
Gaza's borders have been sealed by Israel and Egypt since the Islamic militants of Hamas violently seized control of the territory nearly two years ago, driving out supporters of Palestinian President Mahmoud Abbas.
Israel allows only vital humanitarian supplies to enter, and the Security Cabinet decided that closure will stay in place until Sgt. Gilad Schalit is released. The 11-member body unanimously endorsed the condition, which was set out by Prime Minister Ehud Olmert this week.
The soldier was captured in a 2006 cross-border raid by Hamas-linked militants who attacked an army base, killing two other soldiers.
In return for sending Schalit back, Hamas is demanding the freedom of hundreds of Palestinian prisoners held by Israel, including dozens of convicted killers. It also has insisted the prisoner exchange should be handled separately from the cease-fire negotiations.
Olmert insisted on a link. "I don't think we need to open the crossings until the issue of Gilad Schalit is resolved," he told the Security Cabinet, according to his office.
Israeli negotiator Ofer Dekel will fly to Cairo on Friday for further indirect talks with Hamas, mediated by Egypt, officials in Olmert's office said. The officials, speaking on condition of anonymity because of the sensitivity of the talks, said Dekel would remain in Cairo until an accord is reached.
Government spokesman Mark Regev said Israel would continue to allow a limited flow of food and humanitarian items into Gaza.
Regev said the ministers also agreed that a number of Palestinian prisoners could be released in exchange for the soldier. He would not say how many.
"We will have to release terrorists, people who are guilty of very difficult crimes," Regev said. "The ministers supported and understood this."
Hamas officials, both in Gaza and in the group's exiled leadership in Syria, condemned Israel's decision and accused it of undermining the Egyptian truce effort.
Ali Baraka, a Hamas leader based in Damascus, Syria, said Israel's decision "comes in the face of Egyptian efforts because this position is one of obstinacy."
The Palestinian observer at the United Nations, Riyad Mansour, told reporters at U.N. headquarters in New York that Israel's new demand meant it did not want a truce.
Speaking shortly before Israel announced its condition, the United Nation's top Mideast envoy, Robert Serry, warned there is a danger of new fighting in Gaza if a cease-fire deal isn't reached quickly.
He told the U.N. Security Council that a durable cease-fire can be achieved only if there is broad progress on exchanging prisoners, preventing weapons smuggling into Gaza, opening Gaza's borders and uniting Palestinian factions.
These steps "would also pave the way for the longer term recovery and reconstruction of Gaza," Serry said.
As long as the borders are closed, efforts to repair the heavy damage in Gaza will remain frozen because of shortages of cement, glass, nails and other basic supplies. Thousands of homes were damaged or destroyed, and the basic infrastructure was hit hard during the Israeli offensive.
Support for Hamas' rule could be eroded by a failure to begin repairs.
Salam Fayyad, the prime minister in the Abbas administration, told The Associated Press in the West Bank city of Ramallah that he will present a plan to donors to funnel hundreds of millions of dollars in aid directly to owners of damaged homes in Gaza, working with Gaza's banks. That would bypass Hamas, although Fayyad would not say that this was his goal.
Hamas insists on a role in allocating aid, but donors are balking at working with the Islamic militant group, which is listed as a terrorist organization by Israel, the U.S. and the European Union. It was unclear if Hamas would try to block the funding, risking harsh criticism from its people.
Also complicating the situation is Israel's political turmoil.
Olmert, who is the focus of investigations into alleged corruption, will step down after a new government is formed following last week's parliamentary election. The results of the vote were inconclusive.
Israel's president, Shimon Peres, received the official election results Wednesday evening and started consultations with the 12 parties. In a statement, he said he would complete the talks Thursday.
Based on those discussions, Peres will pick either centrist Tzipi Livni of Kadima or Benjamin Netanyahu of the hard-line Likud to try to form a governing coalition. The prime minister-designate would have up to six weeks to form a government.