Iowa High School Students Recall Football Coach Shooting as Trial Begins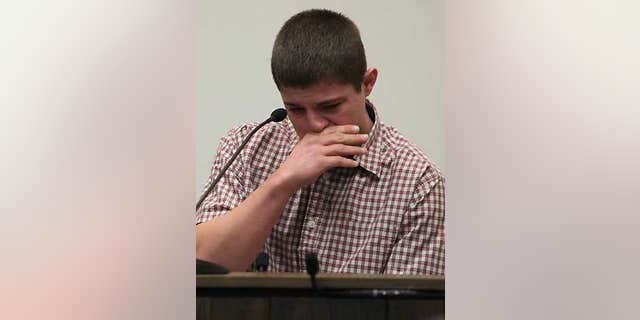 ALLISON, Iowa – Brandon Simkins stood in the weight room of the Aplington-Parkersburg high school, a loaded .22-caliber revolver pointed at his head, and closed his eyes.
He was sure he was about to die.
The then-freshman football player had watched a man he didn't recognize walk past the dumbbells and workout machines and raise the weapon. The man fired. Simkins opened his eyes and watched his coach, Ed Thomas, fall to the ground.
Click here for photos.
The trial of the accused gunman, Mark Becker, began Friday at the Butler County Courthouse with graphic testimony from witnesses. Prosecution and defense teams indicated their strategies in their opening statements.
Attorneys on both sides agreed Becker, 24, shot and killed Aplington-Parkersburg High School coach Ed Thomas on June 24. Becker has been charged with first-degree murder, and has pleaded not guilty by reason of insanity.
The debate over whether Becker was insane at the time of the shooting — that is, whether he could tell right from wrong — began during Assistant Iowa Attorney General Scott Brown's opening statement.
"The defense will say the reason (Becker) killed Ed Thomas was wrapped up in his mental illness, and that's part of it," Brown said. "But that is a far cry from Mark Becker being insane. No one will dispute the fact that Mark Becker had a mental illness. But if I say it once I'll say it 1,000 times: Mental illness does not equal insanity."
Mason City public defender Derek Jones responded that Becker didn't have access to his psychiatric medications the night before the shooting. Jones said Becker suffers from schizophrenia and had intense delusions in the days leading up to the shooting.
"Mark believed that coach Thomas was literally Satan," Jones said. The night before the shooting "he thought Thomas was trying to suffocate him. Mark decided he had to do something to make it stop."
Jones went on to say Becker was twice hospitalized late in 2008 for mental issues, and detailed some of Becker's delusions involving Thomas. Jones said the 24-year-old thought Thomas could turn people into animals, called him a "devil tyrant" and later told investigators shooting Thomas was an act of God.
Prosecution witnesses laid out the events of the morning of June 24, when police say Becker walked into the high school's weight room and fired five to six rounds at Thomas, striking him in the temple, chin and knee. Witnesses said Becker then kicked Thomas in the stomach and stepped on his head before driving home.
James Martindale III, a baby-faced 14-year-old, was working out about 7:45 a.m. when he saw Becker enter the weight room and raise the weapon.
"I saw him raise his gun to Mr. Thomas," Martindale testified. "Then I saw him shoot Mr. Thomas. Mr. Thomas fell. He fell to his side. Then Mr. Becker kept shooting him."
Matt Wicks, 16, had his back turned when he heard a loud bang that he thought was a weight being dropped.
"When Thomas was on the ground, he went over to him, cursed, yelled and he kicked him," Wicks said of Becker.
Aplington Baptist Church pastor Daniel Smith was dropping off his daughter at the weight room about 7:50 a.m. when he saw a commotion in front of the school. He ran toward the building. Inside the weight room, he saw Thomas. He couldn't find a pulse or hear breathing. He began to pray.
"My first impression was, he's gone," Smith testified.
Butler County Sheriff Joshua Johnson said a dispatcher told him to get to the school after a shooting had been reported. On the way, Johnson heard the suspect's car was registered to David Becker, Mark's father.
Johnson decided to stop by the Beckers' house. As he turned onto the small road that leads to their home, Johnson noticed a car behind him. It matched the description of the blue Chevy Lumina seen leaving the high school.
Johnson stopped his car in Becker's driveway and watched Becker's car pull up. Becker dangled a gun from the car window.
After Johnson coaxed him from the vehicle and ordered him onto the ground, he said Becker began to ramble.
"He repeatedly said 'I'm done, I'm done, I'm done,' " Johnson testified. "He said, 'Ed is done and I'm done with Ed.' "