How to Avoid Paying Full Fare When Your Child Flies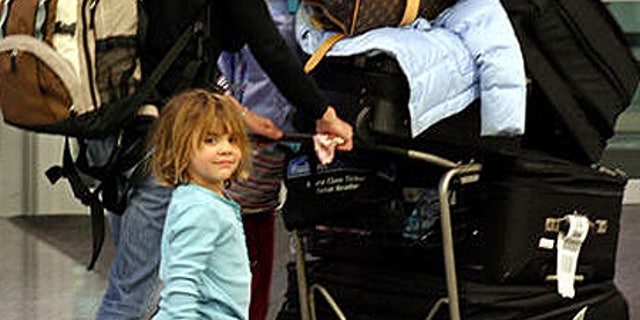 Let's get the hard truth out of the way: Kids airfares in the United States are a thing of the past.
Back in the day, child airfares were a standard 80 percent of what adults paid. Today, you can forget about snagging a reduced-cost domestic ticket for a child under 12; you can't even get a break if your kid is under two. However, if you're somewhat flexible about how, when, and where you fly, you might avoid paying full fare for your child.
Lap it up.
If you can hold your child under two on your lap for the duration of a flight, she'll fly free within the United States as well as from the U.S. to Alaska, Hawaii, Canada, Mexico, and most of the Caribbean. However, that can be a big "if," especially since you're not permitted to restrain your lap child with your own seat belt. "You must buckle your seat belt around yourself and hold that child on your lap," says Toni Vitanza, a longtime flight attendant for a major U.S. hub. "If a parent gets on board with a lap child that is not restrainable, they would have to get off the plane," adding that "a child can sit in a car seat and scream her head off – that's not against the law. But a child can't be loose in the aisle." Similarly, the FAA, while condoning lap babies, advocates child safety seats over cradling in the event of turbulence.
If you're not daunted by that level of restraint and caution and also happen to venture abroad to Europe, Asia, or Africa, you'll have to pay 10 percent of the adult fare for your lap child. And if you're going the lap route, compare airlines going to the same destination: On flights from New York to St. Lucia, American and Continental charged a lap fee of 10 percent of the adult fare while Delta charged no lap fee.
Try to score a free last-minute seat for your lap baby.
The disappearance of domestic kids' fares is linked in part to another diminished species: domestic flights. Many airlines have cut capacity by as much as 10-20 percent, according to Expedia spokesperson Amanda Hoffman, which means that if you book a semi-empty flight with the hope of shifting your lap baby into an unsold seat, chances are the flight will still be full by your departure day. However, it doesn't hurt to try a couple tricks: Rachael, a frequent traveler and mother of two told me that "whenever we would fly with kids under two, I always tried to book our seats in the last few rows with my husband on the aisle and me by the window in the hopes that the middle seat would not get filled. Most of the time, we got lucky. If not, my husband would just slide over and we'd still get to sit together." Hoffman adds that "booking two adults on either side of a middle seat might be a good bet when flying to vacation spots where people are less likely to be traveling alone, such as Hawaii or Mexico. However on popular business routes, you're going to encounter a lot more single travelers and therefore a higher probability of having that seat next to you filled."
According to several airline reservation agents I spoke with, if you depart and return on a Tuesday, Wednesday, or Thursday, you might find yourself on a less crowded flight; Monday is a heavy business travel day, while the weekends typically see the heaviest family travel volume. And if your empty seat gambit doesn't work out, one thing you can depend on is that all the airlines will let you gate check the child safety seat you brought along just in case.
Avoid having your kid turn two before you get home.
This may seem unlikely but it goes to why many of the airlines caution that infants must be under two at the completion of travel. If your child is under two on your departing flight and should happen to turn two while you're away, your airline has a right to charge your child for the return flight, which in most cases will be the full one-way fare. Domestically, JetBlue and US Air will charge your child the one-way fare on the return, though Continental, Delta, American, and United have grandfather policies that grant your birthday child a complimentary ride home on your lap. And in case you're wondering, airport personnel may ask to see birth certificates, especially for lap babies, but photo identification is not necessary on domestic flights when a child is traveling with an adult. Heading overseas? Passports, please.
Look overseas for kids' fares.
The days of discounted kids' fares to Europe, the Caribbean, and Mexico are also gone. As with domestic flights, kids used to be able to fly for 80 percent of the adult fare in many cases. But should you be inspired to plan a family trip to Africa, Japan, China, or Canada, you'll see signs of the old discounts. A sampling of flights originating from New York revealed that kids under 12 could fly to Kenya for 77 percent of the adult fare; Beijing, for 80 percent; and Tokyo, for 75 percent on American and Japan Air, though Continental's China flight yielded no kids' fares. However, Continental did show discounts in Canada: the airline's Montreal tickets for kids under two cost 52 percent of the adult fare and to Toronto, 54 percent; similar flights to those cities via United, American, Delta, and Air Canada offered no discounts.
One more thing: If you're booking your child under two her own seat, ask your airline if it cares where you place the child safety seat. Beyond the fact that exit rows are off limits (you must be 15 or older to sit in one), you'll get a variety of answers. Delta, American, Continental, and United have no preference where you seat your child, Airtran prefers the middle or window seat, USAir prefers the aisle, and JetBlue prohibits the middle (none of the airlines cared where parents sat with lap children as long as it wasn't in an exit row).
In the end, your flight attendant will adjust your infant's seating if there's a safety issue, but if you have a choice, the best bet for your child's seat is the window: she'll be safely sandwiched between the wall and the middle seat parent and won't be disturbed by aisle traffic if she's sleeping. As for other things that might keep you and your child happier in flight, that's another story.
Click here for more tips and travel ideas from FOX News Travel.