Habitat for Humanity Founder Millard Fuller Dies at 74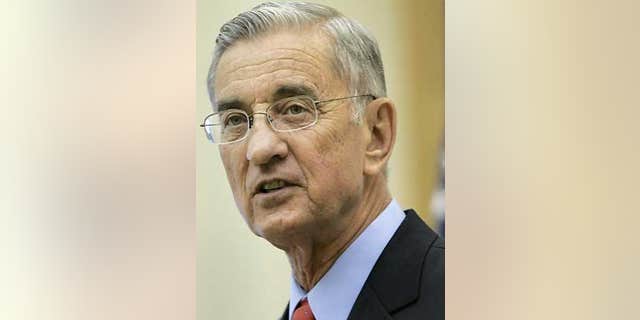 ATLANTA – Millard Fuller, the millionaire entrepreneur who gave it all away to help found the Christian house-building charity Habitat for Humanity, died Tuesday. He was 74.
Fuller died about 3 a.m. after being taken to a hospital emergency room, his wife, Linda, said. The cause of death was not immediately known.
Linda Fuller, in a telephone interview from the couple's home in Americus, said her husband was complaining of chest pains, headache and difficulty swallowing.
They planned to celebrate their 50th wedding anniversary in August with a 100-house "blitz build" across the globe, she said.
"We'll probably go ahead with the 'blitz build.' Millard would not want people to mourn his death," she said. "He would be more interested in having people put on a tool belt and build a house for people in need."
One of Habitat's highest-profile volunteers, former President Jimmy Carter, called Fuller "one of the most extraordinary people I have ever known.
"He used his remarkable gifts as an entrepreneur for the benefit of millions of needy people around the world by providing them with decent housing," Carter said in a statement. "As the founder of Habitat for Humanity and later the Fuller Center, he was an inspiration to me, other members of our family and an untold number of volunteers who worked side-by-side under his leadership."
Fuller ran Habitat for Humanity with his wife for nearly three decades but lost control of the charity in a conflict with its board. When ousted in January 2005, he and his wife started The Fuller Center for Housing to raise money for Habitat affiliates.
The ouster and a subsequent relocation of the nonprofit to Atlanta "cut the heart out of Habitat," co-founder of the Southern Poverty Law Center in Montgomery, Ala., and longtime friend Morris Dees told The Associated Press Tuesday.
"Like many nonprofits, though, they tend to grow beyond the founder and lose a lot of the original zeal and passion that caused it to be created in the first place," Dees said.
The son of a widower farmer in the cotton-mill town of Lanett, Ala., Fuller earned his first profit at age 6, selling a pig. While studying law at the University of Alabama, he formed a direct-marketing company with Dees focusing on selling cookbooks and candy to high school chapters of the Future Homemakers of America. That business made them millionaires before they were 30.
When Fuller's capitalist drive threatened to kill his marriage, Fuller and his wife, who wed in college, decided to sell everything and devote themselves to the Christian values they grew up with.
"I gave away about $1 million," Fuller said in a 2004 interview with The Associated Press. "I wasn't a multimillionaire; I was a poor millionaire."
The couple's search for a mission led them to Koinonia, an interracial agricultural collective outside Americus. There, with Koinonia founder Clarence Jordan, the Fullers developed the concept of building no-interest housing for the poor — an idea that eventually grew into Habitat for Humanity.
Founded in 1976, Habitat's first headquarters was a tiny gray frame house in Americus, which doubled as Fuller's law office. For the first 14 years, Fuller's salary was just $15,000; his wife worked 10 years for free.
Habitat grew to a worldwide network that has built more than 300,000 houses, providing shelter to more than 1.5 million people. Preaching the "theology of the hammer," Fuller built an army of volunteers that included former U.S. presidents, other world leaders and Hollywood celebrities.
People receiving homes from the charity are required to work on their own houses, investing what the Fullers called "sweat equity."
Fuller's works won him numerous accolades, including a 1996 Presidential Medal of Freedom, the nation's highest civilian honor. For nearly three decades, he was the public face of Habitat, traveling the world to hammer nails and press bricks from local clay alongside some of the Earth's poorest.
Jeff Snider, executive vice president of Habitat during the early '90s, recalled Fuller as a man driven by his commitment to the destitute. Once, Snider said he suggested setting aside some of the money Fuller raised.
"He had one and only one response, which was, 'The poor, Jeff, need the money now,"' he said. "So we ran the place full tilt, on the edge all the time, and it was stressful — but he was right."
A scandal that had smoldered for years flared anew in 2004 to sully Fuller's legacy.
Habitat's international board moved to oust Fuller from his position of chief executive officer after allegations surfaced that he had sexually harassed a female staff member in 2003. The move came despite the board's conclusion that there was insufficient evidence to substantiate the charge.
However, the allegations of inappropriate behavior mirrored complaints in 1990 from female staffers and volunteers that led to Fuller's yearlong exile from the organization's headquarters.
Fuller acknowledged he had kissed and hugged the women who made the 1990 complaints, but argued they had misinterpreted his actions. But he categorically denied the later charge, telling the AP in 2004 that "there's not even the tiniest element of truth in it."
President Carter intervened in both instances to prevent the board from ousting Fuller.
In 2004, Fuller reached a compromise allowing him to stay on in the largely ceremonial role of "founder and president." However, the Fullers backed out of an agreement not to discuss the situation publicly. The board voted in 2005 to oust the Fullers.
Months later, the Fullers and their supporters formed The Fuller Center for Housing, a fundraising group for charitable home-building efforts.
Fuller attributed his ouster to disagreements with the board over whether to slow the charity's growth. He argued Habitat was becoming more bureaucracy than mission.
Throughout the scandal, Fuller insisted that he did not want to do anything that would compromise Habitat's mission.
"I've always felt that this is God's work," he said. "And it's always been bigger than me, from day one."
Fuller is survived by his wife and four children. Funeral arrangements are pending.