Greek Farmers And Police Clash For Second Straight Day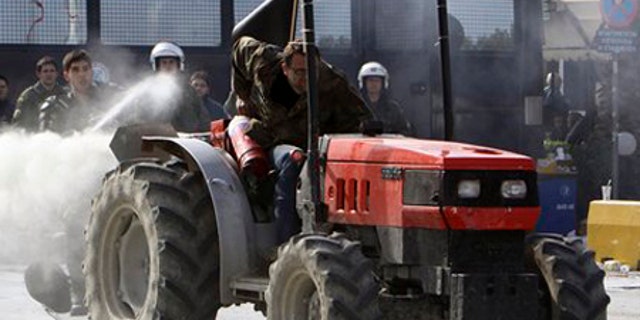 ATHENS, Greece – Police fired tear gas and clashed with farmers for a second straight day Tuesday at Greece's largest port of Piraeus.
The violence occurred after police stopped protesters who sailed from the island of Crete with their tractors to stage a protest in the capital, Athens.
Several ferry services were disrupted, as some of the more than 1,000 farmers at Piraeus hurled rocks and planks at police and set fire to trash bins, authorities said.
Many demonstrators carried wooden bats, but backed away from threats to break through a riot police cordon.
The head of Greece's main opposition Socialist Party said the protests were a result of problems being faced by farmers "not just in Crete, but across all of Greece."
"The government doesn't want to talk or listen to your demands," Socialist leader George Papandreou said, shielding his eyes from the tear gas.
The farmers canceled their plans for a rally in Athens, fearing the event could turn violent, but were still seeking talks with the government, protest organizer Giorgos Dispirakis said.
Last month, Greek farmers blocked highways nationwide until the government promised a euro500 million ($645 million) support package. But details of how farmers would receive that money are still being negotiated.
Farmers from Crete say they were neglected by the plan. Some who stayed on the island protested Tuesday by driving tractors through towns and occupying government buildings.
Farmers in northern Greece continued a two-week blockade of a border crossing with Bulgaria.
Meanwhile in Athens, the government minister in charge of police defended the police action in Piraeus, saying there was minimal use of tear gas and no excessive force.
"The police did not attack. They were threatened by tractors, which were used with murderous intent against them," Christos Markoyiannakis told Parliament.