Gaza Rocket Hits Israeli City, Threatening Truce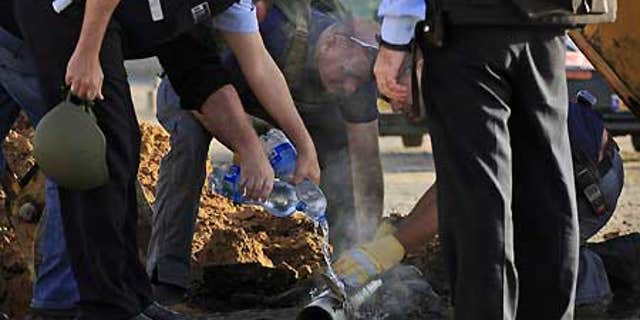 JERUSALEM – A medium-range rocket from Gaza landed in the Israeli city of Ashkelon on Tuesday as delegates from the territory's militant Islamic Hamas rulers met in Cairo for talks with Egyptian officials striving to mediate a long-term truce with Israel.
The Grad rocket was the first of its kind to be fired at the city of 122,000 since informal cease-fires were declared separately by Israel and Hamas two weeks ago at the end of Israel's bruising three-week-long offensive in Gaza. The rocket landed in an open space in the middle of the city and no one was injured, police said. The Grad is distinctive from the home-made projectiles more commonly used by Hamas and smaller militant groups, as it is manufactured abroad, has greater reach and carries a more powerful payload.
Defense Minister Ehud Barak pledged that if Hamas held its fire Israel would do likewise, while violence would be met by violence.
Click to view photos from the conflict.
"If there is quiet then there will be quiet," he told reporters during a tour of northern Israel's border with Lebanon. "If it is necessary to deal another, even stronger, blow then at the right time and in the right way an additional and stronger blow will be dealt."
Residents of the southern Gaza town of Rafah said they received telephone messages from the Israeli military later in the day warning them to leave their homes ahead of an impending airstrike. The town, on the frontier with Egypt, is a center for smuggling goods and weapons into the strip through tunnels under the border.
The recorded messages, in Arabic, said people who work in tunnels, live near them or are "giving logistical help to terrorists" should evacuate the area immediately, residents said.
Israel launched its Gaza offensive on Dec. 27 to halt near-daily rocket fire from Gaza at Israel targets. Sporadic rocket and mortar fire from Gaza has continued, however, prompting tough warnings of reprisal from Israeli leaders.
More than a dozen rockets and mortar shells slammed into Israel on Sunday. The following day Israel fired a missile at a car in the town of Rafah, killing a Palestinian militant, and bombed the nearby Gaza-Egypt border, seeking to destroy tunnels that Hamas uses to smuggle in weapons and supplies.
Israeli Foreign Minister Tzipi Livni pledged to keep hitting Hamas as long rockets continue to be fired at Israel, and she ruled out negotiations with Hamas.
"Terror must be fought with force and lots of force. Therefore we will strike Hamas," she said at a security conference Monday. "If by ending the operation we have yet to achieve deterrence, we will continue until they get the message."
Continued violence could work against Livni's government in the Feb. 10 general election and bolster hard-line opposition leader Benjamin Netanyahu, who is seen as the front-runner.
Ashkelon was hit by nearly 100 rockets during the Gaza fighting. Following Tuesday's rocket attack, a local parents' union called for classes to be called off. But city officials announced that school would be open as usual.
Netanyahu later visited the site of the incident and pledged to force regime change in Gaza if he is elected.
"A government led by me will topple the Hamas government in Gaza and bring peace and security to the south (of Israel)," his office quoted him as saying.
A Hamas delegation was to meet Egyptian mediators in Cairo on Tuesday for talks aimed at reaching a long-term cease-fire.
Hamas' top demand is opening of Gaza's borders with Israel and Egypt. The crossings have remained sealed to all but a trickle of supplies since Hamas seized control of Gaza in June 2007 from its rivals in another Palestinian group.
The Hamas delegation, which includes officials from its exiled leadership in Syria, also was to be briefed by the Egyptians about their separate meetings with the Israelis. Hamas and Israel do not negotiate directly.
Israel does not want any deal that gives Hamas a role in controlling Gaza border crossings out of concern that that would permit continued weapons smuggling.
Israelis feared the threat of a two-front war with Lebanon's Hezbollah militia, which held its fire during the onslaught in Gaza. But the Israeli government believes Hezbollah is planning an attack against Israel, or Israelis abroad, to mark the Feb. 12 anniversary of the killing of a senior Hezbollah commander in a car bombing the militia blames on Israel.
The Israeli National Security Agency is warning all Israelis travelling abroad to be extra vigilant for fear of murder or kidnap attempts by Hezbollah agents.
Barak said Lebanon's government, which includes Hezbollah, could also face retaliation if Israel is attacked.
"Hezbollah is not just a terror organization running around the hills but also sits at the Cabinet table in Beirut," Barak said. "Therefore the Lebanese government bears overall responsibility and any attempt to attack Israel will be met with a response."