G20 Protesters Jam London, Storm Royal Bank of Scotland Branch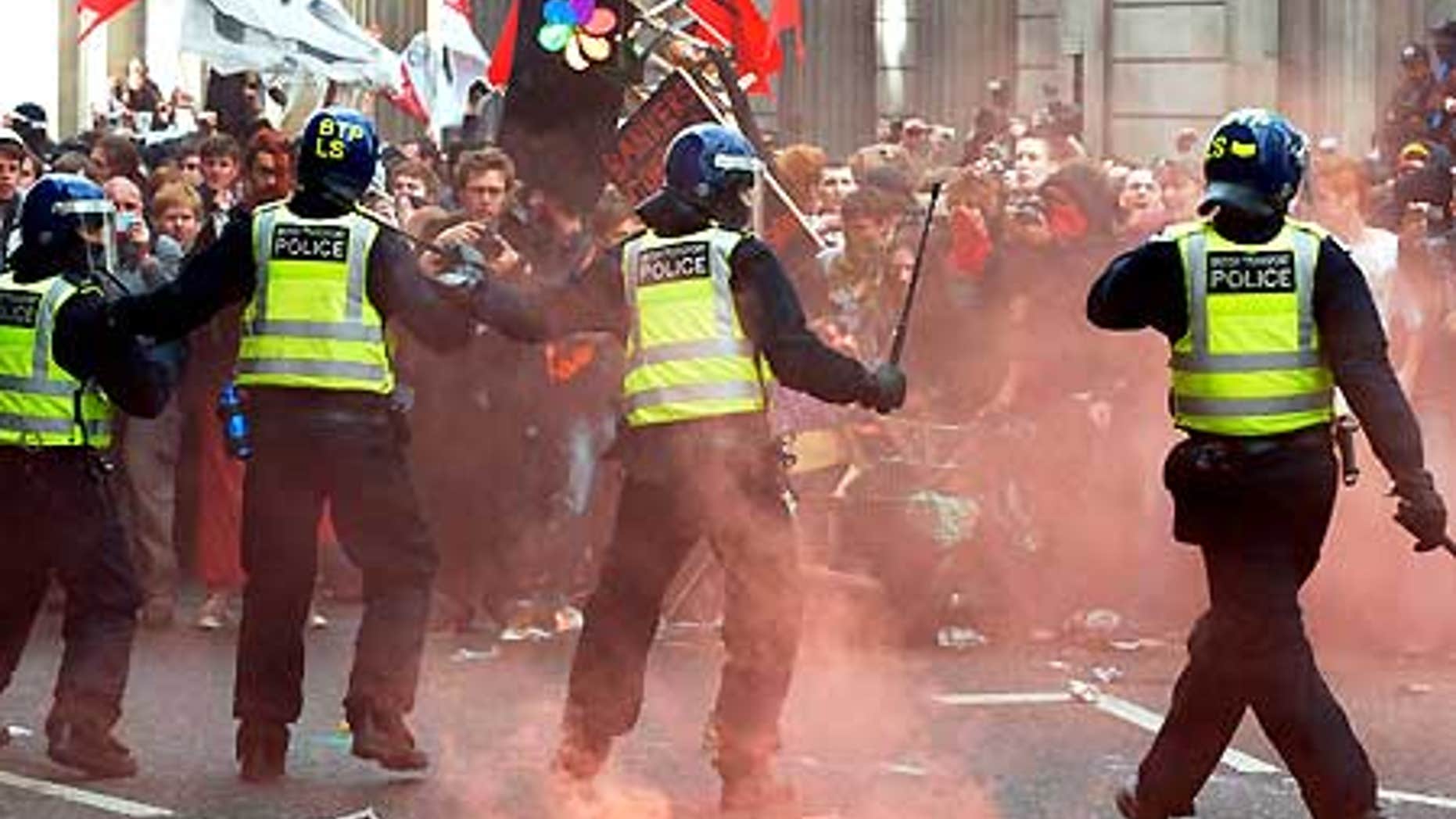 LONDON – Thousands of G20 protesters jammed downtown London on Wednesday, storming and smashing the windows at a Royal Bank of Scotland building. Others tried to storm the Bank of England, pelting police with eggs and fruit and rocking the barricades designed to control them.
One police officer was injured after being hit with a large pole during the demonstration and other officers were forced to retreat behind metal barriers as scuffles with the crowd intensitied, Sky News reported.
Some protesters spray-painted the side of the RBS building with the phrases "class war" and "thieves." Others pushed against columns of riot police who swatted them away with batons.
Demonstrators shouted "Abolish Money!" and clogged streets in the financial district known as "The City" even as Prime Minister Gordon Brown and President Barack Obama held a news conference elsewhere in the British capital.
London Bankers Dress Down to Blend In.
Protesters had branded the day "Financial Fool's Day" ahead of Thursday's summit of world leaders who are gathering in hopes of resolving the global financial crisis that has lashed nations and workers worldwide.
Royal Bank of Scotland is at the center of protesters' anger because it had to be bailed out by the British government after a series of disastrous deals brought it to the brink of bankruptcy. The bank is now majority-owned by the British taxpayer.
Despite that, its former chief executive Fred Goodwin — aged just 50 — managed to walk off with a tidy $1 million annual pension for life, while unemployment in Britain now tops 2 million and is heading towards 3 million by the end of this year. Goodwin has been vilified by the British press.
RBS posted a British record loss of 24.1 billion pounds for 2008. The British government has invested 20 billion pounds in propping up the bank.
Helicopters hovered above the protests and some buildings were boarded up. Many banks had extra security and hundreds of police officers lined the streets.
At least eight people were arrested.
"Every job I apply for there's already 150 people who have also applied," said protester Nathan Dean, 35, who lost his information technology job three weeks ago. "I have had to sign on to the dole (welfare) for the first time in my life. You end up having to pay your mortgage on your credit card and you fall into debt twice over."
Demonstrators hoisted effigies of the "four horsemen of the apocalypse," representing war, climate chaos, financial crimes and homelessness.
"The greed that is driving people is tearing us apart," said Steve Lamont, 45, flanked by his family and protesters who were banging on bells, playing drums and blowing whistles.
One police officer lost his helmet and demonstrators tossed it around like a trophy and chanted slogans.
Fearing they would be targeted by protesters, some bankers swapped their pinstripe suits for casual wear and others stayed home. Bolder financial workers leaned out their office windows Wednesday, taunting demonstrators and waving 10 pound notes at them.
Especially in Britain, bankers have been lambasted as being greedy and blamed for the recession that is making jobless ranks soar.
"It seems like everything is in a mess," said protester Steve Johnson, 49, an unemployed construction worker. "You get bankers getting massive bonuses, and the MPs (British lawmakers) are lining their own pockets."
Protesters waved banners reading "Banks are evil," "Eat the bankers," and "0% interest in others."
One protester dressed as the Easter bunny managed to hop through the police cordon but was stopped before he could reach the Bank of England. Another black-clad demonstrator waved a fake light saber at officers.
Musician and political activist Billy Bragg said the time was now to make a difference.
"It's better than sitting down shouting at the television at these bankers," he said. "We cannot go back to the way things were before to the million-dollar bonus culture."
Click here to read more on this story from Sky News.
The Associated Press contributed to this report.