France Honors Harry Potter Author J.K. Rowling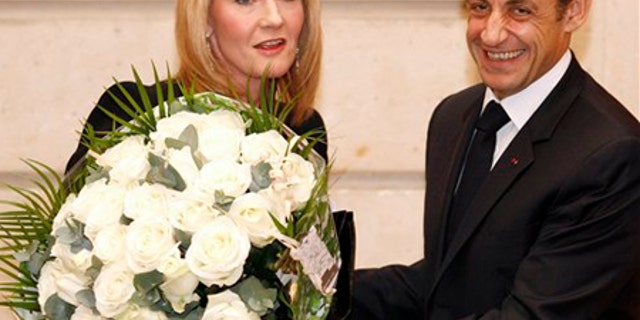 PARIS – Harry Potter author J.K. Rowling brought a second French Legion of Honor award into her family on Tuesday, decades after her great-grandfather received the honor for battlefield courage during World War I.
President Nicolas Sarkozy bestowed the title of knight in the Legion of Honor on Rowling, who used her acceptance speech to apologize for the quality of her French accent and for having given one of the villains in her series a French name.
"I cannot say that I think that I truly deserve it, but the Legion of Honor has a particular and personal meaning," she said in a ceremony in an ornate presidential palace ballroom.
One of her great-grandfathers, who was French, had received it in 1924 for his courage in the Battle of Verdun during the First World War, she said.
Rowling also thanked her readers in France "for not having held a grudge against me for having given a French name to my evil character" in the series — Lord Voldemort.
"I can assure you that no anti-French feeling was at the origin of this choice," she said. "As a Francophile, I have always been proud of my French blood. But I needed a name that evokes both power and exoticism."
"Voldemort himself is 100-percent English," Rowling said in French, pleading with the audience that included young French teens to forgive her accent. She noted that she had once taught French in Scotland.
Sarkozy hailed her for entrancing countless French children.
"Thanks to this internationally renowned saga, you have contributed to giving young people the taste for reading again," Sarkozy said before pinning the Legion of Honor medal on her. "With you, they understand that reading is not punishment, but a source of pleasure."
The British writer leapt to worldwide fame with the 1997 publication of "Harry Potter and the Philosopher's Stone," released as "Harry Potter and the Sorcerer's Stone in America," the first of her mega-hit seven-part series. The books have sold more than 400 million copies and been translated into 67 languages, including French.
In 2003, even before it was translated into French, "Harry Potter and the Order of the Phoenix," the fifth book in the series, became the first book in English ever to top the French best-sellers' list.
Created by Napoleon Bonaparte in the early 19th century, the Legion of Honor is France's elite national merit society. Although foreigners cannot be officially inducted, they are routinely made honorary recipients.
Other foreign celebrities who've been inducted into the Legion of Honor include American actor Jerry Lewis, director Steven Spielberg, singer Barbra Streisand and Brazilian architect Oscar Niemeyer.