Fort Hood Suspect Had 'Disgusted Look' in January Video, Expert Says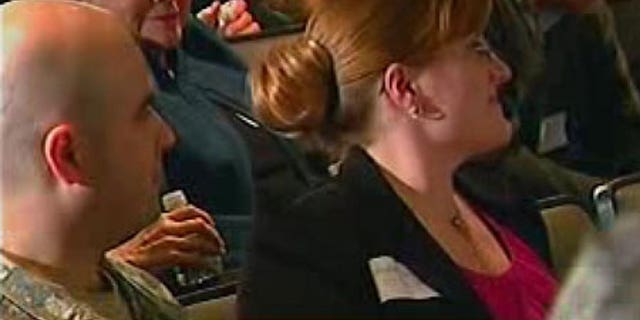 The suspect in the Fort Hood massacre was caught on video at an anti-terror conference in January with a "disturbing" scowl on his face — looking like he didn't "accomplish his mission" — a body language expert said.
Maj. Nidal Malik Hasan, the sole suspect in the murders of 13 people at the nation's largest military post last week, attended several conferences held by the George Washington University Security Policy Institute from June 2008 through February. Hasan, who was not affiliated with the university, was captured on video several times during a Jan. 6 conference on the Israeli-Palestinian conflict.
Click here to see video of Hasan at the anti-terror conference.
Dr. Lillian Glass, a body language expert and author, viewed the video and said she quickly noticed a "scowled expression" on Hasan's face as he sat wearing military fatigues in the second row.
"There's tension in the lower quadrant of his jaw," Glass told FoxNews.com. "And that's often indicative of somebody tense or not pleased. He's the only person you see with a lot of tension in the lower jaw."
Later in the video, as the conference concludes, Hasan, who is Palestinian-American, can briefly be seen with a "disgusted look" on his face, Glass said.
"It's like he didn't accomplish his mission, whatever that was," she said. "Or, he got information that wasn't pleasant. It's very disturbing."
Glass noted that Hasan stared intensely at a woman seated directly beside him as she asked a question, and then shifted his gaze to speaker Sallai Meridor, the Israeli ambassador to the United States.
"Even when she's finished asking the question, he doesn't look away," she said. "Then he shifts his gaze to the ambassador, like he's targeting him."
But Karen Bradley, a professor at the University of Maryland and certified movement analyst, said she culled no information from the snippets of Hasan on video.
"These are brief views of a man we have very little footage of; certainly no comparisons with his movement preferences before he worked at Walter Reed, or even three weeks ago, as his agitation was increasing," Bradley told FoxNews.com. "Micro-analysis (facial expressions, tiny shadow movements, etc.) tell us very little about how someone is feeling."