Final Arguments Due in Trial of Burma's Suu Kyi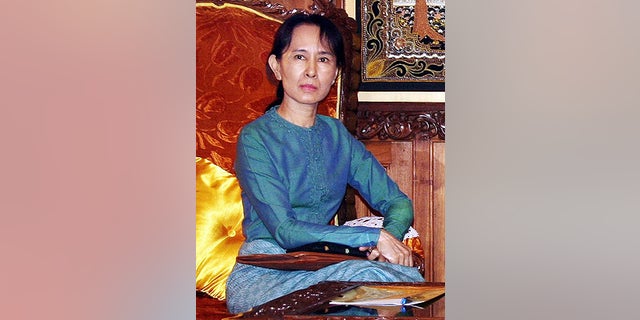 RANGOON, Burma – The trial of Burma's jailed pro-democracy leader Aung San Suu Kyi resumed Friday with her lawyers set to present a final argument in their efforts to save the Nobel laureate from a possible five-year prison term.
Suu Kyi, 64, is charged with violating the terms of her house arrest by harboring an uninvited American man who swam to her lakeside home and stayed for two days.
Nyan Win, one of Suu Kyi's defense lawyers, said the legal team met with her Thursday to finalize their 23-page closing argument, which will be presented when the widely criticized proceedings resume Friday afternoon.
"We are very optimistic because our arguments are based on solid legal points," Suu Kyi's main lawyer Kyi Win said. "We have the law on our side, but we don't know if the judges are on our side."
The prosecutors will also present their closing argument.
The defense has not contested the facts of the case but argues that the relevant law has been misapplied by the authorities. They also assert that the security guards who ensure Suu Kyi remained inside her compound should also be held responsible for any intrusion on her property.
Security was tight around Insein prison — where Suu Kyi is being held and the trial is ongoing — with roads blocked with barbed wire barricades manned by police. Pro-government supporters were also seen gathering near the area.
Diplomats from Britain, France, Germany, Norway and Italy who had earlier requested access will be allowed into the courtroom for Friday's session, a diplomat said on condition of anonymity citing protocol. It will be the third time during the mostly closed-door trial that such access has been granted.
The resumption of the trial came after U.S., European and Asian officials — including the top diplomat from Burma — wound up a conference Thursday in neighboring Thailand that put Burma's human rights record in the spotlight.
The trial has drawn condemnation from the international community and Suu Kyi's local supporters, who worry the ruling junta has found an excuse to keep her behind bars through elections planned for next year. The verdict is expected sometime next month, and Suu Kyi faces up to five years in prison.
Also on trial, and facing the same charges as Suu Kyi, are two female members of her political party who were her sole companions under house arrest. The American visitor, John Yettaw, 53, of Falcon, Missouri, is charged with trespassing.
The trial started May 18. The court had approved 23 prosecution witnesses, of which 14 took the stand. Only two out of four defense witnesses were allowed to testify.
Yettaw has pleaded not guilty and explained in court that he had a dream that Suu Kyi would be assassinated and he had gone to warn her.
Burma, also known as Myanmar, has been under military rule since 1962.
Suu Kyi's opposition party won national elections in 1990, but Burma's generals refused to relinquish power. Suu Kyi, a winner of the Nobel Peace Prize, has been under house arrest for 14 of the past 20 years.