Federer, Serena Williams Advance to Second Week at Wimbledon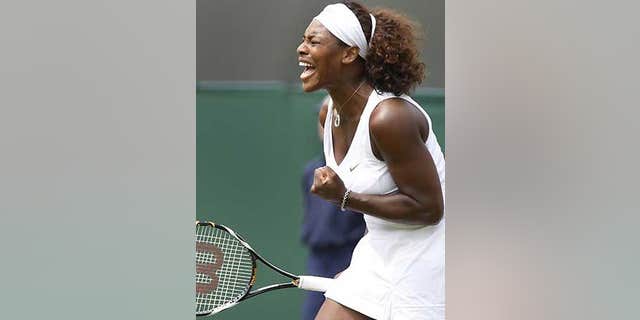 NEWYou can now listen to Fox News articles!
WIMBLEDON, England – When Roger Federer misfired on an important shot Friday, his knees buckled and he stomped behind the baseline, miffed at his mere mortality.
The moment quickly passed, and Federer advanced to the second week at Wimbledon by beating Philipp Kohlschreiber 6-3, 6-2, 6-7 (5), 6-1.
Federer lost a set for first time this week, with two errant forehands costing him the tiebreaker. That merely extended his Centre Court workout by half an hour.
"It has been a good first week," he said. "Pretty convincing. I thought this was my best match of the tournament, even though I dropped a set. I'm excited about the second week."
Federer earned a berth in the fourth round Monday against a familiar foe — Robin Soderling. Federer beat Soderling in the French Open final this month to complete a career Grand Slam and win his 14th major title, tying Pete Sampras' record.
Now the No. 2-seeded Federer seeks his sixth Wimbledon title, and he's a heavy favorite with defending champion Rafael Nadal absent because of bad knees.
"I feel relaxed," Federer said. "I'm so happy to be here. It has always been a pleasure playing at Wimbledon."
While Federer played on Centre Court, where the new retractable roof was open for the fifth consecutive day, two-time champion Serena Williams was assigned to Court 2 and arrived six minutes late for her match.
Otherwise Williams remained right on schedule, beating Roberta Vinci 6-3, 6-4.
Federer could have won more quickly. He converted only seven of 22 break-point chances and led 4-2 in the third set, before the No. 32-ranked Kohlschreiber played his best stretch of tennis.
Federer's rare display of frustration came after he pulled an easy forehand wide trailing 5-4 in the tiebreaker. Two points later, Kohlschreiber ripped a backhand winner to force a fourth set, but Federer pulled away from there and extended his winning streak to 15 matches, his longest in two years.
Soderling reached the fourth round for the first time in seven appearances at Wimbledon by defeating Nicolas Almagro 7-6 (7), 6-4, 6-4. The Swede lost only three points on his first serve and never faced a break point.
Up next: Federer. Soderling has lost all 10 of their matches.
"It's tough to play against Roger," Soderling said. "I've played him 10 times, and after the match I never felt like I played well. But I mean, it's not because of me. I think it's because of him."
Williams' tardy arrival inspired brief speculation she might be a no-show. Once that ended, so did the prospect of an upset against Vinci.
Williams said she was late heading to the court at the south end of the club because she was awaiting an escort.
"I thought someone was going to come get me," she said. "I was waiting and waiting. Finally I was like, 'OK, I think I'm just going to go out.' I'm used to someone coming and saying, 'OK, let's go.'"
The mix-up didn't rattle Williams, who hit 10 aces and committed only 12 unforced errors to win for the 172nd time in 200 Grand Slam matches. The only other active woman to play so many matches in major tournaments is her sister, five-time Wimbledon champion Venus (219).
The No. 2-seeded Serena used her penetrating strokes to push Vinci around the court. One time the Italian scrambled to retrieve a shot in the corner several steps beyond the lines, then stood helpless as Williams hit a winner into the other corner.
Only briefly did Williams waver, with a series of misplays midway through the second set. She squealed in anguish when a poor aim cost her a point at the net. She squealed again when she double-faulted on break point. When she pulled a backhand wide to lose another game, she stomped the grass and said, "Ai-yi-yi."
Serving at 4-3, she fell behind love-30, then hit three aces to hold. Two games later, one final ace gave her the match, and she screamed, "Yes!"
"I don't think I played great today at all," Williams said. "I'm just glad to have gotten through it and go on to the next match."
Williams' opponent in the round of 16 Monday will be Daniela Hantuchova, who beat doubles partner Ai Sugiyama 6-4, 6-3. Williams is 6-1 against Hantuchova.
"She's such a smooth player," Williams said. "I have to make sure I don't rush myself, because she is playing well, and I think she's moving well. So I'm going to have to really bring a tough game."
Gisela Dulko, who upset 2004 champion Maria Sharapova in the second round, was eliminated by No. 10 Nadia Petrova 3-6, 6-3, 6-4.
Seventh-seeded Vera Zvonareva, slowed by an ankle injury since April, pulled out before her match against No. 26 Virginie Razzano. Fourth-seeded Elena Dementieva, a semifinalist last year, cruised past qualifier Regina Kulikova 6-1, 6-2.