Fashion Week's Designer of the Day: Marc Jacobs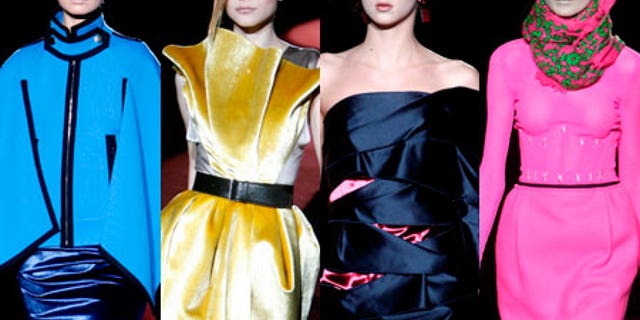 When designer Marc Jacobs presents his collection during Fashion Week, it isn't just a show, it's the show.
Jacobs is a renowned envelope-pusher within the fashion world — a reputation that has stayed in-tact pretty much since the debut of his eponymous line in 1986 and even more-so with the launch of the more contemporary Marc by Marc Jacobs in 2001.
For the Marc Jacobs Fall 2009 collection — which debuted on Monday February 16th — he took his wild designing ways to the limit with a procession of bold and outrageous pieces.
Jacobs is known for referencing signature styles from decades past and this season, it was all about the 80's.
This collection paid no mind to the current economic downturn, but rather, invoked the spirit of a time when fashion was fun, excess was lauded, and over-the-top was the way to be.
Color was the essential ingredient in this fabulous formula with electric blues, flashy yellows, pretty pinks, rich purples, some not-so-basic blacks, and wildly printed tights including every shade in the Crayola box.
There were jackets with massively voluminous shoulders; dresses and bubble skirts intricately folded, tucked, and draped; embellished party frocks; precisely folded bustier tops; and various capes, ponchos and hooded coats that were both retro and futuristic.
Distinguishing this presentation from all the rest was the fact that each model rocked a different coif with mohawks, flips, crimps, and bouffants all configured differently but with the same underlying reference point.
In this woeful time, feel-good clothing that excites and electrifies is exacty what we all need.
Sabrina Newman is a fashion writer and the creator of ANewMode.com, a blog dedicated to style, beauty and relationship advice. Stop by A New Mode for the latest and greatest fashion and lifestyle tips!