Ex-Nazi on Trial Admits Killing Dutch Civilians During WWII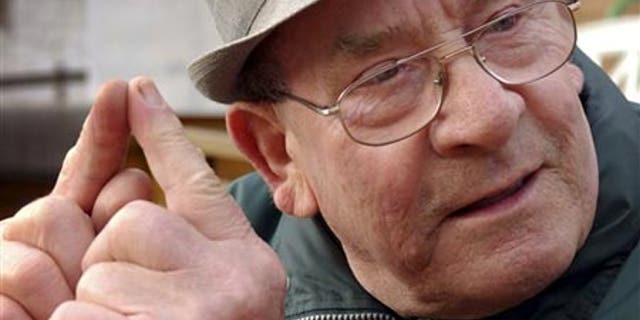 AACHEN, Germany – A former member of the Nazi SS being tried for murder admitted in court Tuesday that he killed three Dutch civilians during World War II, but insisted he was following orders.
Heinrich Boere told the Aachen state court in a statement read by attorney Gordon Christiansen that he had killed a bicycle-shop owner, a pharmacist and another civilian in 1944 as a member of a Waffen SS hit squad.
"As a simple soldier, I learned to carry out orders," Boere said in his statement.
"And I knew that if I didn't carry out my orders I would be breaking my oath and would be shot myself."
The 88-year-old faces a possible life prison sentence if convicted of three counts of murder.
Boere has not entered a plea, as is usual under the German court system, but Christiansen said after the hearing that he would argue for an acquittal based on the assertion that Boere had to follow orders.
The prosecution has painted Boere as a willing member of the fanatical Waffen SS, which he joined shortly after the Nazis had overrun his hometown of Maastricht and the rest of the Netherlands in 1940.
Boere was born in Eschweiler, Germany, on the outskirts of Aachen, where he lives today. The son of a Dutch man and a German woman, he moved to the Netherlands when he was an infant.
After volunteering for the SS, he fought on the Russian front, and then ended up back in the Netherlands as part of "Silbertanne" — a unit of largely Dutch SS volunteers responsible for reprisal killings of their countrymen.
Boere told the court that his superiors said his victims were to be killed in revenge for attacks by the Dutch resistance.
"At no time in 1944 did I act with the feeling that I was committing a crime," Boere said. "Today, after 65 years, I naturally see things from a different perspective."
Boere already admitted the three killings to Dutch authorities when he was in captivity after the war but managed to escape from his POW camp and eventually return to Germany.
He was sentenced to death in absentia in the Netherlands in 1949 — later commuted to life imprisonment — but has managed to avoid jail so far.
In another development Tuesday, the court rejected a defense motion arguing that the trial should be halted because it constitutes double jeopardy under a new European Union charter.
Boere's attorneys had argued that, since their client had already been tried in Holland in 1949, he could not be tried again in Germany for the same crimes.
The trial resumes Dec. 11.