Evangelist Tony Alamo Found Guilty of Taking Young Girls From State to State for Sex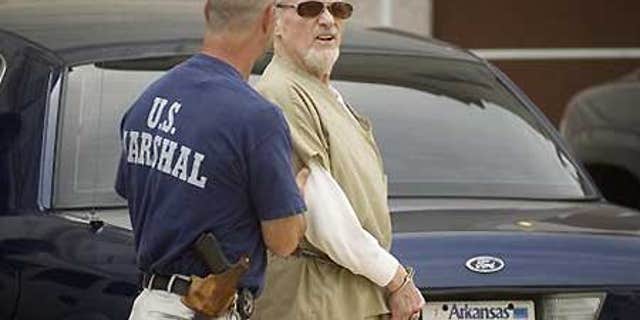 Evangelist Tony Alamo was convicted Friday on federal charges he took little girls as young as 9 across state lines to have sex with them.
The jury issued its judgment in federal court in Texarkana, Ark. They found the 74-year-old Alamo guilty of all counts he faced.
Alamo had denied the charges, claiming they came from a Vatican-led conspiracy against the church he led, called the Tony Alamo Christian Ministries.
"I'm just another one of the prophets that went to jail for the Gospel," Alamo called to reporters afterward as he was escorted to a waiting U.S. marshal's vehicle.
His apocalyptic tracts outline his hatred of the Vatican and his feared "one-world government." The Southern Poverty Law Center considers his ministry a "cult."
Defense lawyers said the government targeted Alamo because it doesn't like his brand of Christianity.
Alamo was a one-time street preacher who built a multimillion-dollar ministry and became an outfitter of the stars.
Alamo stood silently as the verdict was read, a contrast to his occasional mutterings during testimony. His five victims sat looking forward in the gallery. One, a woman he "married" at age 8, wiped away a tear.
Shouts of "Bye, bye, Bernie" — Alamo was born Bernie Lazar Hoffman — came from a crowd gathered on the Arkansas side of the courthouse, which straddles the Texas-Arkansas border.
He faced a 10-count indictment accusing him of taking girls as young as 9 across state lines as early as 1994.
FBI agents and Arkansas State Police troopers raided Alamo's compound in southern Arkansas in September looking for child pornography. Agents arrested him five days later in Arizona.
Prosecutors also summoned the sister of a woman who still lives in the compound. The woman, 19, said her sister moved into Alamo's home at age 12 and later became one of his wives. She said she often heard Alamo refer to several woman as wives and saw them massaging Alamo's thighs, giggling and whispering in his ears.
She also said she helped prepare Alamo's tour bus for a November 2004 trip. The 17-year-old who testified Friday said she had sex with Alamo on the bus while she was underage.
The Associated Press contributed to this report.