Death Toll in Russia Nightclub Fire Reaches 112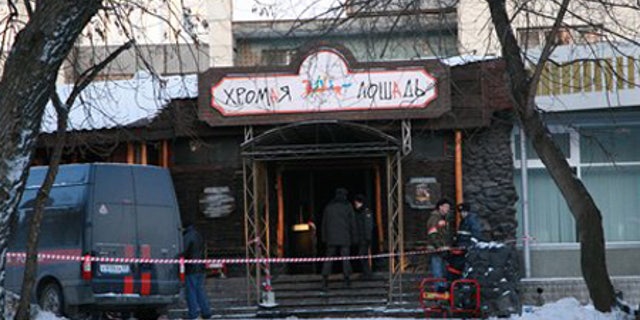 PERM, Russia – Shocked residents of the Urals city of Perm laid carnations Sunday at the snowy scene of a cordoned-off nightclub where officials say at least 112 people died in a fire.
The blaze, in the early hours of Saturday, was thought to be sparked by fireworks that shot into the decorative twig ceiling of the Lame Horse nightclub during a pyrotechnics show. Nearly 100 were killed on the spot, and some 130 were hospitalized, many in critical condition.
Many victims were trapped in a panicked crush for the exit as they attempted to escape the flames and thick black smoke.
Emergency Ministry spokeswoman Darya Kochneva said Sunday the latest victim was a man who died of severe burns in a Moscow hospital where he was flown for treatment after the fire.
Mourning residents are indignant over what they call negligence on the part of the club's management, which President Dmitry Medvedev also criticized in a nationally televised videoconference on Saturday.
Officials said club managers had ignored repeated demands from authorities to change the interior to comply with fire safety standards. Authorities quickly arrested two registered co-owners of the club, its managing director and two other suspects. One other suspect was injured in the fire and remains in critical condition.
Medvedev demanded that lawmakers draft changes to toughen the criminal punishment for failing to comply with fire safety standards.
Enforcement of fire safety standards is infamously poor in Russia and there have been several catastrophic blazes at drug-treatment facilities, nursing homes, apartment buildings and nightclubs in recent years. The nation records up to 18,000 fire deaths a year, several times the per-capita rate in the United States and other Western countries.
Monday has been designated a national day of mourning, with entertainment events and television programs cancelled.