'Dancing With the Stars' Results: Ty Murray Gets Thrown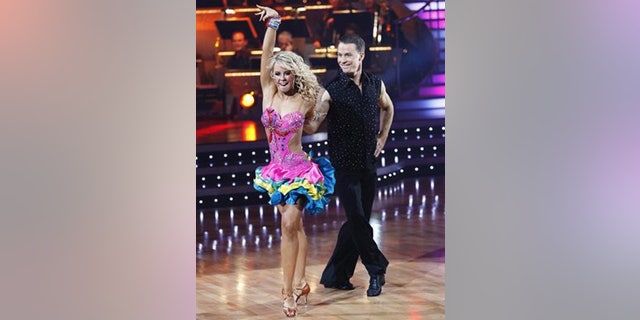 On last night's "Dancing With the Stars" results show, Ty Murray, the rodeo champion who for the last 10 weeks has been more famous than his wife, Jewel, was finally eliminated, long after the departure of most of the other stars with his relative lack of dancing talent.
Ty had come in a distant fourth among the remaining celebrities on Monday night, when they had each danced twice, performing a ballroom dance and a Latin one. Here's how the couples ranked on the judges' leaderboard (with 30 being the highest possible score for each performance):
Gilles Marini and Cheryl Burke: 60 (30 for a waltz, 30 for a salsa)
Shawn Johnson and Mark Ballas: 56 (30 for an Argentine tango, 26 for a jive)
Melissa Rycroft and Tony Dovolani: 55 (28 for a quickstep, 27 for a cha-cha)
Ty Murray and Chelsie Hightower: 48 (25 for a waltz, 23 for a samba)
Because Ty had outlasted the far more talented Lil' Kim a week ago despite trailing her by four points, there was some suspense as to whether the viewers' votes would save him again. After hosts Tom Bergeron and Samantha Harris narrowed the elimination down to Ty and Melissa, judge Len Goodman praised Ty for trying so hard and doing so well despite the aforementioned lack of dancing talent. This has been the main theme of the judges' comments as Ty's elimination has seemed more and more inevitable.
When Tom announced Ty's departure, Samantha asked Ty what he would take away from the experience. "I've got a whole new respect for what these guys do," he replied. "Trying to teach me to dance is like trying to teach a blind guy to paint." (The audience's laughter seemed stifled by the fear of appearing politically incorrect.) After praising Ty's overall performance ability (as opposed, again, to dancing ability), Tom said Jewel had made a special request for Ty to reproduce the horrific hip-shaking motion from his solo last week.
The songs chosen for "DWTS" farewell dances have tended to be ironic; the one this week was just plain rude: "Na Na Hey Hey Kiss Him Goodbye."
Much of tonight's show was devoted to the "pick a new pro for next season" competition, which has been narrowed down to Mayo Alinen and Anna Demidova. Once again, the competitor eliminated after last week wasn't even mentioned. (In case you've forgotten, it was Afton DelGrosso; the fact that the show had initially posted the wrong phone-in number for her probably had nothing to do with it.)
PHOTOS: Click here to see photos of the cast.
Just like the stars this week, Mayo and Anna had to perform in both the ballroom and Latin styles. Mayo, who was paired with Kym Johnson, was praised by the judges for using her assets—specifically her long legs—in their tango, although Carrie Ann Inaba said she wished he'd shown more of his own personality. She had basically the same criticism for their cha-cha, worrying that he might not have enough versatility for the many performance styles on "DWTS." Backstage, Mayo said, "If I can inspire some kid to go take a dance class or some guy to ask his wife to dance, it'll all be worth it." (This ballroom thing is bigger than any one of us, right?
Anna was paired with Maksim Chmerkovskiy, and much was made of her problems dealing with his ego: "You know," he said, "I'm a lot more difficult than the celebrities." After their near-perfect quickstep, Tom said, "I have not seen Maks have that much fun since [he was] locked in a hall of mirrors." Maks then pretended to think that all of Bruno's compliments were aimed at him. Len praised Anna's maturity (she's only 21) and said she brought out the best in Maks, as she had with Maurice Greene last week. After Anna and Maks' samba, the judges basically declared a winner, even though it's the viewers' votes that will decide. "If you're not the one back next season," said Len, "I'll show me bum in the supermarket."
This was also the week that we finally got to the "Macy's Stars of Dance" design-a-dance number, for which the viewers voted on a genre (quickstep, as it happened), a song ("It Don't Mean a Thing If It Ain't Got That Swing"), and the four pros who would perform (Mark Ballas, Lacey Schwimmer and Derek and Julianne Hough). (If the viewers are guilty of bias against former-Soviet pros, that doesn't bode well for Anna Demidova, or for shoppers who don't want to see Len's bum.) A New Yorker named Rebecca Farmer won the contest to design the costumes. The resulting performance was a little slapsticky but fun. (Len would probably have wanted more actual quickstep content.)
Three former "DWTS" winners—Drew Lachey, Helio Castroneves and Brooke Burke—appeared in a taped segment to critique the four finalists and offer advice. Since their critiques basically followed the party line (Ty works hard, Gilles is sexy, Melissa is pretty, et cetera), they didn't add much. And by the end of the show it was pretty easy to forget that Raphael Saadiq had performed at the beginning of it.