Concert Promoter Says He Hired Doctor to Be With Jackson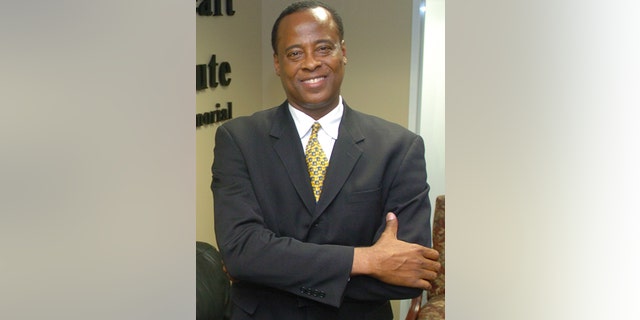 The doctor who reportedly was at Michael Jackson's home when the pop star went into cardiac arrest had been hired by the concert promoter working on Jackson's upcoming comeback shows in London, the promoter told the Associated Press.
Dr. Conrad Robert Murray has been interviewed by police, but authorities have said he isn't under criminal suspicion at this time. He is a cardiologist with offices in Texas, Nevada and California.
Jackson had been preparing to kick off this summer a series of 50 concerts staged by AEG Live, and the singer wanted Murray to accompany him to London, the company's president and CEO, Randy Phillips told the Associated Press.
AEG Live advanced Jackson the money to hire Phillips, logging it as production costs, Phillips said.
It remains unclear what role, if any, Murray played Thursday in the final hours of Jackson's life, from the Los Angeles mansion where Jackson was living to UCLA Medical Center, where he was pronounced dead at 2:26 p.m.
Jackson's family has said he seemed to have died of a heart attack, but a coroner said Friday that the official cause of death wouldn't be known until authorities receive the results of additional tests, in four to six weeks.
There has been much media speculation about the doctor's identity and what type of care he was providing Jackson, who reportedly had been taking a mix of antidepressants and painkillers.
TOPIC: Click here for full coverage on Michael Jackson from FOXNews.com
Police on Thursday towed a silver BMW from the driveway of the mansion Jackson was renting. The car belongs to a Texas woman, Susan Mary Rush, who is Murray's sister, a law enforcement source told FOXNews.com.
Karen Rayner, a spokeswoman for the Los Angeles Police Department told FOXNews.com on Friday, "The doctor's BMW was impounded last night. We are investigating the death and there might be medication still in the car that would be helpful to the investigation."
Police have not publicly named Murray as the doctor, and Rayner did not divulge the doctor's name. But she said the doctor was briefly interviewed at the scene on Thursday, and that investigators wanted to speak with him further to get a more detailed statement.
Police spoke with the doctor shortly after they arrived at the home and found the pop star unresponsive. They said Friday that, according to the 911 call, he may have been the only person in the room when Jackson went into cardiac arrest.
Family members said Friday that Jackson received a massive dose of Demerol shortly before he went into cardiac arrest. Any doctor who legally administers the drug must be certified to do so.
The doctor did not sign the death certificate, which is protocol for a death that occurs under the watch of a physician. If the doctor does not provide the police with the details and circumstances surrounding the death and does not sign the death certificate, the case will be transferred to the coroner's office, where it will be investigated as a homicide.
According to a report by KHOU in Houston, a medical assistant at the Acres Home Heart and Vascular Institute confirmed that a cardiologist there, Dr. Conrad Robert Murray, was living with Jackson at his rented mansion and was with the pop star when he was stricken.
But a woman who answered the phone there refuted the reports that Murray had been treating Jackson or had been in any way associated with him. "No. No. No," she said. "That's not his patient. No."
No one picked up the phone at the Murray's Nevada office.
According to the doctor-review Web sites Vitals.com and Wellness.com, Murray is a cardiovascular disease specialist who is affiliated with hospitals in Hayward, Calif., Henderson, Nev., and Houston. He received his medical degree in 1989 from Meharry Medical College School of Medicine in Nashville, Tenn. He completed his residency at Loma Linda University Medical Center, Internal Medicine, in 1992 and a fellowship at the University of Arizona in 1995. In 1996 he completed a second fellowship at the Foundation for Cardiovascular Medicine in San Diego.
According to Billboard, Jackson passed a physical "in flying colors" earlier this year in preparation for his summer concert series in London. But an inside source told FOXNews.com he was not close to being in top condition and was doing the best he could to get in shape for the 50 concerts that were scheduled.
"Michael had a long history of medical problems and it is not uncommon for stars to want their own doctor to be there," an insider told Foxnews.com, adding that Jackson was undergoing prescription-based treatment for various health ailments, including a bad back and fatigue. The LAPD is investigating the cause of death, and questions surrounding his prescription medications will undoubtedly be raised.
FOXNews.com's Hollie McKay and Jana Winter and the Associated Press contributed to this report.