Claim: Jacko's Rep Threatened Harm From Nation of Islam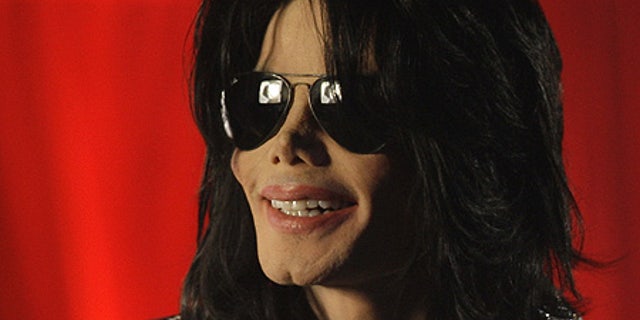 Claim: Jacko's Rep Threatened Harm From Nation of Islam | Neverland in 'Shambles' | Billy & Christie's Kid at the Next Level; Judith Owen Comes to NYC
Claim: Jacko's Rep Threatened Harm From Nation of Islam
It should be rockin' at the Hard Rock Café in New York today where famed auctioneer Darren Julien is exhibiting items from the forthcoming Michael Jackson memorabilia sale.
Last week, Julien and his partner Martin Nolan entered affavadits into Los Angeles Superior Court claiming that an associate of Jackson's suggested they were in danger from the Nation of Islam if they didn't stop the auction scheduled for Los Angeles next month.
Jackson's representative, James R. Weller, Julien says, met with him and Nolan on February 9, 2009 and threatened him with reciprocity from the Nation of Islam. For most of 2004, Jackson was managed by Leonard Muhammad, son in law of Louis Farrakhan. His security was provided by the NOI as well throughout his 2005 trial for child molestation.
Julien says that Weller, who is partners with Jackson's manager Tohme R. Tohme in an enterprise called TRW Advertising, asked to meet them at a fast food restaurant on Wilshire Boulevard. There, Julien and Nolan each claim in sworn statements, Weller made a veiled threat on behalf of Jackson and Tohme.
"During the meeting, Weller told Martin and me that our lives would be in danger if we did not postpone the auction. Weller said if we refused to postpone it, we would be in danger from "Farrakhan and the Nation of Islam; those people are very protective of Michael."
Julien's statement continues: "He told us that Dr. Tohme and Michael Jackson wanted to give the message to us that "our lives are at stake and there will be bloodshed."
The next day, Tohme insisted on meeting Julien and Nolan at a Starbucks, Julien says in the declaration. "At that meeting, Tohme dnied any knowledge of Weller's threats, and said that he accepted the auction would need to proceed as agreed."
I wrote about this Tohme R. Tohme in this column last week. Although he refers to himself as "doctor" and lets others do so as well, he conceded to me that he is not now a licensed physician. He refused to say if he ever was one, what kind, or where he received a degree.
On the website for TRW Advertising, Tohme — who is Lebanese — asserts that he's Ambassador at Large to the country of Senegal. Yesterday I spoke with a representative for that country at their Washington embassy who said he'd never heard of Tohme R. Tohme. "There are two ambassadors at large," said Mr. Mansour Gueye. "He isn't one of them."
Weller, accused of making the threat, did not return messages. In contrast to Tohme, Weller is considered legit. On the TRW site he lists over twenty years of experience in the advertising world, much of it in Republican politics and verifiable. An associate says he's known Weller for most of that time, and he's on the up and up. Tohme is a different story.
Neverland in 'Shambles'
Darren Julien, owner of the auction house that is about to sell of the contents of Neverland, couldn't believe the condition of the place when he was summoned there last summer.
In his declaration filed with the Los Angeles Superior Court, Julien lays out what he saw back on July 23, 2008:
"When I arrived at Neverland," he writes, "I was surprised to see that it was in shambles. Buildings, amusement rides, industrial equipment, personal automobiles, and Jackson's personal zoo and Tipi village were falling apart. Gardens and lawns were overgrown. Joe Marcus [Jackson's chief of security] and Tohme informed us that Jackson had abandoned the property and has not been there since the trial in 2005."
Julien took pictures of the property, which are attached to the declaration. They show the former fantasy property gone to seed, a mere shell of its former glory.
By August 8, Julien — with signed contracts in hand — began the process of dismantling and cataloging Jackon's belongings.
"At that time, Dr. Tohme" — Julien didn't know Tohme was not actually a doctor — "confirmed that Jackson had already removed from Neverland whatever personal items he wanted to keep. Dr. Tohme encouraged me and my employees to take whatever property we though we could sell at auction or that would have value. Tohme urged me to take chandeliers, fireplace mantles, carpets and even the brass oven hoods in the kitchens."
Tohme, of course, was not only managing Jackson but working for Colony Capital LLC, the firm that had bought the $23.5 million note on Neverland.
In the end, Julien says, "I did return certain items to Jackson, including some items that I believed might be embarrassing to him." He doesn't elaborate.
Billy & Christie's Kid at the Next Level; Judith Owen Comes to NYC
Billy Joel and Christie Brinkley's kid, Alexa Ray, is 22 and a hard worker. She's also a damn good pop singer and composer — no surprise. Alexa has been gigging around New York and the Northeast now for a couple of years, paying her dues, honing her craft, and growing as a performer.
Last night, with mom Christie in attendance, Alexa played her first of three consecutive Monday shows at the Living Room down on Ludlow Street. Since we first saw her at the Cutting Room a couple of years ago, Alexa has matured, grown, and "broken through." She's ready to make her first album. She's also shed the influence of Dad; her songs are now distinctly hers, She's full of hummable singles — no surprise, either, and her voice has found its own sweet spot. She's reedier than Billy, and also more soulful. Alexa Ray is going to make for a nice new addition to the radio…
…Judith Owen is not 22. She's married to Harry Shearer, comes from Wales and is sardonically very funny while at the same a sterling composer of pop songs in the mode of Carole King with a twist and, uh, a lot of edginess. Starting tomorrow night she takes over the Metropolitan Room in Chelsea for a two week on-off again run. You can check her out at www.judithowen.com. Owen's new album is called "Mopping Up Karma." By the time she's mopped up at the Metropolitan Room, there won't be a dry eye — from laughing and/or crying — anywhere.
P.S. Harry — off from Spinal Tap duties — plays the upright bass and helps out all the way around. It's a great show, not to be missed.
P.S.S. Judith has a song called "Here," that is completely phenomenal. If she doesn't sing it at every show, call out for it loudly. They should be using it one of those TV shows like "Brothers & Sisters" or "One Tree Hill." Here's the video, directed by Jamie Lee Curtis.
And yes, that's Julia Fordham in the brunette wig playing Judith's mom.