China Blocks Google to Stifle Online Dissent Ahead of Nation's 60th Anniversary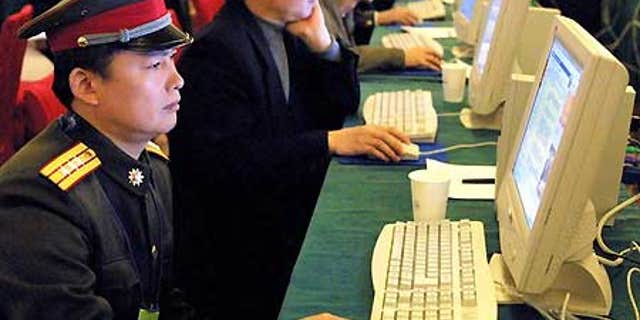 BEIJING – China is waging a high-profile fight with Google, as the world's most populous nation sanitizes the Internet and stifles online dissent ahead of its 60th anniversary celebration this fall.
Both the English and Chinese-language versions of Google were inaccessible in parts of China late Wednesday, and Gmail, the search engine's popular e-mail service, was reportedly blocked from some university campuses.
The outages occurred after China accused the Internet behemoth of spreading pornography among its citizens. Google was said to be investigating the service disruptions.
"According to complaints from many residents, Google's English-language search engine has spread large amounts of vulgar content that is lascivious and pornographic, seriously violating China's relevant laws and regulations," a Foreign Affairs Ministry spokesman, Qin Gang, told a regularly scheduled news conference.
Though he didn't comment directly on the Google disruptions, Qin warned that Google China "is a company operating within China to provide Internet search services, and it should strictly abide by Chinese laws and regulations."
• Click here for FOXNews.com's Personal Technology Center.
• Got tech questions? Ask our experts at FoxNews.com's Tech Q&A.
China recently ordered all computer manufacturers to install intrusive "Green Dam" filtering software on all new computers beginning July 1.
In Beijing, municipal authorities are also rallying an army of 10,000 volunteers to police Internet use and report content considered "unhealthy."
This new Web crackdown comes less than 100 days before the 60th anniversary of the founding of Communist China, a high-profile event expected to involve many world leaders, and one that authorities are anxious to hold without interruption.
It also coincides with the protests in Iran, where, despite Internet censorship, demonstrations were coordinated with the help of Twitter and other online forums and were believed by many to have the quiet support of the U.S. State Department.
"The U.S. and China are waging a war over the Internet, a war of information. It's a new Cold War," said Li Xiguang, dean of the journalism school at Beijing's Tsinghua University.
He said Google, as a major U.S. company, is a logical target — particularly since it rivals homegrown Chinese search engines like Baidu.
"[Chinese Internet companies] say our Chinese national interest of stability is being threatened, probably the Internet is being used as a weapon by the U.S. like it is in Iran," Li said.
But already, China is being threatened with a backlash: A declaration published Thursday by anonymous Chinese Internet users promised that all new efforts at censorship would be met with online sabotage.
"We are the Anonymous Netizens. We have seen your moves on the Internet. You have deprived your netizens of the freedom of speech. You have come to see technology as your mortal enemy," read a translation of the Declaration of the Anonymous Netizens published on a popular English-language blog, The Shanghaiist.
"For the freedom of the Internet, for the advancement of Internetization, and for our rights, we are going to acquaint your censorship machine with systematic sabotage and show you just how weak the claws of your censorship really are," the declaration continued.
Ai Weiwei, a well-known Chinese artist who recently was put under government surveillance for his attempts to create a complete list of children killed in last year's Sichuan earthquake, has called for a boycott of the Internet on July 1 as a protest against the Green Dam software.
Reviewers say Green Dam is one of the most intrusive filters ever made. Its use has prompted a formal protest from the U.S. government.
"When we look at Twitter and online forums and more broadly Internet technology, what we see is an incredibly dynamic, not-static information war," said Sharon Hom, executive director of Human Rights in China, which is based in Hong Kong and New York.
"That is a very interesting moment. It's already backfired because they tried this [Green Dam] and even their nationalist netizens are saying we're really losing faith, you can't even censor right.
"In the short term, individual citizens and groups will pay. But in the long run, you can see they can't win. The very nature of technology is you can't harness it — not authoritarian leaders, not anyone," Hom continued. "It's like riding a tiger, and you can't get off."