Carrie Prejean: From Pageants to Pop Princess?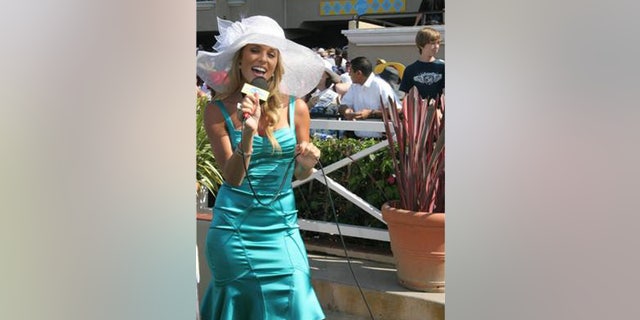 Carrie Prejean: From Pageants to Pop Princess? | Blythe Danner: Gwyneth Paltrow Was Too Smart to Be an Actress, Could Have Found a Cure For Aids | Speedy Slim Down: Molly Sims Sheds Twelve Inches on Madonna's Diet | Chace Crawford's $50G Birthday Present to Himself 
Carrie Prejean: From Pageants to Pop Princess?
Carrie Prejean joined Audrina Patridge and Wilmer Valderama to celebrate the 70th anniversary of the Del Mar Racetrack in her hometown of San Diego on Wednesday, but the controversially dethroned Miss California caused a few jaws to drop when she took to the mic to do a live song.
Prejean sang the classic "Where the Turf Meets the Surf" jingle that Bing Crosby wrote for the horse racing track in 1937.
So will there be a record deal in the works along with her newly-inked book deal? Earlier this week the 22-year-old, who caused a public outcry in April when she spoke out against same-sex marriage at the Miss USA contest, announced that she was writing a tell-all entitled "Still Standing" to spotlight her victimization by the liberal media.
Blythe Danner: Gwyneth Paltrow Was Too Smart To Be An Actress, Could Have Found A Cure For Aids
Gwyneth Paltrow is an Academy Award winner and considered to be one of the finest actors of our generation, but her parents initially thought she was too intellectual to follow in their footsteps and enter showbiz.
"She's so smart we wanted her to find a cure for AIDS or something," mama Blythe Danner admitted at the recent Women in Film Crystal + Lucy Awards. "We were pretty firm about her finishing her education but when we saw how talented she was we finally said okay."
And it sounds though Paltrow's two little ones might be on the path to a career or creativity like their famous folks too.
"Apple and Moses love to fantasize," Danner added. "I'm always down on my hands and knees playing a character. They really love that."
Speedy Slim Down: Molly Sims Sheds Twelve Inches On Madonna's Diet
Fitness guru Tracy Anderson is responsible for whipping the likes of Madonna and Gwyneth Paltrow into tip-top shape at a tip-top rate, and now she can add supermodel-turned-actress Molly Sims to her star-studded lineup.
"I've been living in New York for the past few months, I've been working with Tracy Anderson and I've lost twelve inches all over," Sims proudly told Tarts at last week's One Year Anniversary Party for the Phillip Lim 3.1 store in Los Angeles. "I feel amazing. I've got biceps underneath here; I've never had arms like this."
So what does it take to get a Molly/Madonna-esque body?
"Working out six days a week, the training regime involves everything - cardio, dancing, arms, stomach, resistance bands. You really work every part of the body," Sims said. "Tracy really tightens you and makes you smaller. I wasn't seeing results in the routine I had before, Gwyneth (Paltrow) really inspired me to try this. I saw how she really changed her body."
When it came to nutrition, the former "Sports Illustrated" supermodel followed Anderson's strict regime for 2-3 weeks (she said you can't do it for longer or else you lose too much weight) and pretty much survived on fish, "Think Thin" bars, mountain bread wraps with tuna and a vegetable drink every morning.
And now that she's feeling and looking taut and terrific, Sims has one body part in particular that she loves to flaunt.
"My ass!" she exclaimed.
Chace Crawford's $50g Birthday Present To Himself
Chace Crawford just turned 24, but what did the "Gossip Girl" do to celebrate the special occasion? Gave his friends a weekend away, of course.
We're told Crawford flew 15 of his friends from Dallas to party with him in the Hamptons last weekend, and he then spent around $50G on chartering three V1 jets from NYC to Watermill and insisted on paying for absolutely everything for their entire stay so his pals didn't have to pop out a penny. Awww.