Businesses Still Waiting for Payment After Hurricane Ike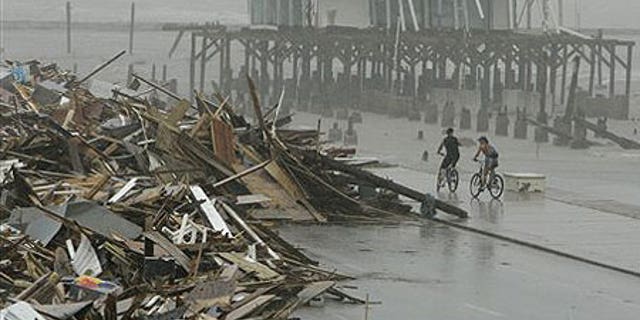 AUSTIN, Texas – Hundreds of businesses, non-profits and local governments are still waiting for Texas to pay them $134 million for services like bus transportation, portable restrooms and shelters provided when Hurricane Ike and two smaller storms battered the Gulf Coast last summer.
Mom-and-pop companies from around the country are trying to cope with cash-flow shortages caused by the delay and Texas charities say the hanging bills are putting a strain on their budgets.
Gov. Rick Perry blames the Federal Emergency Management Agency for the delay in payments. FEMA has said its public assistance program is a reimbursement program and that Texas is responsible for paying its emergency response vendors.
Many of the Ike vendors contacted by The Associated Press say they're not too eager to help out in a Texas hurricane again.
The state owes $134 million to 350 companies who contracted with the state for Hurricane Ike and the smaller hurricanes Dolly and Gustav last summer. The Associated Press obtained the list of vendors through a Texas Public Information Act request.
After a lawmaker told the state emergency director early this month that he was appalled the bills had not been paid, Perry's office announced state money was being freed up to pay $134 million to Hurricane Ike vendors, though Perry noted that $120 million of that amount was owed by FEMA.
But businesses and non-profit groups contacted this week said they hadn't yet received any money.
Perry spokeswoman Allison Castle responded to an AP inquiry about the late payments by saying that "the payments are in the process of being made."
Later Tuesday, Castle issued a statement saying, "any further delays in getting these payments out the door are unacceptable.
"The state of Texas depends on these vendors to provide much-needed services in times of emergency and we want to be able to do business with them in the future," Castle's statement said.
One California vendor with annual gross sales of $8 million is owed nearly $1 million for providing potable water and showers in the aftermath of the Sept. 13 hurricane at the state's urgent request.
He said he's "very worried" about helping Texas in the future.
"I've just been working off my lines of credit," said Brian Touey, president of Central Coast Industries in Nipomo, Calif. Touey secured credit before the financial crisis hit last fall. "Thank God that I did that because we needed to tap every bit of it."
The Governor's Division of Emergency Management e-mailed Touey in October and told him invoices were being processed, but he hasn't seen any money. The note said some vendors would be paid in two installments — 75 percent from FEMA and 25 percent from the state — and some would be getting all their money from FEMA. More recently, Touey said, he heard Texas is making state funds available for full payment.
"I'm not really sure what the truth is," he said. "You can't get a straight answer."
The records obtained by the AP show that the bills submitted to the state are for transportation for Gulf Coast residents, evacuation shelters and overall response operations — covering everything from food to portable toilets to services for the hearing impaired.
Among those owed large sums are the Salvation Army, H.E. Butt Grocery Co., Brookshire Brothers, Baptist Child and Family Services and scores of Texas cities, school districts and fire departments and out-of-state bus companies.
Express Transportation Inc. of Orlando, Fla., isn't eager to work with Texas again.
"That's sad, because the people in Texas didn't do this — the bureaucrats did," said co-owner C.W. Newman. The firm is waiting for $206,000 for providing eight buses during the hurricane response. He said he is having to adjust other payments and operational costs to account for the payment delay. The sinking economy compounds the problem and has led to company layoffs, he said.
"In today's economy, when you're waiting for $206,000 since September, it does put you behind the eight-ball," he said. "If I could afford to go out do this as a charity, I would, but I can't."
A smaller charter bus company, Bay Limousine Services in southeast Alabama, subcontracted with one of the big bus companies that is owed money by Texas. BLS is waiting for about $90,000 in payments, said manager Edwin Cherry. He said the company is halting insurance payments on three buses in its small fleet that aren't being used to save about $3,000 per month. The company also is giving fewer hours to its part-time drivers.
Cherry said when another Texas disaster strikes, he's not sure he'll be quick to take part.
"I'm going to ask a lot more questions and maybe even get a credit card" for the anticipated payments, he said. "You can't afford to work like this — we're not getting a bailout."
The Texas Lions Camp in Kerrville runs summer camps for children with diabetes and cancer, but in September, the non-profit camp accommodated adult hurricane evacuees with medical needs. The non-profit spent $317,131, including transportation.
Lions Camp has been waiting for that money and has been trying to navigate the maze of local, state and federal government officials for reimbursement, said executive director Stephen Mabry. He said he thinks the money is probably coming from the federal government through the state. The group was glad to help during the hurricane but doesn't want to absorb the cost into its regular budget, he said.
"We're like every other charity in that every dollar matters," Mabry said. "We need to those dollars to flow back to handicapped children."
Baptist Child and Family Services based in San Antonio is owed $1 million for hurricane shelters and $1.62 million for health and human services operations, state documents show. The organization said it hopes to be paid, but it's not threatening to withhold future assistance.
"Any time we're not paid on time, from anybody, it presents challenges. But our organization has managed and will stand ready to serve during the next emergency," the group's spokeswoman, Krista Piferrer, said in a prepared statement.