Book Chavez Gave to Obama Is Used as Core Text on Many College Campuses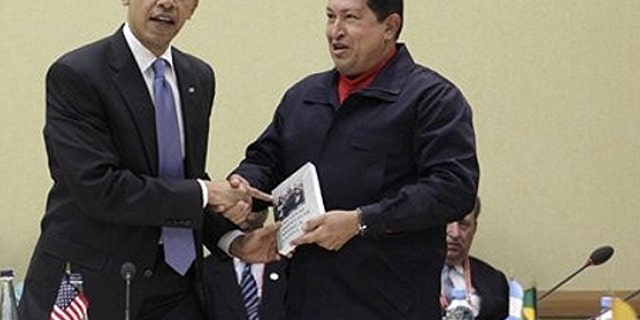 Venezuelan President Hugo Chavez wasn't the first to discover the book he gave to President Obama last week in an attempt to ease diplomatic tensions — college students in the U.S. have been turning its pages for years.
The 317-page "Open Veins of Latin America: Five Centuries of the Pillage of a Continent" has been identified on the syllabi of at least 20 U.S. colleges and universities since 2003, and it's been taught for decades on American campuses.
The virulently anti-American book tells how for 500 years Europe and then the U.S. exploited Latin America, leaving it impoverished and governed by corrupt leaders.
It outlines how U.S. capitalistic forces purportedly raped the region's natural resources and stymied Latin America's own development, exploited trade agreements and tariffs for its own interests and victimized the people of the region in exchange for the U.S.'s industrial growth.
The left-leaning tome, reportedly ranked 54,295th on Amazon's bestseller list before Chavez gave Obama a Spanish-language edition last week, skyrocketed to No. 2 on Sunday and has now "settled down" at No. 19.
Professors contacted by FOXNews.com praised the book — written by Uruguayan journalist Eduardo Galeano and first published in 1971 — for having a strong, accessible narrative style backed up by solid historical evidence.
Associate Professor Marc Becker of Truman State University in Missouri said he assigned the book as required reading to provide a "serious critique" of imperialism during his 2007 course on race, class and gender in Latin America.
"Galeano does not aim for 'balanced'; he aims for serious critique of imperialism," Becker wrote in an e-mail to FOXNews.com. "I use the book in my class because he provides such a clear and direct critique of imperialism and capitalism, and this is why Chavez gave a copy to Obama.
"As Galeano says in the introduction, the industrial world's gains were due thanks to the underdeveloping of the third world," Becker wrote. "It pursues a dependency theory approach that argues that wealth is extracted from the third world in order to develop the industrial north, and that these chains of oppression need to be broken in order for Latin America to develop."
Professor Nicola Foote of Florida Gulf Coast University acknowledged the book has a "particular slant," but said it was not one of seven key texts used in her class. She said she required students to read the book's first two chapters for a 2006 class she taught on colonial Latin America.
"It sees capitalism as the problem and socialism as the solution," Foote said. "But we make it very clear to students, they should be aware — this isn't balanced."
Foote said she supplemented the book with academic titles like "Colonial Latin America: A Documentary History," a textbook that explores the development of Latin America beginning with 1492 by using religion and society as integral themes. Also used is "The Women of Colonial Latin America," which traces the effects of conquest, colonization and settlement on women in colonial Spanish and Portguese America.
Associate Professor Paul Ortiz at the University of Florida said he most recently used Galeano's book while teaching a class on African and Latin American history last fall.
"The way I present him is that he himself was an oppositional scholar," Ortiz said. "He was writing against the mainstream economic viewpoint of the development of the Americas."
Professors say the book's critical take on imperialism offers "rare insights" into the region, which is why it remains a core textbook.
Bruce Podobnik, a professor at Lewis and Clark University in Oregon who used the text last fall, said his students subject the work to a "critical reading" by comparing it to Walter Rostow's "The Stages of Economic Growth: A Non-Communist Manifesto." Rostow's classic 1960 text identified five basic stages of economic growth and examined their connection to military aggression and the nuclear arms race.
"The students get exposed to a polarized discussion that continues to go on today," said Podobnik, who acknowledged that Galeano's analysis was "one-sided" and oversimplified the ease of Latin American countries becoming autonomous.
Michael Snodgrass, an associate professor at Indiana University-Purdue University Indianapolis (IUPUI), said he wished he had included the book in this year's curriculum, given its sudden publicity.
Snodgrass, who last used the text as one of three major sources in 2003 while teaching "Latin America: Evolution and Revolution," cited Galeano's "lyrical tones" and "uncanny mix of anger, passion, and frustration" as some of the reasons he has students read it.
"I know that beyond the literate Latin Americans who actually read the book, millions of students in the entire region learned their own history from teachers who drew their lesson plans directly from its pages," Snodgrass wrote in an e-mail. "It has been that influential."
Snodgrass, who said he hopes Chavez's gesture will inspire others to read the book, suggested Obama get a copy of Howard Zinn's "A People's History of the United States" if he wants to return the favor to the Venezuelan leader.
Meanwhile, other college instructors contacted by FOXNews.com said the book plays a minor role in coursework.
Ryan Alaniz, a graduate student at the University of Minnesota, said he requires students to read portions of the book's introduction for a sociology class he teaches called "Sociological Perspectives of Race, Class, and Gender."
"The story of global capitalism is often told from a U.S. viewpoint often without the recognition that people in other parts of the world may have a very different explanation," Alaniz wrote in an e-mail. "To gain a more holistic understanding of the consequences of capitalism, a critical student must be exposed to different interpretations of those consequences. Galeano's book offers a critical Latin American perspective."