Best Booze For The Holidays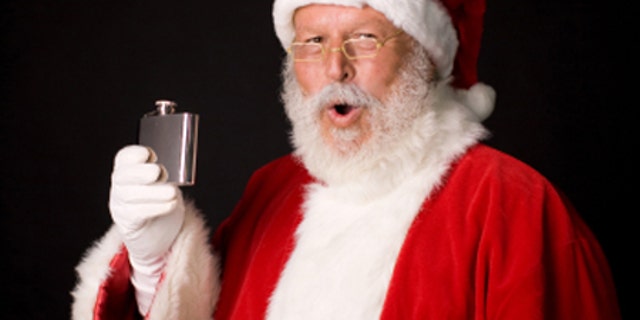 Is there a better time of year to get drunk than the holiday season? We're not talking about drunk like the rest of the year, when you projectile heave from grain alcohol made by your cousin Cletus, but drunk with refinement and sophistication. This Christmas, toast to health and happiness in style and not with a bottle of malt liquor in hand.
Booze for the Festive Spirit
There is so much diversity when it comes to holiday spirits. Not the ghost of Christmas past, present and future, but the kind of quality stuff Chuck Dickens was on when he wrote all that crap. OK, you got us. That was grain alcohol and opium. Bad example.
How about Ernest Hemingway then? He was fond of Scotch — there's a better example. A quality Scotch is just the kind of spirit that makes the holidays special. That, and all the love and family togetherness.
Besides Papa's libation of choice, here are some other spirits that pair well with "the most wonderful time of the year." They also make great presents too.
Cognac
Cognac is a personal weakness of ours and as such, we need no excuse to indulge. But if this spirit is new to you, this is the best time of year to score some good deals.
Producers of this fine spirit are notoriously protective. The real stuff can only be made in Cognac, France, and as a result, a lot of regulations exist to defend their livelihood. As consumers, we benefit with clear and simple ways to identify the quality from the crap. And believe us, the difference is remarkable.
The universal confusion with cognac is this: What do the terms VS, VSOP and XO mean? Well, a major discrepancy in price is one thing you'll notice. A bottle of XO can set you back about three times as much as a VS from the same distiller. With a fine cigar and the yuletide spirit around you, it may just be worth it. Here are the reasons for quality and price differences.
VS (Very Superior): Cognac that is between two and a half to four and a half years old.
VSOP (Very Superior Old Pale): Known as Reserve, a VSOP is aged a minimum of four years in wood.
XO (Extra Old): Cognac of this designation is at least six years old, but can be much older. This category includes Cognacs called "Napoleon" and "Vieille."
Hors d'Age: Meaning "outside of age," Hors d'Age is treasured cognac that is very, very old.
Terms like "Fine Champagne" or "Grande Fine Champagne" appear on cognac labels too. They serve to indicate the amount of spirits within the vintage that come from the Champagne region of France, which, to perplex you further, is broken down between Petite Champagne and Grande Champagne. Borderies, Fin Bois and Bons Bois are three other regions whose spirits blend to make quality cognac. If you see one of them on the label, do not freak out. Just make sure to choose a brand you like with a level of quality you can enjoy and afford.
Enjoy a drink with a cigar (strong cigar for old cognac, light for young cognac), dark chocolate, sharp, soft cheeses, roasted nuts, or dried figs.
Sherry
Sherry is a misunderstood holiday favorite. The fact is that there are a lot of oblivious people with inferior sherry in their liquor cabinets. They are so loyal to their bland brand that they have no idea what real quality sherry tastes like. Hey, when you eat ground beef your whole life, a porterhouse may taste like shoe leather.
Sherry is not for old, dowdy women who eat crumpets and cucumber sandwiches. Sherry has a rich, complex palate and can be enjoyed in an array of styles. While cognac benefits from an obvious region of origin association, sherry has no such advantage. The reality, though, is that it derives for the most part from the region of Jerez, in Andalucia, Spain.
There are two main types of sherry, with variations within.
1. Fino: pale and dry
2. Oloroso: dark and rich.
The Palomino grape gives sherry a taste distinct from other spirits. Designations such as amontillado, amoroso, cream, manzanilla, and palo cortado are deviations of fino and oloroso. They manifest in fino wines because of the presence of flor, a yeast that grows on the surface.
Because oloroso wines mature in contact with air and thus do not contain flor, the variations take on a different character. With no oxidation in fino sherry (the yeast prevents it), the results are light and crisp flavors. Oxidation in oloroso results in a rich and bold taste and texture.
A great choice for the holidays is a sweet oloroso sherry like the amoroso variety. Try a cream or a Pedro Ximenez sherry as well. They can substitute as a dessert once that heavy turkey meal is done and the belt buckle on your fat uncle comes loose. We suggest a premier producer like Hidalgo or Vadespino as well. Remember that there is a giant difference between good sherry and very, very bad sherry.
More From AskMen.com:
Crown Eggnog & Pickup Line Of The Week
Ice Wine
We can expound on Scotch whisky, brandy and the other usual suspects but sometimes you need to break from old traditions and start new ones come the holidays. Ice wine is a sweet way to do so. Good ice wine is pure ambrosia.
Ice wine is a really, really good dessert wine, even comparable in some peoples' views to a Sauternes or Muscat. The way producers make the wine is the result of a crazy act of serendipity. The grapes stay on the vine throughout the winter months and are left to freeze and then thaw. This process concentrates the natural sugars to an intense high. As a result, it takes a whole lot of grapes to produce a single glass of ice wine, hence the heavy premium consumers pay for the best. The flavors that resonate on the palate range anywhere from mango and lychee to honey, quince and fig.
The best ice wine in the world comes from two places, in our opinion: Germany and the Niagara Peninsula in Ontario, Canada.
With some fresh fruit, lemon curd or a light cheesecake, ice wine is a great match.
Booze It Up On The Holidays
Alcohol and Christmas. Is there a better match? Skip the milk and remember to leave Santa some cognac.
Click here for more from Foxnews.com Food and Drink