Apple's iPhone Gets, Loses Its First 'Porn' App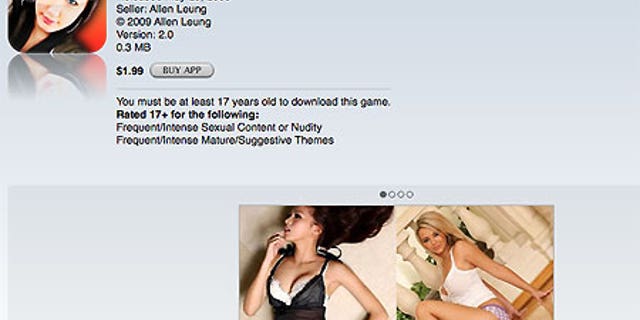 The iPhone finally got, and then quickly lost, what many had hoped for and feared: porn.
A $1.99 "app" called "Hottest Girls," which previously had featured photos of alluring women in lingerie, was updated Wednesday to include ladies wearing a lot less, according to the Apple-centric blog Macenstein.
But by around noon Eastern time Thursday, it had been entirely removed from the App Store.
"The developer of this application added inappropriate content directly from their server after the application had been approved and distributed, and after the developer had subsequently been asked to remove some offensive content," stated Apple's Tom Neumayr in an e-mail.
The people behind Hottest Girls certainly weren't mincing words when the app, rated "17+" for adult users only, was still available Thursday morning.
"Want to have over a thousand photos of the Earth's hottest girls in your pants?" said the description page in iTunes. "Then this app is for you."
"This is the first app to have nudity," noted the developers in a sidebar.
Apple's iPhone 3.0 software, made available earlier this month, incorporates parental controls, though any kid could probably sneak a peek on his dad's iPhone.
Despite the hype, the naughty screen shots of Hottest Girls posted by Macenstein showed no more than what you'd ordinarily see on an upscale European beach. For some users, $1.99 might be a bargain compared to a plane ticket.
Hottest Girls may only be the first of many risque iPhone apps.
The App Store lists a couple of dozen salacious, but PG-rated, apps with titles such as "Sexy Hotties Slideshows," Night Shift: Nurses" and "Bikini Blast."
Yet the latter's description page flatly states, "For those of you requesting more risque content, we're waiting to see what happens what Apple allows in 3.0 once parental controls are available."
• Click here to read the report in Macenstein.
• Click here for FOXNews.com's Personal Technology Center.
• Got tech questions? Ask our experts at FoxNews.com's Tech Q&A.