American on Trial With Suu Kyi Hospitalized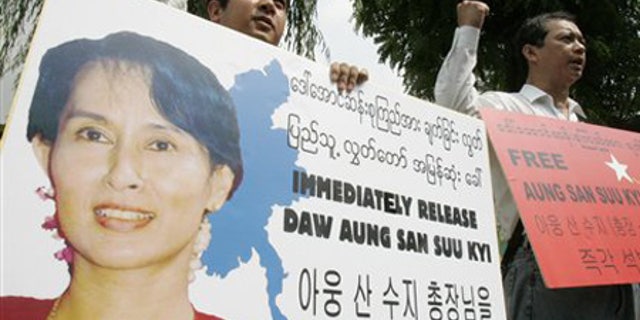 RANGOON, Burma – An American on trial for secretly entering the house of democracy leader Aung San Suu Kyi has been hospitalized after suffering seizures, hospital sources said Tuesday.
John Yettaw, 53, was admitted to Rangoon's main hospital Monday, but his condition is improving, according to the sources who spoke on condition of anonymity for fear of reprisals in the military-run nation.
Yettaw faces up to five years in prison on charges he helped violate the terms of Suu Kyi's house arrest by swimming uninvited to her lakeside residence and staying two nights.
A court is to deliver a verdict next week in the case, which charges Suu Kyi with violating the terms of her detention. The 64-year-old Nobel Peace laureate could also be imprisoned for five years along with two companions who resided with her.
Yettaw, of Falcon, Missouri, testified that he swam to Suu Kyi's house to warn her that he had had a vision that she would be assassinated.
He reportedly suffers from epilepsy, diabetes and other health problems, including post traumatic stress disorder from his time in the U.S. military. His lawyer Khin Maung Oo said earlier that Yettaw had been kept in the hospital of Insein prison, so authorities could monitor his health.
U.S. Embassy spokesman Richard Mei said that the embassy's consular officer, Colin Furst, visited Yettaw at the hospital Monday morning. He would not comment on Yettaw's condition.
While there has been little speculation about the court's verdict in Yettaw's case, many diplomats expect Suu Kyi to be found guilty and she herself has said the court's decision was already "painfully obvious."
In testimony released by her party, Suu Kyi said the verdict in her case will be a test of the country's legal system.
Suu Kyi's full testimony in the closed-door trial was released Monday for the first time by the National League for Democracy.
Critics say the ruling military has seized upon the bizarre intrusion as an excuse to keep Suu Kyi jailed through next year's scheduled elections — the country's first in nearly two decades.
The charges against Suu Kyi, who has been detained for 14 of the last 20 years and was under house arrest at the time of the incident, have refocused international outrage on Burma.
The district court was scheduled to deliver the verdict last Friday but postponed its decision to Aug 11, saying it needed more time to consider relevant legal issues.
"The Court will pronounce on the innocence or guilt of a few individuals. The verdict will constitute a judgment on the whole of legal, justice and constitutional system in our country," Suu Kyi said in her statement during final court arguments on July 24. Her party released the full statement Monday.
Suu Kyi said that she had allowed the American to stay in her home "without malice, simply with intent to ensure that no one concerned should suffer any adverse consequences."
She also said that charges against her cannot be adequately assessed without determining the legality of her latest, five-year house arrest and how Burma's constitution applies in the case.
Her lawyers have argued that the repeated extensions of her house arrest were illegal and that she is being tried under a provision of a constitution that has been superseded.
"Throughout, my lawyers have been scrupulous in their efforts to procure due process, which is critical to the rule of law. Equally critical is the principle that justice must be done and seen to be done, clearly and unequivocally," Suu Kyi's statement said.
Suu Kyi's party won national elections in 1990, but Burma's generals, who have ruled the country since 1962, refused to relinquish power.
Although defended by Suu Kyi, Yettaw has been called a fool and a madman by some of her supporters.
Associated Press interviews with people who know Yettaw reveal a man with a troubled past, strong Christian beliefs and a compulsion to comfort the afflicted.
According to his wife Betty Yettaw, the devout Mormon received a head injury during his Army service that caused blackouts and later seizures. The Veterans Administration says he receives $3,157 a month in disability payments, which appears to be his sole income.