Accused 'Craigslist Killer's' Fingerprints Found in Third Hotel Where Stripper Was Attacked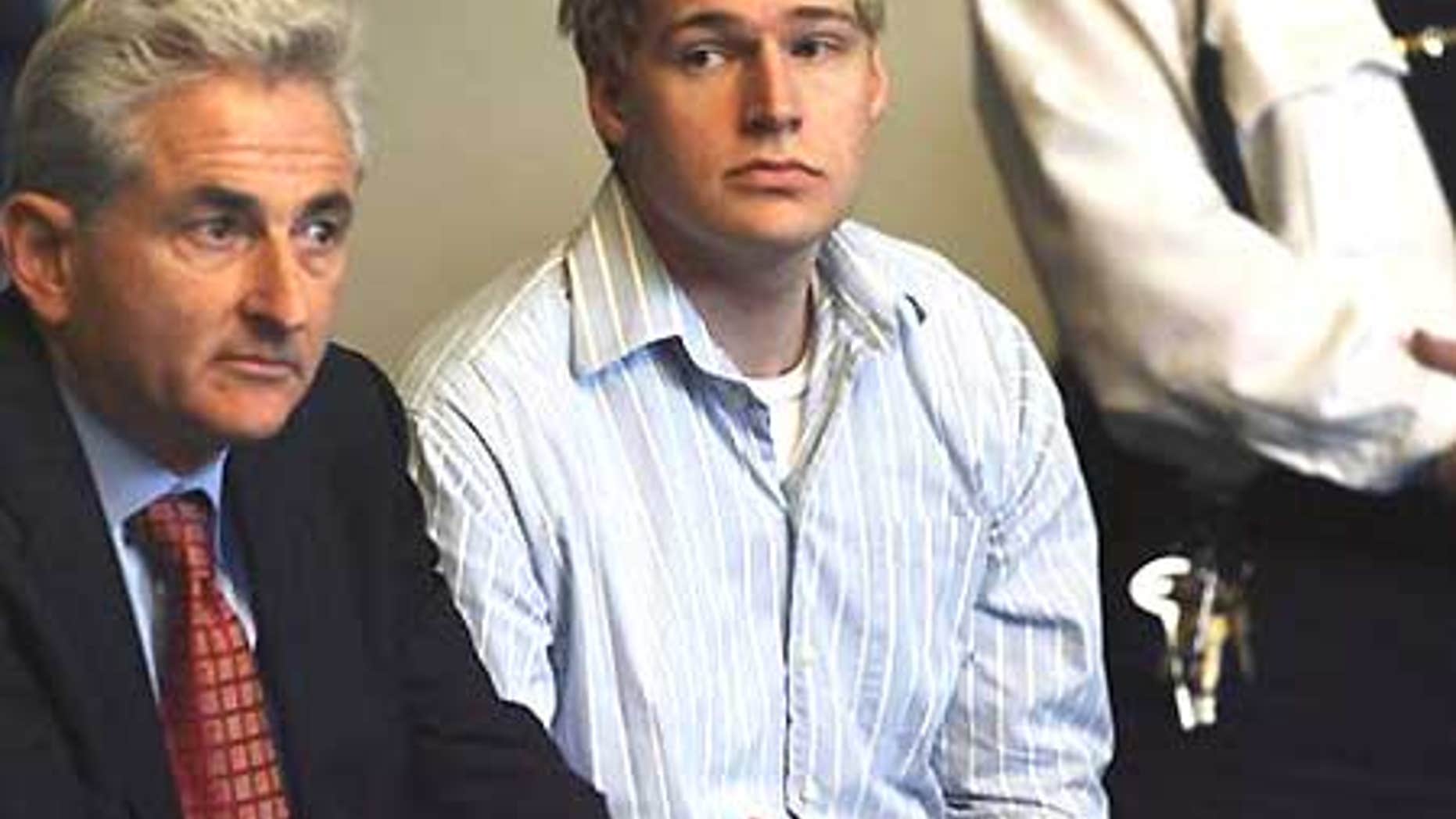 Authorities in Rhode Island say they have evidence linking the accused "Craigslist Killer" to a hotel where a third attack occurred.
Philip Markoff's fingerprints were allegedly found on a wall of the Holiday Inn Express in Warwick, R.I., where a stripper says she was tied up during an attempted robbery by a man she met through Craigslist, a law enforcement source told The Associated Press.
The official, who spoke on condition of anonymity, said the 23-year-old medical student sent text-messages from the hotel.
Markoff is charged in the killing of 25-year-old Julissa Brisman, who advertised erotic massage services on the classified ad Web site. He is also charged with robbing another masseuse in Boston.
He has not been charged in Rhode Island, but police and prosecutors there have been investigating links to the Boston cases.
A Las Vegas woman who worked as a stripper and was offering lap dances through Craigslist told police that she was bound with cord and held at gunpoint late on April 17 at the Warwick hotel. The assailant fled when the victim's husband returned to the room.
The law enforcement official said he did not know where in the hotel the fingerprints were found or who Markoff was messaging.
Markoff's attorney, John Salsberg, says his client is innocent of the charges.
Markoff, who was arrested during a traffic stop Monday as he drove to Foxwoods Casino in Connecticut, was placed on suicide watch at the Boston jail where he was being held after authorities reportedly found shoelace marks on his neck.
His attorney and parents visited him Friday, and his fiancee said earlier in the week that she supported Markoff and didn't think he was capable of hurting anyone.
Meanwhile, Brisman's mother, Carmen Guzman, said in a statement Friday that losing her daughter to such a violent death will "haunt me for the rest of my life." She said she was "relieved that the man who did this is in custody."
Meanwhile, a preliminary match has been made between bullets used to kill Brisman, of New York City, and a gun found in Markoff's home, police sources told the Boston Herald.
The link to a firearm found at Markoff's apartment isn't definitive and testing hasn't yet been completed, the sources said Thursday night.
Markoff is charged with killing Brisman at the Boston Marriott Copley Place hotel on April 14.
He also is accused of robbing another woman at gunpoint at a different Boston hotel four days earlier.
The now-suspended Boston University med student has pleaded not guilty to all the charges against him.
Markoff's fiancee, Megan McAllister, has insisted police have the wrong man and is still counting on their wedding happening as scheduled in August.
The 25-year-old woman is, "as expected, not well," her father, Jim McAllister, told the Herald. His daughter is "praying" that Markoff will be found not guilty, he said.
Meanwhile, Boston authorities are hoping that an ad they placed on Craigslist will lead them to information about other potential victims of the "Craigslist Killer," who allegedly chose his targets using the popular classifieds Web site.
"Were you attacked or robbed at a Boston-area hotel after placing an ad on Craigslist?" the police posting asks. "If so, you may have information that could aid the investigation."
Brisman, who had advertised her erotic massage services on Craigslist, was found dead in a hotel doorway after she'd been shot three times and bashed in the head. Police believe she was killed after trying to fight her attacker.
Jake Wark, a spokesman for Suffolk County prosecutors, said Boston police placed their ad in the "erotic services" section of Craigslist.
He said detectives hope it will persuade any other women who may have been victims of Markoff's alleged attacks to come forward.
The posting does not mention Markoff by name, and Wark said investigators are not sure there are other victims.
Brisman's underwear was allegedly found in Markoff's Boston-area apartment and a gun was stuffed into a hollowed-out "Gray's Anatomy" textbook, according to media reports.
Markoff hoarded the underwear of two of his victims — Brisman and the 29-year-old Las Vegas woman who survived the armed robbery, according to the Herald.
Police haven't publicly confirmed the discovery of the underwear, and Markoff hasn't been accused of sexually assaulting either victim.
Meanwhile, a college friend of Markoff's told the New York Daily News that she once had a scary encounter with the accused attacker after a night out drinking. The two were walking back to their dorms on campus after a fraternity party.
"He pushed me up against the wall and tried kissing me," Morgan Houston, who was in the same pre-med program as Markoff at SUNY Albany, told the Daily News.
She said she protested, but was frightened because her study partner was trying to overpower her. Luckily, another male friend yanked Markoff away from Houston, the paper reported.
Click here for more on this story from the New York Daily News.
Click here for more on this story from the Boston Herald.
The Associated Press contributed to this report.