A Tour of the Berlin Wall, 20 Years Later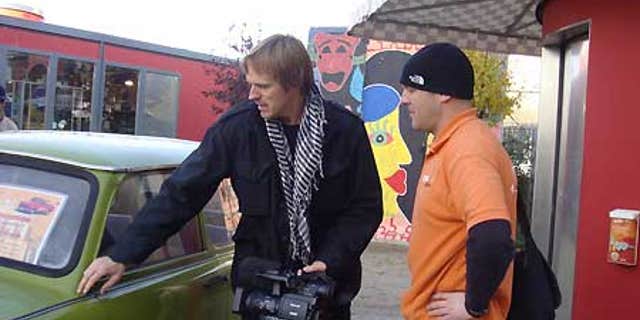 BERLIN – "It is an anachronism on wheels," says Ingo Prade about his beloved Trabant, or Trabi, as they are affectionately called.
When the key turns in the ignition, the little vehicle sputters to life.
"They are noisy," says Prade. "They have a special sound. The sound of the East. It is the sound of my childhood."
The Soviet-era pint sized two-stroke engine car has achieved cult status. Back in the day, it was practically the best an East German could hope for. Too poor for sheet metal, East German manufacturers used a mixture of reject cotton from the Soviet Union and resin to pour over its metal frame. It's quite okay a deux. But squeezing a family of four with luggage in there for a vacation would hardly equal traveling comfortably. And there are a lot of leggy Germans.
VIDEO: East Germany Today
Back in the Communist days, you had to wait twelve years to get a Trabi. It cost nearly a year's salary. There was a thriving black market for cars. East Germans would leave an unmarked Trabi in a parking lot. There wouldn't be a blatant sign the owner was looking to sell. But he would leave his window slightly open, and interested parties would slip an offer through.
Prade is one of the guides on Berlin's "Trabi Safari", which is basically a tour along East Germany memory lane.
There is a bit of nostalgia for things East German at the moment. Some of the older generation who felt a bit lost, or had trouble finding work in the new capitalist order, are victims of something dubbed "Ostalgia". Ost is the German word for east.
VIDEO: Tour of the Berlin Wall
Tourguide Ingo Prade takes me along East Berlin Communist memory lane. There is not much of the old wall left, but we go past the longest remaining stretch. Artists were invited in to paint the old wall shortly after the bulk of it came down. They were recently invited back to spruce it up.
The most famous painting no doubt former General Secretary of the Soviet Communist Party Leonid Brezhnev and late East German leader Erich Honeker, kissing each other on the lips. It was painted by a Russian artist. The inscription: God help us survive this deadly love."
Of course the wall was an ugly thing, in that it spliced a once-vibrant city in two. It separated families. It was more than just your average wall.
"There had always been two walls and in between there was the border strip, the so-called death strip, the area for the border guards," Ingo explained. He continued. "There were signal wires and dogs and patrols and watch towers. So this was heavily guarded here. There was almost no chance to cross from here over the first wall then make it over the second one without hitting the signal wire. Then you would have to swim over the river into Kreuzberg and that was the West."
Prade recalls you couldn't even get close to the wall on the east side without getting in trouble. His brother, on his way to a concert once, wandered too close inadvertently and was detained by the authorities until 4 a.m. Needless to say, he missed the concert.
Prade shows us how things have changed. He drives us through Prenzlauerberg, once a working class neighborhood in the east, now a trendy, gentrifying hub of activity. The pre-war buildings have many admirers. Much of the region escaped damage during World War II. But during Communist times it fell into disrepair. And there weren't bathrooms in each apartment, for example. Now money is being pumped into Prenzlauerberg and it is a cool place to live.
We pass by where those houses were that used to sit alongside the wall, on the east, but with windows facing west. Right after the wall went up, people would jump from those windows, to be caught by firemen waiting for them on the western side.
The houses were eventually torn down during Communist times. There is a big advertisement for luxury condominiums where they once sat.
We look at the bits of remaining wall over by the Axel Springer building. The media magnate's headquarters sat right alongside the wall. He used to provocatively beam news from high on his building, on a sort of ticker tape, for easterners to read. The Communist government put up tall socialist style buildings to block the view and keep people from reading about what was happening in the outside world.
Well over 100 people died trying to sneak across the wall. Prade remembers his own escape, on the night the wall opened. He was one of the first groups to bust their way through. He was studying at the time, and could've gotten to Bavaria faster than Berlin, but that to him wasn't interesting. Prade wanted Berlin, and west Berlin, the fabled part of the city he had never seen.
He recalls meeting West German students for the first time.
"It was a really open atmosphere. Everybody was happy and we were celebrating the fall of the wall of course. I was in a café discussing with students and they would say, alright, if you want to sleep a few hours, here are my keys, here is a map of the city. People wouldn't do that now. The spirit was special. People would trust you."
Prade says he partied for three days straight, really never slept, and then headed back east, to school. He shows me the bridge he took back. And we remark about how now, around the time of the 20th anniversary of the fall of the wall, Berlin is hustling to spruce some of the old remnants up, put some of the pieces back together. We watched a crane place an old watchtower amidst a bit of wall in a park.
"It's a contradiction, kind of," he says. "Yeah. First we try to get rid of it for 28 years. Now we have to protect it at some places from all the wall woodpeckers."
Maybe after twenty years, and all the growing pains that the newly divided Germany is only finally really getting over, it's in a good place to put some pieces of the old wall back as a way of drawing some sort of border between now and the past.