2010 Cadillac CTS Sport Wagon and 2009 CTS-V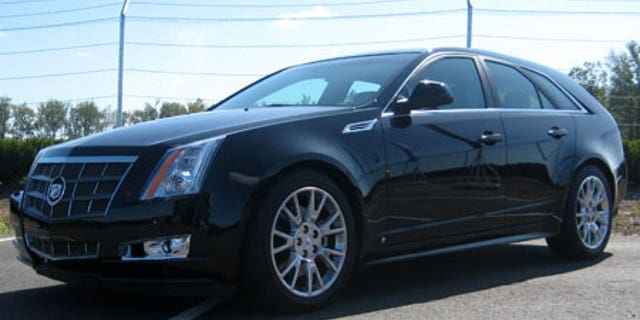 Oh, Cadillac, why did you have to do it do it? Just when you finally managed to shake off your wiseguy reputation with the world-class CTS sedan, you went and turned the darn thing into a hearse.
Lucky for us it's a pretty cool hearse, with the potential to be even cooler.
The 2010 CTS Sport Wagon holds the distinction of being the first true station wagon sold by Cadillac in the United States. Time will tell if that honor turns out to be a dubious one. Despite its popularity overseas, the luxury wagon segment hasn't exactly been a barn burner in these parts, and Cadillac estimates that less than 50,000 will be sold across all brands in 2010. Suffice it to say that the company will be happy to move a couple of thousand of its own, but it shouldn't have too much trouble doing that.
Based and traced off of the award-winning CTS sedan, the Sport Wagon shares nearly everything from the rear doors forward with that car, and all of the mechanical bits underneath. The important changes take place at the rear.
Retaining, and arguably enhancing the chiseled, diamond district style of the sedan, the Sport Wagon's profile, with its beefy fenders and roof pillars, has the appearance of a solid ingot of whatever material is shipped in ingots these days. The slope of the rear hatch is cut at the just the right angle to strike a perfect balance between sporty and stodgy, but still manages to provide more than a modicum of added cargo carrying ability. The Sport Wagon has twice the space of the sedan, in fact, and more than double that again with the back seats folded down.
Click here for an interview with Cadillac's Director of Exterior Design, Max Wolf
Trimmed in Caddy-classy carpet, the cargo area has rails with movable tie downs and a hatch in the floor that opens to expose a shallow bin that will keep small things in place whenever you take advantage of the "Sport" portion of the vehicle's name. With only about a passenger's worth of added weight to lug around, you won't be deterred from doing that, as the Sport Wagon is instilled with the same slick moves as the sedan. I'm sure there are some discernible differences between the two, but you'd have to have micrometers for fingers and a pressure sensor installed in your backside to determine exactly what they are.
Click here for a review of the CTS Sedan
The Sport Wagon can be had in rear or all wheel-drive, with a choice of either a 270 horsepower 3.0 liter engine, or a 304 hp 3.6 liter that is shared with the Chevy Camaro. Both motors are paired with a 6-speed automatic transmission.
All major features and options from the sedan carry over intact, including a nearly all-glass roof, and a 40 gigabyte hard drive infotainment system with iPod integration. Cadillac was smart not to let this apple fall too far from the tree, both for cost savings on its end, and creature comforts on ours.
On a long drive through the Appalachian mountains of Southeastern New York during the press introduction of the Sport Wagon, the 5-door proved to be everything the sedan is, and obviously more. As impressive as everything else is how quiet the cabin is. The extra glass and air in the rear doesn't seem to translate into any added noise. Aside from wincing at the extra grand or so that the Sport Wagon commands over the sedan - after taking into account its higher level of standard equipment - I can think of only one objective reason why this car shouldn't be the top choice of anyone shopping for a CTS, and it was waiting for me at the end of the road.
The Cadillac CTS-V stands alone as the premier American sports sedan. It's a 556 horsepower monster that has no peer with a Made in USA label on it, and can hold its head high among competitors from around the world.
Click here for VIDEO of the CTS-V on the track
Perhaps worried that spending a day behind the wheel of a miniature version of the Ghostbusters' car would be less than enthralling to the assembled journalists, the folks from Cadillac arranged for a couple of hours of track time in the mighty CTS-V at the exclusive Monticello Motor Club. The monster felt right at home on the private road course and its ¾-mile back straight that's as close to a stretch of autobahn as you'll find in the Northeastern United States. On it, the CTS-V could easily hit over 140 miles per hour, and that's with ham-fisted and fed me behind the wheel.
I've driven this car extensively on public roads, and there it has the kind of overwhelming power that can only be enjoyed in the shortest of bursts without putting life and license at risk. With more than double the horsepower of the base CTS, it's nasty fast, but with a starting price of $59,875, remains one of the all-time great performance bargains.
The supercharged 6.2 liter V8 engine and magnetically adjustable suspension are both borrowed from the Chevrolet Corvette ZR1. Taxed with nearly half a ton more weight in the 4300 pound CTS-V, they do their best to keep the laws of physics in check, but don't quite eliminate the learning curve for uninitiated drivers.
More than a few times, while navigating the hairpins and seemingly endless late-apex turns that bring you to the start of that glorious straight, I experienced the automotive equivalent of having eyes too big for my stomach. Speed in the CTS-V comes on so easily that you can quickly overlook how heavy the car is, and instinctively wait just a little too long to brake for corners. It's a good thing black tires don't show grass stains.
Once you realize that it's a sports sedan, not a sports car, and start driving it properly, the CTS-V reveals itself to be an eminently balanced vehicle that eats up curves with abandon, holding onto the road with a death grip. At the end of the day, the in-dash performance computer showed that I had achieved over 1.1g in both directions, which means that the car, and I, experienced sideways forces greater than the one holding us onto the planet.
Perhaps not surprisingly, I came across this result in one of the cars fitted with an automatic transmission. Left to its own devices, the 6-speed is intuitive, holding onto gears through turns, and changing up and down just when you would, often reacting faster than when you use the buttons behind the steering wheel to do it yourself. That said, the available 6-speed manual that is - surprise surprise – also comes from the Corvette is much more fun to work with, even if it doesn't necessarily make for a faster car. The fluid clutch pedal and short, sturdy throws of the shifter are a pleasure to operate. This is corporate parts-sharing the way it ought to be done.
Click here for more auto news and reviews from FOX Car Report
That the CTS-V, with all of its bulges, spoilers and assorted go-fast body parts is built on the same production line as the standard model is a marvel of modern manufacturing. But it also brings up a very intriguing prospect.
Since the Sport Wagon is nearly identical to the CTS, adding a 'V' to its name, and stuffing it full of all the associated goodness that goes with that, wouldn't be hard at all. Cadillac admits that it can do it, but won't say if it will.
Lucky for us, it's not saying that it won't, either.
—————
2010 Cadillac CTS Sport Wagon //2009 CTS-V
Base Price: $40,655 // $59,875
Type: Front-engine, rear or all-wheel-drive 5-door wagon // front-engine, rear-wheel-drive 4-door sedan
Engine: 3.6L V6 //6.2L supercharged V8
Horsepower: 270hp or 304 hp // 556 hp
Torque: 223 lb-ft or 273 lb-ft // 551 lb-ft
Transmission: 6-speed automatic // 6-speed automatic or manual
MPG: 18 city/27 hwy (3.0L) 18/26 (3.6L) // 12/18 (automatic), 14/19 (manual)
What do you think of the CTS?
Send your comments to foxcarreport@foxnews.com
FOX Car Report does not accept travel and lodging consideration when attending manufacturer-sponsored product-launch events.