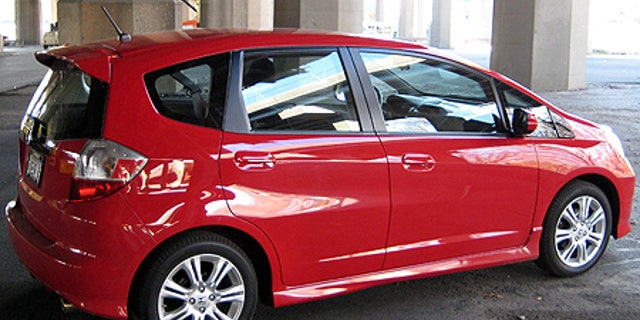 Fit people drink a lot. You see them with their bottles of water heading to the gym, chugging a sports drink while they exercise, and, of course, grabbing the requisite post-workout latte on the way home.
Honda must be well aware of this because the 2009 Fit comes with 10 cup-holders. That's 10. That's in a five passenger subcompact that can realistically carry four passengers comfortably. Four very hydrated passengers.
As Honda's entry-level vehicle, the $14,750 Fit is targeted at hip young buyers looking for some style with their savings. The racy exterior design with lots of sharp creases and headlights bulging like the eyes of YouTube's 'Dramatic Squirrel' makes it one of the more interesting looking cars in the company's lineup.
• Click here for video.
Inside, the panache persists with an organically curvy dashboard that dresses up a simple three-knob climate control system and houses an instrument panel with deeply set, chrome trimmed dials and a cool blue illumination that gives it an upscale appearance, even in daylight.
The $19,430 Fit Sport model that I tested upgrades the base 160-watt, four-speaker system to six, and also comes with a standard navigation system. It's a solid, but basic unit, with the most pleasant voice you'll ever hear giving you directions. It will recognize your voice in return, but can't tell you how the traffic is around the next bend, so enjoy the conversation and hope for the best.
The navigation system also adds a PC card interface for listening to music directly from flash memory devices, but you need a PCMI adapter to use them, and I've never actually seen one of those in person. You're better off bringing along a digital music player that can plug into the standard auxiliary jack on the center console, or the USB connector located in the small, upper glove compartment in front of the passenger seat that is big enough for an IPod and not much else.
The front seats are anatomically contoured to the point that they're almost offensive to look at, and covered with a rich fabric that seems out of place in this price class. Legroom is a little short for a six-foot-tall driver, actually half an inch less than the model it replaces, but it leaves enough room for another tall passenger to sit behind. Why carmakers like Honda don't allow the front seat to go as far back as possible when the rear seat is empty is beyond me. MINI does it, so should everyone else. Tall people like economical cars too, just look at Ed Begley, Jr. Figuratively, not literally.
• Click here for photos.
The Fit's big trick is the "Magic Seat" rear bench which not only folds flat, opening up a UPS-worthy 57-cubic-foot cargo area, but also allows you flip the bottom cushions up so you can load something tall like a bicycle or a potted plant through the back doors without having to lay it down. If you do this, you'll discover a secret compartment under the left rear passenger seat. Now what could that be for, dude?
Did I mention potted plants?
What? I can't hear you up here, I've got my foot to the floor and the engine is making too much noise.
That's the only time that it does, which is good because it's as buzzy as most inexpensive four-cylinders tend to be, but isn't good because the Fit is an exceptionally fun car to drive. Given the chance, your pedal will be spending a lot of time near the metal.
Although it is anathema to anything called 'sport', an optional five-speed automatic transmission is available and has racing style shift paddles behind the steering wheel that look cool, but are as useless as these tend to be. Connected to it, a 117-horsepower engine offering 106 pound-feet of torque can't provide anything resembling a kick in the backside from the get-go, but the Fit smoothly gathers momentum and will slice and dice through traffic with the best of them once it is cruising along. Electric power-assisted steering that adjusts with speed is partially responsible, but the suspension is the key.
Given all of the functionality it provides, the Fit is at its heart a cross trainer, and Honda has discovered the sweetest spot between handling and comfort — which is not easy to do with a car this small. Highways, country lanes, and construction cratered city streets are all dealt with on equal terms. Vehicle stability assist may play a roll in the twisty stuff, but is so unobtrusive that it's hard to say. Would-be rally and stunt drivers will be happy to know that the handbrake is as responsive as ... on second thought, I probably shouldn't mention that. (If anyone from Honda is reading this, please disregard.)
Fuel economy is good, but a little confusing. A base Fit with the automatic transmission actually gets the best numbers, 28 mpg city, 35 mpg highway and 31 mpg combined. All other models are rated at 27/33, but the Sport with an automatic has a combined rating of 30 mpg versus 29 mpg for the 5-speed sticks. Score one for the slushbox.
• Click here for more news and reviews from FOX Car Report.
Overall, the Fit is a nice piece. It doesn't have the hefty feel of the more expensive MINI Cooper, but it's a much more useful car and can't be matched in its price class, as long as you do your best to keep it there. As a 15 grand stripper, the little Honda a strong contender against a variety of cars, but for the 20 large a loaded Sport costs, you can get a pretty sweet Civic, or even a base Accord.
Neither of them is available as a hatchback, though, and magic anything is not an option.
—————
2009 Honda Fit Sport w/Navigation
Base Price: $18,760
As Tested: $19,430
Type: Front-engine, front-wheel drive, five-passenger, five-door hatchback
Engine: 1.5L Inline-4
Power: 117 hp, 106 lb-ft torque
Transmission: five-speed automatic
MPG: 27 city/33 highway
What do you think of the Fit?
Send your comments to foxcarreport@foxnews.com