1 Inmate on the Loose After Mississippi Jailbreak, 7 Others Caught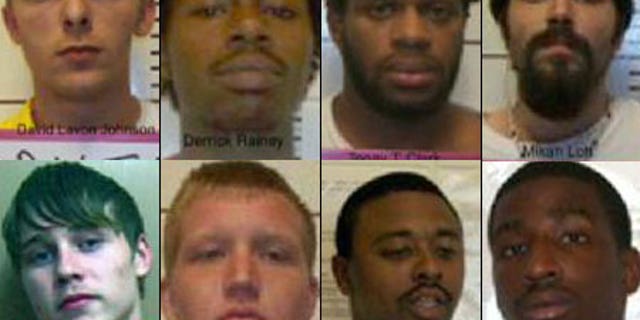 COLUMBIA, Miss. – One prisoner remains on the the run after he fled a Mississippi jail with seven fellow inmates early Monday morning.
The sheriff's office told FOXNews that they have caught seven of the eight prisoners taking part in the daring escape from the Marion County Jail early Monday morning. They apparently used part of a bed to chip through a wall, authorities said.
Marion County Sheriff Berkley Hall said the breakout was discovered around 5:40 a.m. and the sheriff believes the escape was between 3 a.m. and 4 a.m. The inmates apparently turned the bed piece into a tool, and had been working on chipping away at the wall for some time, Hall said.
"This didn't just happen overnight," he said. "This is something they've been working on."
Inmate Toney T. Clark, 21, was caught a few hours after the escape in Lumberton and returned to the Marion County jail, Hall said. Six other inmates — John David Smith Jr., 18; Mickah Lott, 28; David L. Johnson Jr., 23; Brandon Silas, 28; and Ricky Chadwick Roberts, 18 — were caught at Monday afternoon at about 2 p.m. central time. Derrick Rainey, 21, was captured Monday night.
Only Eric Ball, 20, remains on the loose.
Hall said the inmates were all wearing orange jail-issued clothing when they got out, but changed clothes meaning they must have had help from people on the outside.
The Associated Press contributed to this report.