1 Dead, More Than 100 Rescued From Ice Floe That Drifted Into Lake Erie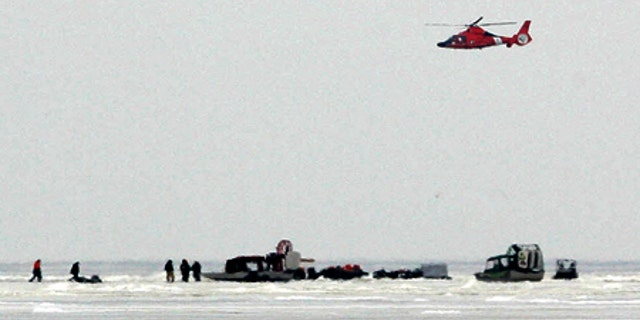 One person is dead, and more than 100 have been rescued from an ice floe about eight miles wide that broke free from the northern Ohio shoreline near Toledo and began floating into Lake Erie.
Coast Guard Lt. Zachary Ford told FOX News on Saturday evening that everyone was off the ice, saying that emergency personnel were "fortunate to be able to rescue 134 people."
As many as 500 fishermen had been stranded on the ice about 1,000 yards off shore earlier in the day, according to initial reports, and some made their way to safety on their own. The fatality occurred after one person fell into the water while trying to find a way back to shore with others. CPR was administered on him, and he was flown to a hospital and pronounced dead. No other deaths or injuries were reported.
Coast Guard Petty Officer William Mitchell identified the victim as Leslie Love. Love's age and hometown were not released, and officials have not determined the cause of death.
Love had no vital signs when he was pulled from the water, Mitchell said.
Several hovercraft and helicopters from Toledo and Marblehead, Ohio, assisted in the rescue, and Ford said helicopters continued to patrol the area into the evening to ensure everyone was off the ice.
FOXToledo.com reports that the fishermen had used planks of plywood placed on a thin layer of ice to walk out to the lake, but when the ice melted, the wooden path sank, stranding them away from shore.
Ice fisherman who regularly visit the lake have said this winter's thick ice has lured more people to the lake this year.
"There was a heck of a city out there for the last week and a half, two weeks," said 71-year-old Oak Harbor resident Peter Harrison, who has lived on the shore for 40 years.
Ohio Division of Wildlife spokeswoman Jamey Graham said the state annually warns fishermen that there's no such thing as "safe ice."
helicopters were sent from Michigan and eight air boats from the Coast Guard, Lanier said. Local authorities also sent air boats out on the ice.
Mike Sanger of Milwaukee said the crack in the ice had been tighter earlier in the morning.
"I was told the lake was froze all the way across," said Sanger, 51. "I didn't think the lake could go anywhere."
Ice on western sections of Lake Erie was up to 2 feet thick Saturday, National Weather Service meteorologist Bill Randel said. The ice cracked as temperatures rose and winds of up to 35 mph pushed on the ice.
When fishermen realized late Saturday morning that the ice had broken away, they began to debate the best way off, Sanger said, adding that no one appeared to be too scared. Some chose to sit and wait for authorities, while others headed east in search of an ice bridge.
Fishermen closer to the ice break used their cell phones to warn those farther out on the ice.
For entertainment while they waited, one angler dropped a recently hooked walleye — the target catch of the season — back into the water as a group gathered to watch it swim, said fisherman David Hudzinski of Muskego, Wis.
Others managed to get to land on their own by riding their all-terrain vehicles about five miles east to where ice hadn't broken away.
A second fisherman went into the frigid water when he tried to drive his ATV over a small crack in the ice, Lanier said. A rescue boat pulled him out within a few minutes, and he was brought to shore and wrapped in blankets. The man was not treated at a hospital and went home, Lanier said.
Sanger said he was rescued after about an hour by one of several private charter air boats that pulled up and offered rides.
Those rescued had to leave behind most of their equipment, such as coolers, snowmobiles and all terrain vehicles.
Click here for more from FOXToledo.com.
The Associated Press contributed to this report.