Zlatan Ibrahimovic's agent claims his knee is 'so strong' doctors want him for research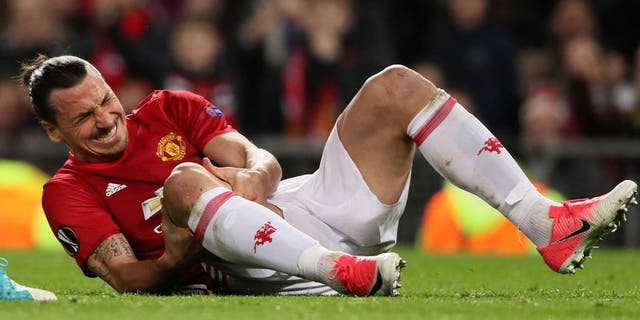 Zlatan Ibrahimovic tore his ACL just weeks ago, putting a bitter end to his first season in England with Manchester United. It was a huge blow to the Red Devils' hopes of finishing in top four, and makes their path to win Europa League much more difficult, but at 35 years old, it also put serious doubts on Ibrahimovic's future at the top level.
According to Mino Raiola, Zlatan's agent, however, there's absolutely nothing to worry about. In fact, Zlatan's such a physical specimen, Raiola says the doctors want to research his body after his career is over.
"His knee is so strong that the doctors said they had never seen anything like it," Raiola told Swedish newspaper Expressen.
"He has a knee that it is almost impossible for a football player with a 20-year career to have. It was quite clean, there was no harm in it."
The Swedish striker's future is up in the air, with United pushing on for a spot in Champions League, and planning for a future that may just be Zlatan-less. He's just signed a one-year contract extension with the Red Devils, but with MLS calling, and other options on the table, it's far from assured that he'll return to Manchester after his recovery.
After his operation, Ibrahimovic claimed he was fixed, done and stronger, telling his supporters he'd return and that, We will enjoy my game together soon.
There's no telling when or where his career will end, but according to Raiola, the doctors can't wait to get their hands on him.
Said the Italian agent: "Zlatan is so strong that the doctor wants him back after his career to research on him. They work in the world's best research institutions for the knees and ligaments. They research a lot on the subject and that is why they are better than everyone else. And the doctors want back Zlatan to do research on him.
"So after Zlatan's career, we will go back and open him up again to do research on his ligaments."
Seems legit.
The only question now is: When will Zlatan return? And for whom?