Zimmer, Newman both influenced by former coach Bill Parcells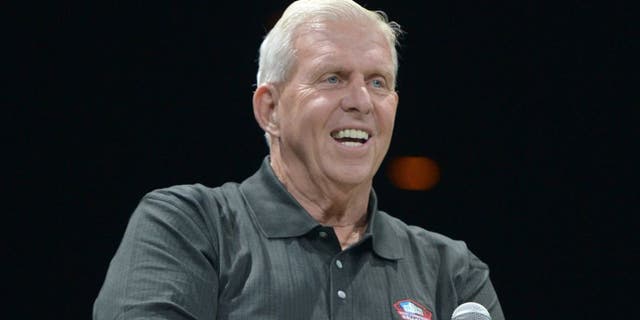 Minnesota Vikings head coach Mike Zimmer and cornerback Terence Newman go way back. Their history can be traced all the way back to 2003, when they were both with the Dallas Cowboys under head coach Bill Parcells. Back then, Zimmer was Newman's defensive coordinator.
Both Zimmer and Newman remember what it was like to coach/play for a team led by Parcells, a member of the Hall of Fame Class of 2013.
"It was a lot more psychological," Newman said about playing under Parcells, per ESPN's Ben Goessling. "He would break you down, and I had no idea what the heck was going on. There was a point where he was getting on somebody, and he asked them, 'Well, if you're going to get all upset at me, and I'm just here talking to you, what's going to happen in the game?' I realized it was more than just him trying to be, for lack of better terms, an a-hole. It goes deeper than that. And he (Zimmer) is kind of the same way -- gets on you, gets on you, but when you do a good job, you get a pat on the shoulder"
From his time coaching on Parcells' staff, Zimmer picked up on the subtleties that made The Big Tuna such a great leader of men.
"I think some of it, you (pick up from Parcells)," Zimmer said, via ESPN. "He had, really, a good way with the players -- he would get after them, but he didn't let it linger. Sometimes, with me, I would let it linger. It would bother me for a couple days. But he was always , whether it was a player or coach, he was poking you with a stick. It was the lion in the cage; he wanted to see what he was going to get out of you. If you back down, then good luck with that. ... There were lots of times where he upset me. But the one thing I noticed about him was, when we'd go back and play the Giants, so many of his players would come back and talk to him, and say, 'Hey, I miss you.' It was pretty special, really -- and I know he didn't treat them differently."
Parcells' career was winding down by the time Zimmer and Newman had the chance to work with him. He retired from coaching after the 2006 season at the age of 65 -- his Super Bowl victories with the New York Giants were ancient history by then.
Still, the lessons learned from Parcells have helped shape the NFL careers of both Zimmer and Newman.
(h/t ESPN)