Zika virus, Olympic venues huge concerns for USWNT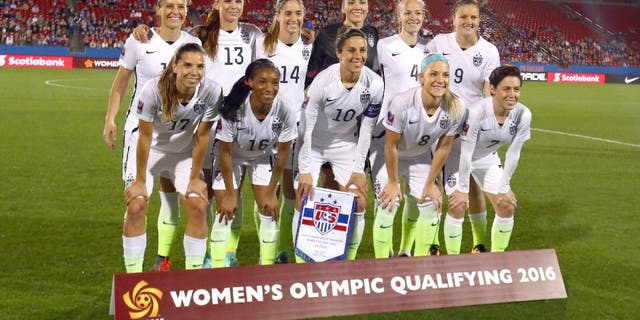 FRISCO, Texas --
Lawyers for the United States women's national soccer team Players Association are said to be spearheading an effort to allay serious concern that the players have about the Zika virus.
In addition, the U.S. women are concerned that soccer venues for the Summer Games in Brazil might mean the U.S. women could play matches near the rainforest which may expose them to mosquitoes who carry this alarming virus.
"I don't know if it was our attorney that was bringing that up. It's one of those things that there's not a whole lot of studies being done on (the Zika virus). But it is a little worrisome,'' said U.S. team captain Carli Lloyd said, adding: "The Olympics always seem to have something that come up. In Beijing it was the smog and London the attacks but this is a little more serious and concerning.''
The players have a list of questions and concerns on several issues related to their health and safety, said U.S. goalkeeper Hope Solo. The 34-year-old veteran player is among five U.S. team members who are leaders of the players union, which is embroiled in a legal dispute with U.S. Soccer over contract negotiations. U.S. Soccer filed a lawsuit on Feb. 3, seeking clarification about the status of the existing collective bargaining agreement.
Jeffrey Kessler, a high-profile sports and antitrust lawyer, filed a response several days later blasting U.S. Soccer. The two sides are at odds about whether a memorandum of understanding signed in 2013 is a valid contract through December 2016. U.S. Soccer says it is valid. The players' union's representatives, including the union's executive director, Rich Nichols, maintain that the union can walk away from the memorandum of understanding, and intend to do so as of Feb. 24 if a new contract with the players can't be negotiated.
While this does not appear to be a bargaining ploy by the players, their concern over their health and safety in Rio -- should they qualify for the Olympics as expected -- is an extension of the concern they've expressed over artificial turf, among other contractual issues. They're not going anywhere, or playing anywhere, that they aren't completely sure is safe.
Solo doubled down on comments she made earlier this week about her willingness to take the risk of playing in a country that is ground zero for the virus that has been linked to birth defects and microcephaly.
"If I had to decide today, I would not go,'' Solo said. "Fortunately, the Olympics are six months away, so I believe that we have time to get some of our doubts and questions answered. We're working closely with doctors, with U.S. Soccer and the Olympic Committee and hopefully there are things that can be done in a short amount of time. But we do take it seriously, I take my health seriously, we all do and it needs to be addressed and we need to feel safe when we go to Brazil."
The U.S. has yet to qualify for the Brazil Summer Games, but the team showed why it is the No. 1-ranked team in the world, beating Costa Rica 6-0 in the first match of the 2016 CONCACAF Olympic Qualifying Championship at Toyota Field. Afterwards, Solo and U.S. team captain Carli Lloyd said the mosquito-borne virus is a very serious concern for the U.S. women's team.
U.S. coach Jill Ellis said the team met with a physician Tuesday night, and other medical professionals from the Dallas area will meet with the team Thursday. It's an effort aimed to give the U.S. players up-to-date information so they need to assess their risk.
Solo said that the venues, which are spread across a large portion of eastern and central Brazil, are also of concern. In addition to Rio, the other venues are in Sao Paulo, Belo Horizonte, Brasília, Salvador, and Manaus. Depending on what group a qualifying country is assigned, it could lead to games being played in Manaus, the most populated city in the Amazon rainforest.
"Two of the games are pretty close to the rain forest where there are more mosquitoes than in Rio, so there are a lot of issues that need to be addressed, including the soccer stadiums," Solo said.
"There are so many unknowns. There are so many factors that need to be addressed. We will be waiting to hear all the answers. We'll be waiting to hear what kind of steps are going to be taken to make sure everything is safe and secure for all the athletes as well as all the visitors because this is veryserious issue. It's not just the athletes going to Brazil. There are over 200 countries in the Olympics that are then going to go back to their own countries, so this is a very much a serious issue worldwide that we need to be patient and get answers," Solo said.
But it sounds as if the U.S. team would have no problem asking that the soccer venues be up for review.
"Yeah, I think there could be a lot of brainstorming they could do that, hopefully that is taken into consideration. I don't think the soccer venues should be so close to the rainforest where there's more mosquitoes. so let's see what happens," Solo said. "Honestly, we need a lot of answers. We can't make this decision right now. It's six months away. All I can do is speak for myself, if the Olympics were today, I wouldn't go. Fortunately, we have a little to figure things out. Our team hasn't said 'If this doesn't happen, we're not going.'"
But Solo did say that "absolutely, we're concerned in a number of different ways." Likewise, Lloyd said that the team is unified and feels strong -- on the field and off. The reigning FIFA Women's World Player of the Year volunteered that with good lawyers working for them, the players feel they're in a good position. They have their eye on qualifying for the Olympics, but also making sure they get answers and achieve a good contract for all their accomplishments, including the 2015 Women's World Cup victory.
"We do (feel strong). This is how negotiating goes," Lloyd said. "It's a battle and I think we just want to get what we deserve. I think we've worked hard over the years and really we've kind of plateaued and put ourselves on a pedestal now, so I think that's the most important thing to just continue to fight and make it better than when we first came in."