Zetterberg shakes off the rust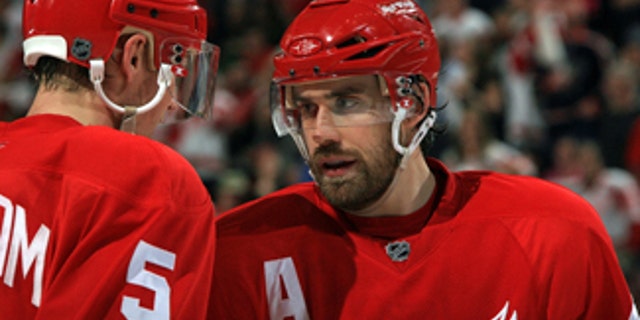 SAN JOSE, Calif. – Nearly one month after suffering a knee injury against the Hurricanes on April 6, left wing Henrik Zetterberg returned to the Red Wings' lineup for Friday night's Game 1 overtime loss to the Sharks.
Zetterberg played nearly 20 minutes and was plus-1 with three shots on goal. After Friday's 2-1 overtime loss at HP Pavilion, Zetterberg answered questions in the Wings' dressing room.
Q: How did it feel to be back out there after not playing in the opening round?
A: I was a little rusty. It was nice to be out there again. It was fun to be playing a playoff game again. I can definitely be better.
Q: You killed off a four-minute penalty in overtime before allowing the winner by the Sharks' Benn Ferriero. Did you think you were out of the woods after killing the penalty?
A: It was a lengthy power play for them in overtime. Our guys got a little tired and the puck ended up in our net. It was a tough call. (Justin Abdelkader's) stick got caught behind him and hit (Niclas Wallin's) face. That happens sometimes. I think we killed it off good, but the guys got a bit tired.
Q: The Red Wings had not played in nine days. Were you satisfied with the team's start?
A: I think maybe the first two, three minutes we came out a little on our heels but I think we came back and played a real good first period.
Q: Any other thoughts on falling behind in this series?
A: I don't think anyone thought we were going to sweep them. There's a pretty good team over there.