Zeke and Dak on top again -- in NFL player merchandising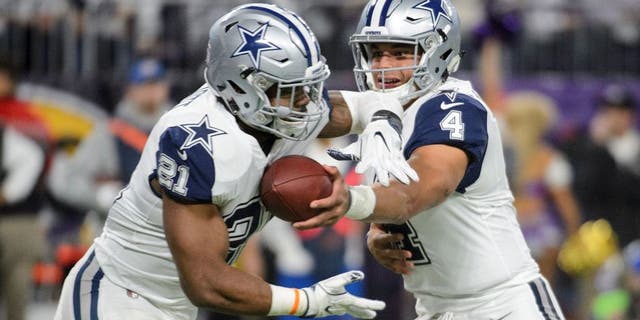 Here's more proof that the 2016 season was a superb one for rookies: Ezekiel Elliott and Dak Prescott topped NFL player merchandise and products sales.
The Dallas Cowboys running back who led the league in rushing and the quarterback who was the Offensive Rookie of the Year represent the first time two rookies led the list compiled by the NFL Players Association.
The list is based on total sales of officially licensed NFL player merchandise, tracking year-end results from March 1, 2016, through Feb. 28, 2017.
"It's pretty humbling," Elliott said. "When you're a rookie, you're just looking to put your head down, help the team and learn the ropes. To accomplish this level of success off the field shows just how passionate football fans are in Dallas, in Ohio, my home state of Missouri, and all around the world. And to be up there with Dak and Dez (Bryant), alongside great players like Tom Brady and Odell Beckham, is very special to me."
Super Bowl MVP Brady was third on the list after holding the top spot for much of the measuring period. He was followed by yet another Cowboy, receiver Bryant, and Giants wideout Beckham Jr.
Brady vinyl figures were the most popular among those items, and he also led in plush dolls, player-identified kids T-shirts and jerseys.
Another rookie, Eagles quarterback Carson Wentz was seventh overall but tops in bobblehead sales.
NFL Players Inc., the marketing arm of the union, compiled the list, which is based on overall sales of all NFL player licensed products via online and traditional retail outlets as reported by more than 80 NFLPA licensees.
Among the product categories are men's, women's and youth game jerseys and T-shirts; wall decals; figurines; toys; matted and framed photos; vinyl collectibles; bobbleheads; ugly sweaters; plush dolls; drinkware; socks; mobile gaming; virtual goods; holiday ornaments and novelties. NFL Players Inc. said licensees generated retail sales exceeding $1.6 billion during the year.
"It is pretty impressive on both of their parts and the parts of their fan base," said Steven Scebelo, vice president, licensing and business development for NFL Players Inc. "I was surprised because in the third (business) quarter, Tom Brady was in first place, and after that quarter closed he went on to win the Super Bowl and Super Bowl MVP. I kind of expected when we ran the numbers, he would be No. 1. So when it was Zeke and Dak, that was just a testament to what they were able to do on the field and their fan base did off the field."
Scebelo credits some of Elliott's popularity to the strong devotion of Ohio State fans to their players when they head to the pros. He also notes that, unlike in past decades when team allegiance was often a deciding factor, many consumer decisions are driven by something else when it comes to the NFL.
"If you look at younger fans and the way they follow the game now and how they engage fantasy football," Scebelo said, "even those who are not fans of the Cowboys are more prone to buy something of a player who is on their fantasy team. They have more allegiance to those players who are becoming stars, not necessarily to players from specific teams."
One player to look for as a merchandising gold mine next season could be Marshawn Lynch. The running back known as "Beast Mode" sat out 2016 in a short retirement, and was dealt by Seattle to Oakland last month. He was top 10 on the sales charts while with the Seahawks, and with the national popularity of the Raiders, Lynch easily could be up there again if he follows through on his return.
"It is all the attributes of a player that drive (sales)," Scebelo said. "People identify with the number, the signature, the nickname."
-- --
For more NFL coverage: http://www.pro32.ap.org and http://www.twitter.com/AP -- NFL