Zach Zenner finished preseason as NFL's leading rusher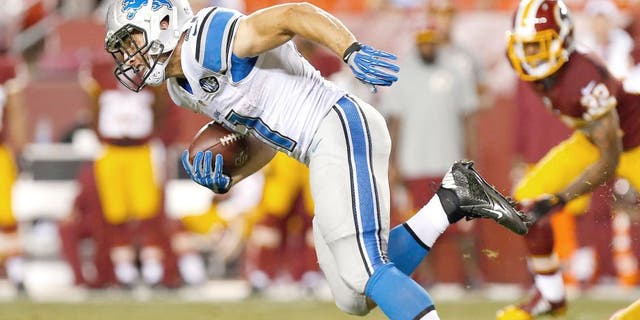 NEWYou can now listen to Fox News articles!
Detroit Lions running back Zach Zenner, an undrafted rookie out of South Dakota State, has stated his case for inclusion on the 53-man roster. After four preseason games, no one across the league rushed for more yards than Zenner's 183 on 35 carries (5.23 yards/carry).
Zenner punched in two rushing touchdowns this summer and also displayed some potential as a pass-catcher. He finished the 2015 preseason with eight receptions for 66 yards, including a five-yard scoring strike against the Washington Redskins in Week 2.
"Every preseason game is very important, especially for a guy like me as an undrafted free agent," Zenner said, via the Associated Press. "Those opportunities, not everyone gets them."
The 23-year-old rookie is no stranger to eye-popping statistics. In college, at the FCS level, Zenner eclipsed 2,000 rushing yards in three consecutive seasons.
(h/t Pro Football Talk)