Yzerman credits nomination to organization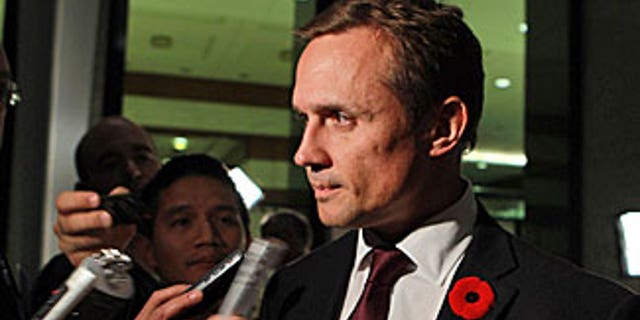 NEWYou can now listen to Fox News articles!
TAMPA -- The 2010-11 campaign marked the first time since donning his first Detroit Red Wings jersey 27 years ago that Steve Yzerman would begin an NHL season in a different city -- as the vice president and general manager of the Tampa Bay Lightning.
Thing is, he'd been preparing for this all his life. He was groomed by many fabulous coaches as a player and in the front office as part of Detroit's executive staff the previous five seasons.
Oddly enough, the same season that Yzerman's eventual Hall of Fame career would begin in 1983-84, a career minor-league goalie named Ken Holland would suit up three games for the Red Wings. Holland would eventually take over as GM for long-time Wings executive Jimmy Devellano following the team's ninth Stanley Cup in 1997 and, really, hasn't looked back.
Under Holland, the Wings have won nine Central Division titles, four Presidents' Trophies, five regular-season Western Conference crowns and three Stanley Cups.
It's the type of success Yzerman now craves with the Lightning.
In his first year as GM for a team and city also craving success, Yzerman has certainly made an impact. It hasn't gone unnoticed, as he was named one of three finalists for NHL General Manager of the Year on Wednesday, along with Vancouver's Mike Gillis and Nashville's David Poile.
"I wasn't expecting this, but it's reflective not only on what I've done, but as an organization from (Lightning owner) Jeff Vinik down through our coaching staff and our players," Yzerman said. "There's a lot of good things happening in Tampa, so I personally am surprised (with the nomination) and I want to reiterate, it's nothing I've done in particular. It's more of an acknowledgement that our organization has done a lot of good things."
While the nomination may be surprising to Yzerman, it isn't to anyone that knows him.
"It comes as no surprise that Steve is a nominee for GM of the year," Detroit VP/Assistant GM Jim Nill told NHL.com. "Throughout Steve's career, whether on the ice or in the boardroom, he raised the bar in the NHL to the highest standards through his integrity, commitment and hard work. It is the Steve Yzermans who make hockey such a great game to be associated with."
Yzerman wasted little time shredding salary and rebuilding from the goal-mouth out. Three months after building a gold-medal winner at the 2010 Winter Games in Vancouver as the executive director of Team Canada, Vinik announced Yzerman as his new VP/GM. Since then, he acquired 18 players, re-signed seven restricted free agents, one unrestricted free agent and pulled the trigger on six trades.
Just 16 days after settling in at his new post at the St. Pete Times Forum, he'd hire Guy Boucher as his new head coach.
"He defines for me what a winner is, because he's always trying to get better," Boucher said. "He never acts as if he knows everything and makes you feel like you're important. He makes you feel like your opinion has some weight but what I like most is his humility -- it's incredible. He's a legend out there but you still feel like he's trying to take care of you and trying to help you and you've got answers he's interested in."
Humility is certainly something he learned during his time in Detroit as noted during an interview with NHL.com in September.
"The thing I admire most about Ken Holland is that, after all the success he's had, his work ethic and his humility remain constant," Yzerman told NHL.com.
Under Yzerman's watchful eye, Tampa Bay made a 23-point improvement over 2009-10, posted the second-best record in franchise history (46-25-11) and earned a berth in the Stanley Cup Playoffs for the first time in four seasons.
He hasn't really given much thought into what he has been most proud of during his inaugural campaign as a GM, particularly since his team is in the midst of playoff series against the Pittsburgh Penguins that resumes here Wednesday at 7 p.m. ET.
"We're here in the middle of the first round of the playoffs and we had a somewhat successful season and made the playoffs, which was one of our goals," he said. "We're a better team now than we were at the start of the year. For myself, what I'm most proud of will be measured once it's all said and done, whenever that is. I guess if I come with something, the fact we're here, in the middle of the playoffs, and competing with 15 other teams for the Stanley Cup is something pretty neat."
For Yzerman, the harder work lies ahead.
"We want to be a perennial playoff team," he said. "There were a lot of good players when I arrived here, but we made some changes, brought in some players to fill out our roster and alter the makeup of the team. We want to become a perennial Stanley Cup contender and that's difficult. I don't think it's ever easy, but moving forward, it's going to be even more difficult to get to another level."
Boucher is confident the team will reach that level.
"One big reason why the organization feels like a family at all levels is that you want to push for him because you feel like he's going to bring solutions," Boucher said. "It's not just about Steve Yzerman doing his thing; Mr. Vinik is the same way. Mr. Vinik hired someone very humble, very successful for all kinds of reasons. The players feel it, and they also feel that whatever is needed, we're going to do. If we're not doing it, it's not because we're holding back, but because we really, really can't."
Follow Mike Morreale on Twitter at: @mike_morreale