Yu Darvish dominates, Texas Rangers pound Angels again, 8-3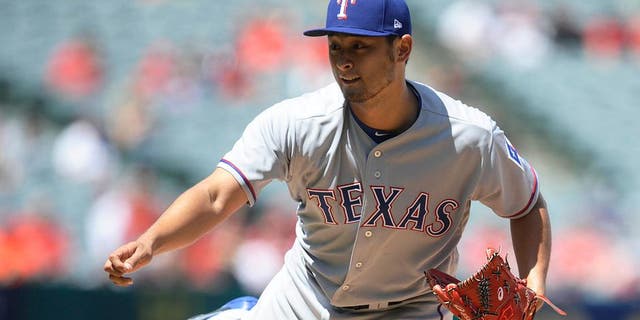 ANAHEIM, Calif. (AP) -- The Texas Rangers knew it wouldn't be long before Yu Darvish had a dominant start and got rewarded for it.
The Los Angeles Angels are still waiting for their starting rotation to do something noteworthy.
Darvish pitched seven scoreless innings and Carlos Gomez hit a leadoff homer in the Rangers' comprehensive 8-3 victory Thursday.
Darvish (1-1) struck out 10 and limited the Halos to five singles and two walks, improving to 8-2 in his career against the Angels. With his breaking pitches dipping precipitously, the Los Angeles lineup couldn't do much against him.
"I had a sharp, good slider," Darvish said through a translator. "It's got a big break on it."
Darvish went winless in his first two starts of the season, thanks to a blown save and meager run support, but he got plenty of backing at the Big A. Nomar Mazara also homered and Robinson Chirinos drove in three runs for the Rangers, who took two of three from their AL West rivals.
"That's exactly what Yu needs to do when he goes out, and that's to pound the strike zone," Texas manager Jeff Banister said. "He's got swing-and-miss stuff."
TEXAS ON TOP
Except for Los Angeles' three-run rally in the ninth Tuesday to a 10th-inning victory, the Rangers thoroughly dominated the Angels, outscoring them 16-6 in the final two games.
"Especially after that first night, giving one away, our guys stayed engaged," Banister said. "They did a great job."
STARTING TO WORRY
Ricky Nolasco (0-2) yielded eight hits and five runs in five innings, adding to the Angels' problems with their starters.
Los Angeles' rotation appeared to be its weak spot this season, and the first 10 games have proved it. The Angels' starting pitchers have a 6.00 ERA while yielding 50 hits in 51 innings -- and even worse, a starter has made it through six full innings only once all year.
"These guys are going to pitch better," Angels manager Mike Scioscia said. "The snapshots of the first couple of times around the order … I think everybody can come to the same conclusion, that they're not getting to a certain point in the game that we're going to need. You can absorb it a little bit, and our offense picked us up. Our bullpen has picked up innings, but you're not going to finish well if that's going to be the rule how they're going to pitch. We have a lot of confidence they're going to turn it around."
HOMETOWN HIT
Danny Espinosa hit a three-run homer with two outs in the ninth for the Angels, who were routed in the last two games of their homestand after a 4-0 start. Espinosa, a native of nearby Santa Ana, has three ninth-inning homers and 12 RBIs in the first 10 games with the Angels.
"In that situation, I'm not going to give away an at-bat," Espinosa said. "It's still an important at-bat."
TRAINER'S ROOM
Rangers: Right-hander Andrew Cashner appears to be ready for his first start of the season Saturday after sitting out with soreness in his right biceps. … Reliever Matt Bush should rejoin the Rangers in Seattle this weekend after traveling back to Texas for an injection in his sore right shoulder.
Angels: They won't activate Garrett Richards from the 10-day disabled list when he is eligible Sunday, and Scioscia doesn't know how long they'll be without the right-hander. Richards is out after leaving his first start of the season with a strained biceps. He made only six starts last year before partially tearing his elbow ligament, but elected to get stem-cell treatment and therapy instead of Tommy John surgery.
UP NEXT
Rangers: Martin Perez (1-1, 2.38 ERA) takes the mound against fellow Venezuelan Felix Hernandez in the opener of a weekend series in Seattle.
Angels: Reliever JC Ramirez will make his first career major league start when Los Angeles opens a seven-game road trip at Kansas City. He is in the rotation while Richards is out.