Your complete guide to the 2016-17 college basketball season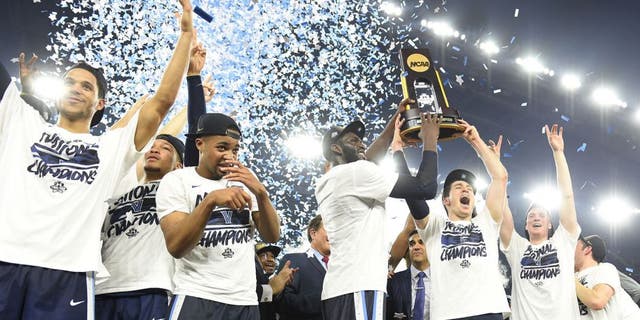 After seven months off, college basketball season officially returns this week.
Although technically the balls have been bouncing since early October, when college coaches could begin practicing, the first actual games tip on Friday, and nearly every team in the top 25 will hit the court on opening night.
Last season Villanova marched to the title game, where Kris Jenkins hit arguably the greatest shot in college basketball history, burying a three at the buzzer to secure a national championship for the Wildcats.
Villanova will contend once again, as will Duke, Kentucky and Kansas. Who will win each conference? Which players do you need to know heading into the season? Who are our Final Four picks? Here's our preseason guide to the college basketball season.
Who will be the major conference champs?
A-10: Dayton
Other contenders: Rhode Island, VCU, Davidson
Last season just one game separated the top four teams in the Atlantic-10, and the league should be just as competitive this year. You could make a strong case for Dayton or Rhode Island to win the league, as each boasts a talented roster and returns four of its top five scorers from last year. Dayton's Charles Cooke is a Player of the Year candidate and they'll also add Bradley transfer Josh Cunningham, a likely starter. Rhode Island coach Dan Hurley gets back E.C. Matthews, who tore his ACL in the first game of the season last year, and boasts a tremendous backcourt to go with Kuran Iverson and Hassan Martin inside. We'll go with Archie Miller and the Flyers, but picking between the two isn't an easy task.
ACC: Duke
Other contenders: North Carolina, Louisville, Virginia
Duke has the deepest roster and arguably the best collection of scorers in college basketball, which in our eyes makes them the pick in the ACC. However, running through the conference won't be an easy task, and the Blue Devils certainly won't do it without a blemish. The conference is simply too good this year and could very well send double-digit teams to the NCAA Tournament. North Carolina is coming off a trip to the title game and returns seasoned guards with an impressive post game. Louisville will be strong and has a pair of sophomores -- Donovan Mitchell and Deng Adel -- that should emerge as national stars, and Virginia adds Memphis transfer Austin Nichols to what should be a very solid team.
American: UConn
Other contenders: Cincinnati, SMU
In the American Athletic Conference, which starts its fourth season since realignment, Cincinnati, Connecticut and SMU immediately stick out as the top teams. Although UConn has yet to win the league since it was reconfigured, this may be the year they do so, as leading scorer Rodney Purvis is back and they'll get VCU transfer Terry Larrier eligible -- he should have a huge impact. Cincinnati will be tough, physical and aggressive, per usual, and look for Jacob Evans to make a step forward this season. Then there's SMU that has a good mix of returners to go with key transfer additions and an impressive recruiting class. UConn is the pick, but it wouldn't be a surprise to see any of these three sitting at the top of the standings at season's end.
Big East: Villanova
Other contenders: Xavier, Creighton
After a banner season for the new-age Big East, the league should be just as competitive in year four. With that said, Villanova, who has won the conference every year since the league was reconfigured, is once again the favorite. The Wildcats return the core of their national championship team, including Player of the Year candidate Josh Hart and Kris Jenkins, who buried the game-winner against North Carolina in the title game. If Villanova is going to get knocked off its perch, look at Xavier, who will start in the national top 10, or Creighton, who should boast a very impressive offense.
Big Ten: Indiana
Other contenders: Wisconsin, Michigan State, Purdue, Maryland
The theme of the Big Ten is parity, as the league appears deep and lacking a true favorite. Wisconsin returns its entire team and is getting the most buzz, but you could make a case that Indiana (which has two emerging sophomore stars), Michigan State (which brings in a ridiculous recruiting class) or Maryland (led by as good of a player as there is in the league) will win the conference title. Since we have to pick one, lets go with Indiana. Tom Crean has a lights-out shooter in James Blackmon, a dominant center in Thomas Bryant, and rising forward OG Anunoby to lead the way.
Big 12: Kansas
Other contenders: West Virginia, Texas, Iowa State
No team has controlled a conference quite like Kansas has with the Big 12. The Jayhawks have won 12 consecutive league titles and are primed to run away with a 13th. West Virginia, Texas and Iowa State will certainly be formidable opponents, but Kansas may be too talented, as they have arguably three of the four best players in the league in Josh Jackson, Frank Mason and Devonte' Graham. They'll be tested, but this Jayhawk team has a terrific backcourt, potential on the defensive end and one of the best coaches in college basketball in Bill Self.
Pac-12: Oregon
Other contenders: Arizona, UCLA
After sending seven teams to the NCAA Tournament last year, it appears the Pac-12 may take a step back this year. Sure it still has a couple teams capable of deep runs like Oregon, Arizona and UCLA, but the league overall looks down. Oregon returns five of the top seven scorers and rebounders from a team that earned a No. 1 seed in the tournament and advanced to the Elite Eight. As long as their All-American candidate Dillon Brooks returns from his foot injury with no issues, the Ducks should win the league.
SEC: Kentucky
Other contenders: Florida
Last year Kentucky shared the SEC title with a scrappy Texas A&M team and the league sent just three teams to the big dance. Although the league should be slightly better, the number of teams to the tournament will likely be very similar. Kentucky should run away with the league title, as they added freshman star power in De'Aaron Fox, Bam Adebayo and Malik Monk in the offseason to go with key returners Isaiah Briscoe, Derek Willis and Isaac Humphries.
Who will win the big awards?
Player of the Year: Grayson Allen, Duke
Allen is the best player and returner for a Duke team that has the talent to win a national championship. Although the Blue Devils came up short in the Sweet 16 last season, Allen was nothing short of sensational during his sophomore season, averaging 21.6 points, 4.6 rebounds and 3.5 assists a game. With the amount of scoring weapons Mike Krzyzewski has, Allen may not reach that point average again, but he'll certainly be the most productive player on Duke's squad. Allen's scoring attack is versatile, and based on preseason viewings, he enters the season shooting the ball with extreme confidence.
Breakout Player of the Year: OG Anunoby, Indiana
Originally I had settled on Kansas' Carlton Bragg for this award, but I changed my tune to Indiana's Anunoby. Anunoby started to break out late in his freshman campaign and had big games in the Big Ten tournament and against UT-Chattanooga and Kentucky in the NCAA's. But he just showed flashes then. Now, Anunoby -- a 6-foot-8, 235-pound versatile forward -- is more polished. In Indiana's two exhibition games, Anunoby scored 41 points, while going 16-for-20 from the field and 7-for-11 from three. Tom Crean is going to ask him to play a feature role on his team and he's up for the challenge.
Freshman of the Year: Markelle Fultz, Washington
This was the toughest pick of them, as the options in this freshman group are endless. Fultz's meteoric rise over the past two years is beyond notable, and he could very well be the top freshman drafted to the NBA next June. I think it's clear Fultz will put up big numbers for Washington, but perhaps the real question is will the Huskies win enough? A strong case could be made for Duke's Jayson Tatum, Kansas' Josh Jackson, Kentucky's De'Aaron Fox or some others for this preseason superlative, but I'll stick with Fultz because of his athleticism, versatility and talent as a 6-foot-5 guard.
First Team All-Americans
Monte Morris, Iowa State, G: Morris is as important to his team as anyone in the country. Last season he stuffed the stat sheet going for 13.8 points, 6.9 assists and 3.9 rebounds. For the Cyclones to return to the NCAA Tournament, they need a huge season from him and he's up for the challenge.
Grayson Allen, Duke, G: Allen is the straw that stirs the Blue Devils' drink, and if they are going to win a title, strong play from Allen will be needed. Allen averaged nearly 42 percent from three last season.
Josh Hart, Villanova, G: After leading Villanova to a national championship last season, Hart is back and prepared for his last hoorah. A versatile player, Hart impacts the game with his scoring, rebounding and on the defensive end. Last season he averaged 15.5 points and 6.8 rebounds a game.
Ivan Rabb, Cal, F: Not many people turn down a chance to go top 10 in the NBA Draft to come back to college. But Rabb did just that. His averages of 12.5 points and 8.6 rebounds should go up and he's arguably the best prospect playing in the Pac-12.
Dillon Brooks, Oregon, F: Assuming Brooks recovers fine from offseason foot surgery, he's tracking as an All-American. Last year he led a very impressive Ducks team to the Elite Eight by averaging 16.7 points, 5.4 rebounds and 3.1 assists a game.
Who will make the Final Four?
Duke
Duke has the deepest and most talented roster in college basketball. Now the most talented team doesn't always win the national championship, but they usually make it to at least the Final Four.
Mike Krzyzewski told FOX Sports that this team is more talented than a couple of teams he's previously won titles with. Led by Player of the Year candidate Grayson Allen, Krzyzewski has a long list of scorers and will be able to roll out a variety of lineups, depending on how the Blue Devils want to play.
Luke Kennard, Amile Jefferson, Chase Jeter and Matt Jones are back, plus they add the best recruiting class in the country with Jayson Tatum, Harry Giles, Frank Jackson, Marques Bolden and Javin DeLaurier. Giles, who has torn each ACL, is currently out, but assuming they are able to get him back and fully healthy, Duke is the team to beat and a safe pick to make it Houston.
Kansas
Sure the Jayhawks lost steady veterans Perry Ellis and Wayne Selden, but Bill Self boasts one of the best backcourts in the country and added the No. 1 recruit in the country in Josh Jackson.
Frank Mason and Devonte' Graham combined for 919 points and 325 assists last season. That type of production from those two will only increase, and the Jayhawks will rely on the two seasoned guards to lead them. Jackson brings star power to the wing, as he boasts tremendous, size, athleticism, passing and defensive potential. Jackson will be helped on the wing by sophomore Lagerald Vick and Svi Mykhailiuk, who each should fill big roles for the Jayhawks.
The biggest question for the Jayhawks is their inside game. Sophomore Carlton Bragg is a former five-star recruit and he's expected to have a breakout sophomore campaign. Veteran Landen Lucas will be relied on for consistent play and they'll need to get minutes out of freshman post Udoka Azubuike if they are going to reach their full potential.
Kentucky
Every season John Calipari has been at Kentucky he's brought in a ridiculous recruiting class. This year is no different. However, he has a good balance of returning talent to mix with his one-and-done wonders, which makes them one of the preseason favorites.
Dynamic floor general De'Aaron Fox is a potential Freshman of the Year candidate, as he possesses John Wall-like speed, impressive athleticism and a good mix of facilitating and scoring. His counterpart Malik Monk will be one of Kentucky's best shooters and could potentially lead them in scoring. Throw competitive sophomore Isaiah Briscoe into the mix and you have a well-rounded backcourt that should be exceptional on the defensive end.
Freshman Edrice Adebayo will be Kentucky's most productive post player because of his strength, athleticism and physical play. But if the Wildcats are going to make a deep run, they'll need Derek Willis to make threes, Wenyen Gabriel and Sacha Killeya-Jones to contribute and Isaac Humphries to man some quality post minutes.
Oregon
At one point it looked like Oregon was primed to make the Final Four last season for the first time since 1939, but the Ducks fell short in the Elite Eight. Dana Altman will certainly have another shot, as he returns five of his top seven scorers that went for a combined 55.2 points per game last season.
Dillon Brooks is yhe best and most steady player and he should contend for a spot on a first team All-American team. The Ducks also return Tyler Dorsey, who scored 13.4 points and shot over 40 percent from three last season, and arguably the best shot blocker in the country in Chris Boucher.
Villanova transfer Dylan Ennis is back after suffering a season-ending injury early in the season last year, as is shot blocker Jordan Bell and talented passer Casey Benson. The Ducks are deep, experienced and will have a great shot to make their first Final Four in 77 years.
Who are the potential tourney darlings?
Gonzaga
At this point, it's hard to call Gonzaga a Cinderella, as they've been to the NCAA Tournament each of the last 18 seasons. That said, they might have the most talented roster outside of a major conference. Sure Kyle Wiltjer and Damontas Sabonis are gone to the NBA, but they will replace them with transfers Nigel Williams-Goss, Johnathan Williams and Jordan Mathews, plus a handful of freshmen that can contribute, including McDonald's All-American Zach Collins. Throw in Josh Perkins and Przemek Karnowski and this is a deep group with a lot of ability.
St. Mary's
Sticking in the WCC, St. Mary's is going to push Gonzaga for the league title and is a sleeper to make a run in the tournament. The Gaels shared the WCC regular-season title with the Bulldogs last season and beat them two out of their three meetings. They did, however, miss the NCAA Tournament. This year they'll start in the national top 25 because they return their top eight scorers from a team that won 29 games. Australian Emmett Naar, who averaged 14 points and 6.4 assists, is their best player, but they have depth and a team full of shot makers.
The Winner of the SoCon
Chattanooga and ETSU met in the Southern Conference tournament finals last year. The Mocs pulled out the win and advanced to the NCAA Tournament. The SoCon will once again be competitive, and Chattanooga and ETSU could very well meet in the finals again. Chattanooga coach Matt McCall returns his top four scorers and five of his top six from a team that won 29 games last season and made the NCAA Tournament. Tre' McLean, a versatile forward, is their best player, but they have other perimeter weapons and a legit shot blocker in Justin Tuoyo. While ETSU's Steve Forbes loaded up with impact transfers like Hanner Mosquera-Perea, David Burrell and Tevin Glass, has also has five returners that played major minutes. Look for the McCall and Forbes link-up again, and the winner could give a high major some trouble in the tournament.
What games should I be sure to watch?
There's no limping into this college basketball season. The action gets going early with 23 of the top 25 teams playing on Friday, including a pair of top 12 teams facing off against each other in Hawaii.
Then on Nov. 15, things really heat up at the Champions Classic, where Duke plays Kansas and Kentucky matches up with Michigan State at Madison Square Garden.
Here are 10 must-watch games in each of the next four months.
November
11: Michigan State vs. Arizona (in Hawaii), Kansas vs. Indiana (in Hawaii)
14: Villanova at Purdue
15: Maryland at Georgetown (FS1, 6:30 ET), Wisconsin at Creighton (FS1, 8:30 ET), Kentucky vs. Michigan State (at Madison Square Garden), Duke vs. Kansas (at Madison Square Garden)
29: Syracuse at Wisconsin, Michigan State at Duke
30: North Carolina at Indiana
December
3: UCLA at Kentucky, Arizona vs. Gonzaga (at Staples Center), Xavier at Baylor
5: Syracuse vs. UConn (at Madison Square Garden)
7: Washington at Gonzaga
17: UNC vs. Kentucky (in Las Vegas), Georgetown at Syracuse, Butler vs. Indiana (in Bankers Life Fieldhouse, Indianapolis)
21: Kentucky at Louisville
31: Indiana at Louisville
January
3: Wisconsin at Indiana
10: Xavier at Villanova (FS1, 7 ET)
14: Duke at Louisville, St. Mary's at Gonzaga
21: Michigan State at Indiana
24: Kansas at West Virginia
26: Xavier at Cincinnati
28: Texas at Georgia, Kansas at Kentucky
29: Virginia at Villanova (FOX, 1 ET)
February
4: Arizona at Oregon
9: North Carolina at Duke, Oregon at UCLA
11: Villanova at Xavier (FOX, 2:30 ET), Gonzaga at Saint Mary's
15: Duke at Virginia
22: Louisville at UNC
25: Kansas at Texas, Creighton at Villanova (FOX, 3 ET)
27: UNC at Virginia