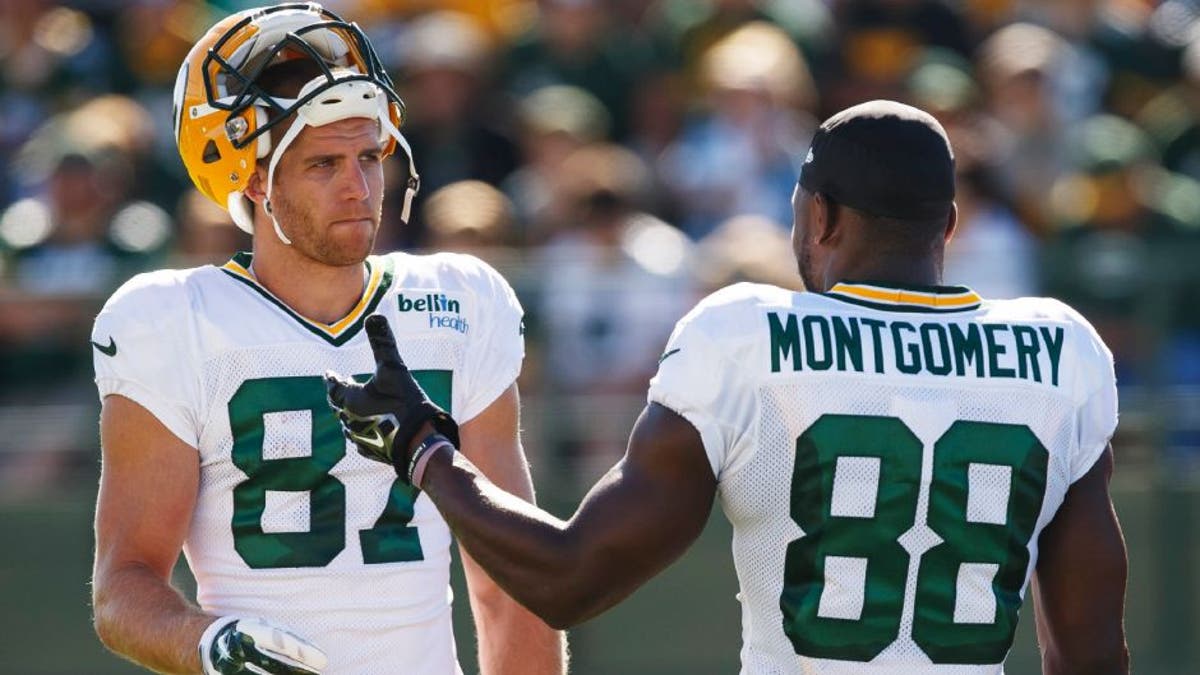 GREEN BAY, Wis. -- The dormitories at Green Bay Packers training camp have been a bit quieter than normal in the evenings to quarterback Aaron Rodgers.
The young players are trying to study up on the playbook. For the receivers especially, any little edge helps when you're competing to catch passes from the NFL MVP.
"But that's what this camp is all about, it's about sorting those things out," Rodgers said Thursday. "You have to show it in practice in order for me to feel comfortable making those throws in the game."
The Packers might be hitting the books again the next few days after coach Mike McCarthy thought his team took a step backward at practice on Thursday after two good days earlier in the week.
It is just one week into camp, too early for the coaching staff to settle on a depth chart. It's a time of camp when players are transferring what they've studied on to the field.
This can be especially difficult for the rookies. With all starters returning on offense, plus most of the top reserves, the installation period has been especially catered to older players this season.
"It's been a little difficult at times trying to learn all the different checks, alerts, things like that," said receiver Ty Montgomery, the Packers' third-round draft pick. "I think the hardest thing ... is getting used to expecting certain coverages before the ball is being snapped."
And that's coming from a rookie who has been praised by McCarthy for his study habits, and by Rodgers for his athleticism.
"So maybe that's why it's so quiet at the dorms the last couple nights," Rodgers said. "Guys are getting their studies in and getting sleep because they've got to wake up early and come in and work out before practice."
Once on the field, they're being tested by Rodgers.
He'll throw long passes in tight coverages with the hope that his receiver comes down with the ball. Veteran Jordy Nelson can haul in those passes with relative ease.
For young players like Montgomery, it's an opportunity to prove themselves to the quarterback.
"You make some of these throws and see how the guys respond, and if they're making the plays, then they're going to get more opportunities in the preseason and probably be around for the regular season," Rodgers said. "If they're not making those plays, they probably won't be around."
An unofficial count in camp so far has Rodgers having thrown five interceptions in the first week -- or as many as Rodgers had thrown all of last season.
No, McCarthy is not concerned.
"I would think at least three or four of them were competitive balls," McCarthy said. "I mean, he's going to do things in training camp that he might not obviously do on a Sunday, give guys chances to make plays and so forth."