Young Marlins staff finds opportunity in midst of tough second half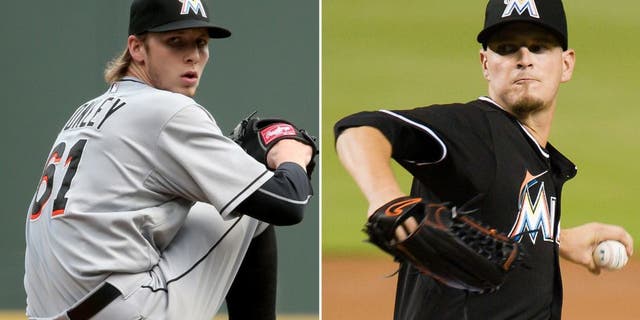 Since the moment the Marlins selected Adam Conley in the second round of the 2011 draft out of Washington State University, the left-hander knew he would be given every opportunity to achieve his goal of reaching the big leagues.
On June 10, Conley's dream became a reality. The same could be said for many of his teammates when looking around the Marlins clubhouse these days. A combination of trades and injuries has ushered in this audition period during the second half of the season.
With another organization, the 25-year-old southpaw might still be several years away from that chance. Over the years -- whether due to underperformance, injuries or financial reasons -- the Marlins have never shied away from giving young talent a chance to succeed in the majors.
"I've always had that on my mind and appreciated it," Conley said. "From the day that I was drafted in 2011 by them I was thinking about that. Here's an organization who's going to give me an opportunity early, and I want to embrace every opportunity that I get and work as hard as I can and consistently as I can, so hopefully I can move that time that I get called up sooner. And when I get it being prepared for it to handle it."
Joining Conley (3-1, 5.02 ERA) in this youth movement is top prospect Justin Nicolino (3-2, 3.07 ERA) as well as injured right-handers Kendry Flores (1-2, 4.97 ERA) and Jose Urena (1-5, 5.11 ERA). Not to mention relievers Brian Ellington and Kyle Barraclough.
Manager Dan Jennings, influential in putting together the roster of players during his time with the front office, credits Triple-A New Orleans pitching coach John Duffy. He has preached quality strikes. More importantly, understanding that mistakes are harder to come by in the big leagues compared to the minors.
"I think the good part of it is these kids know there are opportunities here and they have an opportunity to progress through the system," Jennings said. "Now, when this challenge to pitch in the major leagues comes before them how and what they do with it determines how much more seasoning they need or if they're ready."
Even if the results aren't quite there yet, Jennings has been impressed with the way guys have handled themselves on the mound. They are experiencing success and failure at the toughest level while nearing career highs in innings.
Last month, Nicolino and Conley started against the Boston Red Sox. All-Stars Pablo Sandoval and David Ortiz could easily intimidate young pitching with their resumes -- and yet Miami won both games. Ortiz did blast a solo homer off Conley.
Afterwards, Conley admitted the learning curve will take time and can be frustrating. When he realized his stuff wasn't great, he tried to make it better rather than work with what he had and trust it to get ahead in the count.
"It's been bittersweet because I know the mistakes I'm making here are things that aren't new to me," Conley said afterwards. "The mistakes I'm making here are mistakes I've made before in the past. To these hitters because they're more patient, because they see the ball better, they've had so many more professional at-bats, all these things, those little mistakes add up and are magnified over time. That's why you hear all the time about just being consistent up here, making quality pitches all the time to quality locations and that's how you survive up here."
Also helping them along the way is a familiar face in JT Realmuto, who became the everyday catcher in April when the Marlins designated veteran Jarrod Saltalamacchia for assignment.
Realmuto, at 24, is familiar with many of the arms. He caught them over the course of their minor-league careers. In fact, he and Nicolino were battery mates for the Southern League championship run last season with Double-A Jacksonville.
As the "seasoned" rookie with 114 games of experience, he can help them through the process.
"It's fun to see guys like that you've played with in the minors for so long get their chance up here and do well," Realmuto said. "Hopefully they can continue to do well and stay up here with us. I talk to them. All those guys who have come up kind of understand. They're not the rookies you really need to get onto and tell them what they have to be doing. Haven't had to tell them too much. I talk with them quietly about stuff they need to couple things different up here."
Added Conley: "I was on the other end of it not too long ago when I was the one getting called up. Guys who played with me before saw me be the one to come into the clubhouse and get a jersey. Now because of so many guys coming up and down I've seen it for myself. Guys I've known and played with come into the clubhouse and everything. This is a hard place to get to. It takes a lot of luck, but a lot of hard work and diligence and discipline. You can go down the list. You can see that in the numbers with how few guys make it here. To see guys you've played with see them work, go through the grind and been there on the bus with them at 4 in the morning and stuff. To see them get a shot up here and for myself -- I can speak for myself -- for me to get a shot up here has been an awesome opportunity. I'm thankful for every day of it."
You can follow Christina De Nicola on Twitter @CDeNicola13 or email her at cdenicola13@gmail.com.