Young Isles relish showdown with the Rangers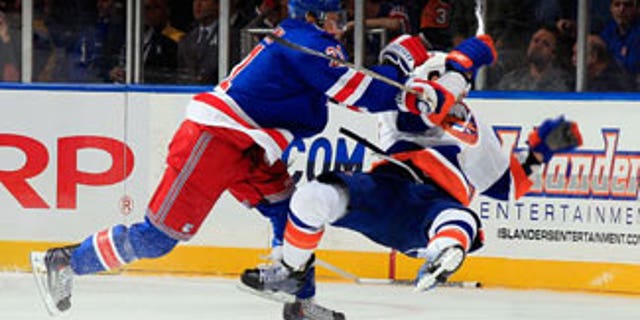 NEW YORK -- When it comes to the rivalry between the Islanders and Rangers, it's not that Frans Nielsen has any hatred toward the team that calls Madison Square Garden home -- it's that the fans do.
"You can talk with a lot of fans at practice or after games, and you can really feel that hate they have," said Nielsen, who is in his third full season with the Islanders. "You want to do it for your fans. You don't want to let them down. Especially when we play in a close game, when you sit on the bench, you can almost follow the fights in the stands. You can see that it's something special."
Defenseman Andrew MacDonald agreed.
"You just see the passion the fans have for it and it really pushes us as players to really want to beat the Rangers," he said. "I know the feeling's mutual between them and us, how we want to beat each other."
The Islanders, who are 4-0-3 in their last seven games, will indulge their fans' revulsion of all things Blueshirts when they take the Long Island Expressway to Manhattan to face the Rangers on Tuesday. It's a rivalry that's been one-sided the past three seasons, with the Rangers winning 11 of 16 meetings.
Not only has it been one-sided, but it's also one that has featured the Islanders in the role of spoiler when they meet late in the season. That will be the case Tuesday, with the Isles 11 points out of the playoffs with 12 games remaining, while the Rangers are in a heated battle for a postseason berth.
Nielsen said the rivalry means more to the fans than it does to the players, but it was hard to ignore his added excitement when the conversation switched from the team's second-half turnaround to battling the Rangers.
Forget about playing the Rangers in a meaningful game in March -- Nielsen is dreaming bigger than that.
"Besides winning the Stanley Cup, playing the Rangers in a playoff series would probably be the biggest," said Nielsen, who has 8 points in his last 10 games against the Rangers. "That would be something special. I'm pretty sure all of New York would go hockey crazy. It would be something where if you're wearing an Islander jersey or a Ranger jersey, that's something everybody dreams about. Getting together for a seven-game series, that would be amazing."
How about a seven-game Eastern Conference Final?
"We dream about it," Nielsen said, "and I'm pretty sure they dream about it, too."
For now, that's a long way off. Neither the Rangers nor the Islanders appear close to knocking on the door of a Stanley Cup Final. The Rangers missed the playoffs last season and are a late-season slump away from a repeat. The Islanders let their season get away when they lost 20 of 21 between November and December.
But the Islanders have improved greatly since the All-Star break. They are 12-5-4 since Feb. 1, with half their wins coming from goaltender Al Montoya, who was acquired from the Phoenix Coyotes for a sixth-round draft pick.
Montoya was drafted by the Rangers with the sixth pick of the 2004 Entry Draft, but he never reached the NHL with the club. Six years later, he's 7-2-3 with a 2.09 goals-against average and .923 save percentage as a member of the enemy.
"Montoya's been very good. It's been a good story with him," said Nielsen, who faced Montoya while the two were in the AHL. "I'm not surprised because I played a lot against him when he was in Hartford and I was in Bridgeport, so I know what a goalie he is. He never really got a chance to prove what he can do in this League. I don't know if anyone expected him to be like this, but it's been good for us. You can see he's got confidence and he really believes in himself."
The 26-year-old can return to haunt the franchise that brought him into the NHL and give Islanders fans a reason to be excited in a hostile environment. After all, that's what this rivalry is all about.
"When you hear the fans say, 'We don't care if we win another game the rest of the year, as long as you beat the Rangers,' it's stuff like that that really gets you amped up," Islanders forward Kyle Okposo said. "It's not hard getting up for that team, that's for sure."
"It's not like I grew up on Long Island and was raised to hate the Rangers, but you still feel it's something different," Nielsen said. "I don't want to call it hate, but you definitely don't want to lose to them because you can see what it means for your fans."
Follow Dave Lozo on Twitter: @DaveLozo