Young defensemen give Hurricanes some optimism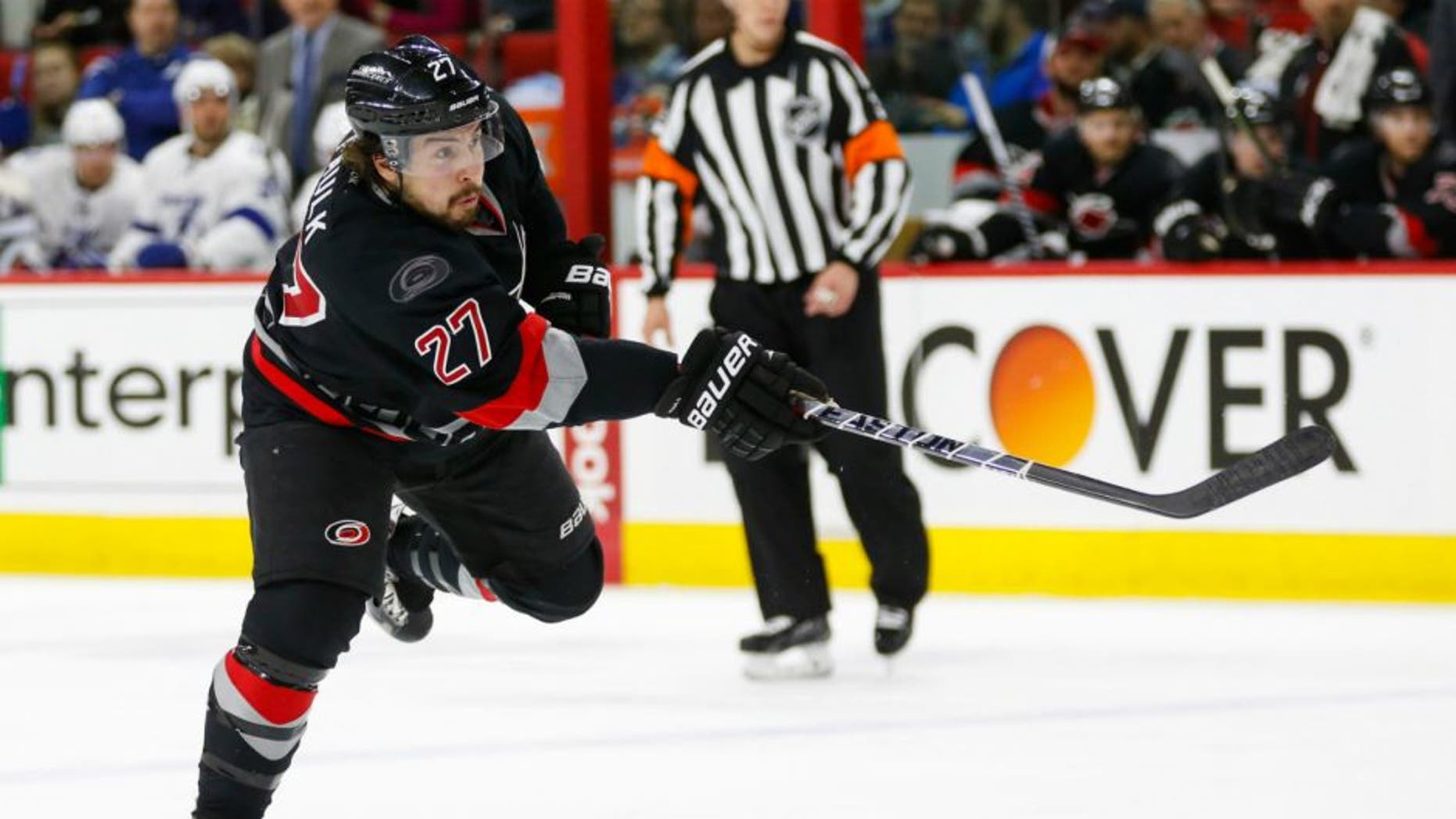 It's been a bleak stretch for the Carolina Hurricanes, one of two teams that have not made the Stanley Cup Playoffs in the 2010s. Carolina has advanced to the postseason twice in the past 10 seasons; 2006, when the Hurricanes won the Stanley Cup (defeating the Edmonton Oilers in their last playoff appearance), and 2009, when it reached the Eastern Conference Final.
Carolina finished last in the Metropolitan Division in 2014-15 with 71 points; the Hurricanes' playoff hopes were largely doomed by an 0-6-2 start. Most of their problems came on offense: The Hurricanes were 27th in the NHL with 183 goals; center Eric Staal was the only Carolina player to score more than 20 goals and finish with more than 50 points (23, 54).
The Hurricanes realize the challenge ahead if they are to return to the playoffs, but here are four reasons for optimism:
Young, talented defensemen: Justin Faulk is one of the best players NHL fans don't hear much about. He had a breakout season in 2014-15 with 15 goals and 49 points, and at 23 his career is on the upswing. But Faulk may soon not even be the best defenseman on his own team; Carolina selected Noah Hanifin from Boston College with the fifth pick of the 2015 NHL Draft. Hanifin was regarded as the best defenseman available and is expected to blossom into a star.
Also in the mix are 2014 first-round choice Haydn Fleury, who could make the Hurricanes this season and figures to be a top-four defenseman in the near future, and 2011 first-round pick Ryan Murphy. To avoid having to put too much pressure on his younger players, general manager Ron Francis acquired veteran James Wisniewski from the Anaheim Ducks on June 27.
Improved goaltending: Cam Ward is coming off a season when he had an NHL career-best 2.40 goals-against average and a .910 save percentage, his best since 2011-12. The 31-year-old is in the final season of his contract, and coach Bill Peters said Ward will enter training camp as the starter. But that could change; Francis acquired Eddie Lack from the Vancouver Canucks in June. Lack outplayed Ryan Miller for much of last season, was the Canucks starter for the final six weeks after Miller was injured, and helped Vancouver reach the playoffs. He should be an upgrade from backup Anton Khudobin (who was traded for Wisniewski) and will get a chance to win the starting job.
"You always want to have an internal competition," Peters said.
Maturing talent up front: The best news from last season's disappointment is that some of Carolina's young forwards took significant strides. Elias Lindholm, the No. 5 pick in the 2013 NHL Draft, finished third on the Hurricanes in goals (17) and points (39), up from nine goals and 21 points in his rookie season. Victor Rask had 11 goals and 22 points as a rookie. Each averaged more than 16 minutes of ice time and should continue his upward trend this season.
"Victor and [Lindholm] played very well together for Sweden at the World Championship in Prague," Peters said, "and I expect those guys to take a step."
The new regime has a year under its belt: It was a trying first season for Francis and Peters. The Hurricanes failed to win in October and never recovered, finishing 27 points out of a playoff berth. It was a learning experience for them, but particularly for Peters, who was changing organizations as well as jobs after serving as an assistant with the Detroit Red Wings. Francis has shown he'll pull the trigger on moves when he needs to (the buyout of forward Alexander Semin is a prime example). Peters kept the Hurricanes playing hard through 82 games and is confident things will be better in his second season.
"Moving forward," he said, "there's a higher comfort level amongst our organization in Year Two."