Yoenis Cespedes extends hitless streak to 17 as Mets lose to Yankees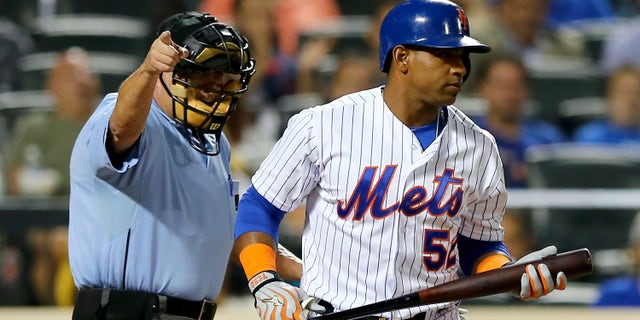 NEW YORK (AP) – Yoenis Cespedes was the toast of the town after driving in 42 runs in his first 41 games with the New York Mets. Suddenly, his bat has gone dry as toast.
The Cuban star went 0 for 4 in Saturday's 5-0 Subway Series loss to the crosstown Yankees, extending his hitless streak to 17 at-bats that include seven strikeouts.
"We're going to take him out of the two-hole tomorrow and put him someplace else, see if we can get some guys on ahead of him," Mets manager Terry Collins said. "That might help out."
Carlos Beltran hit a three-run, second-deck home run on a 100 mph fastball from Noah Syndergaard in the first inning, and Brian McCann added a two-run homer off the rookie in the sixth. The Mets had just six hits, all singles, against Michael Pineda (11-8) and six relievers.
Cespedes has led the Mets to a 31-14 record since he was acquired from Detroit at the July 31 trade deadline. On Friday, Syndergaard brought his teammates a box of black T-shirts with "Yo Knows Beisbol" in yellow, orange and blue, which the pitcher got from the website barstoolsports.com.
But Cespedes is 0 for 16 since he was hit on the left hip Tuesday by a 92 mph fastball from Miami's Tom Koehler, dropping his batting average for the season to .290 with 35 homers and 103 RBIs.
"I don't think he's afraid in any stretch of the imagination," Collins said. "I'll keep running him out there."
Cespedes also took a bad route on Dustin Ackley's fifth-inning drive and allowed it to fall behind him at the bottom of the center-field fence for a leadoff triple. Cespedes did not speak with reporters after the game.
"He went through another time when he went into a little bit of a funk, and then he came out and was red hot," Collins said.
Hoping to reach the postseason for the first time since 2006, the Mets saw their NL East lead over second-place Washington sliced to seven games.
Syndergaard (8-7) gave up five runs and seven hits in six innings, struck out eight and walked none.
After Jacoby Ellsbury and Brett Gardner looped singles into short right-center field leading off the game, Beltran fell behind 0-2 in the count, fouled back an offering and sent Syndergaard's 10th pitch of the afternoon, an inside, thigh-high fastball, into the Pepsi Porch in right field.
"I left it right in his wheelhouse," Syndergaard said.
The pitch to Beltran, who starred for the Mets from 2005-10, marked the first time a batter homered off Syndergaard on an offering that reached 100 mph, according to Major League Baseball's Statcast.
"I don't second-guess the pitch call," Mets catcher Kevin Pawlecki said. "I thought we had him beat with a fastball."
Syndergaard is part of a rotation of young studs that includes Matt Harvey, NL Rookie of the Year Jacob deGrom and Steven Matz, one that has revived crowds at Citi Field.
"It's got to be fun for the Mets right now," Beltran said, "being able to have all those guys lined up for the future and for now."