Yoenis Cespedes explains why staying with the Mets was his preference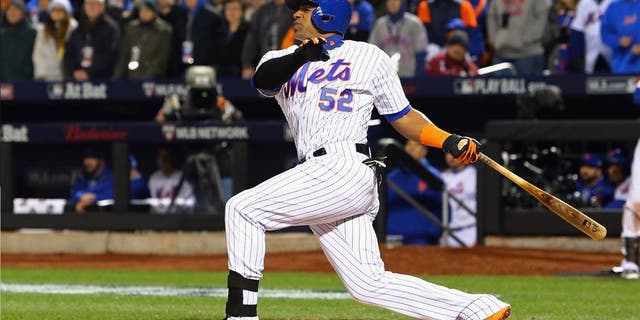 NEW YORK -- Yoenis Cespedes says he chose happiness over more money.
Of course, the lower offer was a three-year, $75 million contract that kept him with the New York Mets.
"It's not always about the amount of money being offered," he said through a translator Wednesday in his first public comments about his Jan. 22 decision. "It's about wanting to be in a place you want to play in, that you're happy in. And as you can see, this is just what happened in that case."
Still, he has the right to terminate his contract after one season and $27.5 million, then become a free agent once again.
Acquired from Detroit on July 31, Cespedes had 17 homers and 44 RBI for the Mets, who reached the World Series for the first time since 2000 and then lost to Kansas City in five games. Fans at Citi Field likely expect him to keep up that pace.
"I'm sure they do," he said.
And he's OK with that.
"From my first day when I came last season, that very first day, the fans showed incredible support," the 30-year-old outfielder said. "I just knew I wanted to come back."
New York treated Cespedes as a newly signed player, showing video highlights of his performance last season after he entered the news conference.
Chief operating officer Jeff Wilpon and general manager Sandy Alderson presented Cespedes with his No. 52 jersey, which fit snugly over his street clothes. The Mets gave him his own hashtag: #GotYoBack.
Since starting his big league career in 2012, the Cuban star played for Oakland, Boston and Detroit before landing with the Mets.
Washington was among the clubs that pursued Cespedes this winter.
"There were a couple of teams who were interested and threw out the five-year number," he said.
Cespedes was driving in his Florida farm when his agent told him the deal with the Mets had been agreed to.
"It was a big relief for me," he said.