Yasiel Puig suspended by MLB for obscene gesture vs. Indians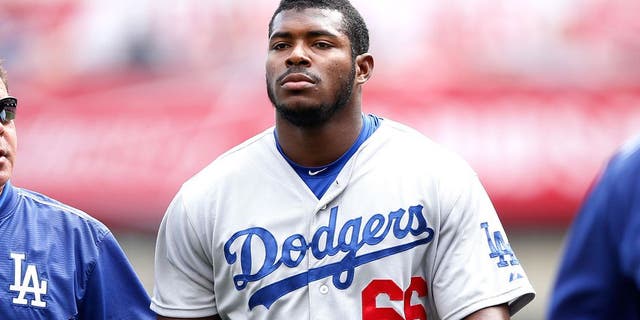 NEWYou can now listen to Fox News articles!
Los Angeles Dodgers outfielder Yasiel Puig has been suspended one game by the MLB for making an obscene gesture towards Indians fans during Tuesdaynight's game in Cleveland.
Puig, who crushed a two-run homer off of Indians starter Trevor Bauer in the second inning of the series opener, appeared to completehis home run trot with a double middle-finger salute towards Tribe fans as he crossed home plate.
Puig did not deny making the gesture when asked about the incident in a postgame interview:
People were talking to me before the home run, and after the home run, they kept talking, Puig said via his translator (as reported by The Los Angeles Times). I reacted that way, and stooped to their level.
It happened suddenly, Puig said. It was something that just came out.
In addition to the one-game suspension, the MLB also issued Puig an undisclosed fine. He has decided to appeal the suspension and is expected to play Wednesdaynight in Cleveland.
USA TODAY Sports | David Richard