Yasiel Puig slid so hard into second base he snapped his belt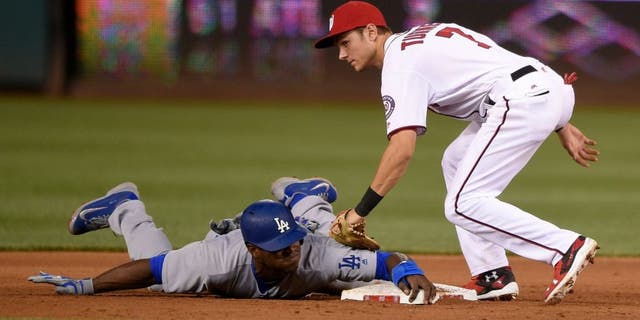 NEWYou can now listen to Fox News articles!
Yasiel Puig might be having a down year, but there's no denying how hard he plays.
That effort was on full display Tuesday night as he threw himself headfirst into second base so aggressively that he snapped his belt as he slid clear around the base, holding on for dear life with his left hand to avoid the tag.
The Los Angeles Dodgers star has struggled in his fourth big league season, leading to trade rumors as the deadline approaches. He's got seven home runs and a meager .256/.318/.376 slash line.
Puig finished Tuesday's game with just the one hit and steal in five at-bats, as the Dodgers beat the Washington Nationals, 8-4.
He got a new belt to start the next inning, but will he have a new uniform to go with it soon?