Yankees star Aaron Judge breaks Mark McGwire's rookie home run record
New York Yankees slugger Aaron Judge made history Monday, slamming a pair of home runs to raise his season total to 50 and set the major league record for home runs by a rookie.
By hitting the half-century mark, Judge passed Mark McGwire's 1987 total of 49 home runs with the Oakland Athletics.
Judge tied the record with a two-run drive to center off Kansas City Royals pitcher Jakob Junis in the third inning that put New York ahead, 3-0.
In the seventh inning, Judge hit his second home run, this time off pitcher Trevor Cahill. It was Judge's second straight two-homer game, and his fourth multi-homer game this month and seventh this year.
BOSTON RED SOX REPORTEDLY HAVE EVIDENCE THAT YANKEES ALSO STEAL SIGNS
The 6-foot-7, 25-year-old outfielder is the fifth Yankees player in team history to hit 50 home runs in a season, joining Babe Ruth, Mickey Mantle, Roger Maris and Alex Rodriguez.
McGwire hit 49 homers for Oakland in 1987, breaking the previous rookie mark of 38 set by the Boston Braves' Wally Berger in 1930 and matched by Cincinnati's Frank Robinson in 1956.
"I couldn't be happier for him," said McGwire, who is the San Diego Padres' bench coach. "The future for him as a bona fide home run hitter is bright. Who knows what the number is going to be. Watch out 73. Seriously."
Judge has homered against every American League opponent, and his total is second in the majors overall this season to the 57 hit by Miami Marlins outfielder Giancarlo Stanton. Judge is a top contender for the AL MVP award and is practically a lock for the AL Rookie of the Year award. Judge already brought home some hardware in July, winning the Home Run Derby before the All-Star Game in Miami, but he says there's only one trophy he's interested in.
"I'd rather be in a good position in the playoffs and holding up a World Series trophy than an AL MVP trophy," Judge said.
The Yankees will host the Wild Card game next week. The team they will be playing against has not been determined yet, though the Minnesota Twins are in the lead for the second Wild Card spot. In six games this season, Judge hit .316 with two home runs against Minnesota.
METS STAR PITCHER LINKS HURRICANES TO US PULLING OUT OF PARIS CLIMATE ACCORD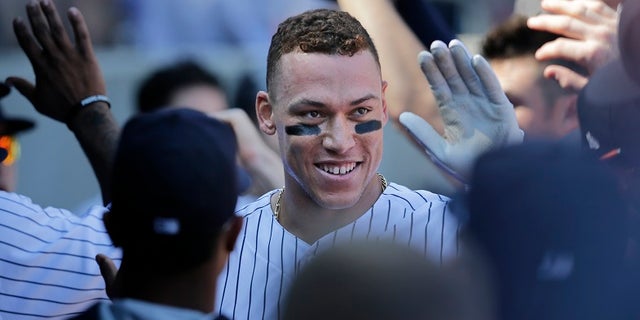 Judge, seemingly embarrassed by the attention after hitting his 50th homer, waved slightly before heading back to the bench to join his teammates.
"Describe the feeling?" Judge said following the game. "It's been an incredible ride, this whole year."
Judge got both home run balls back and said he would probably give them to his parents.
The Associated Press contributed to this report.